Sports is a way of life, so show your support by picking one of the best sports WordPress themes when building your site.
You may be looking for a way to support your favorite sports club by setting up a website to get new followers or to create the perfect eCommerce store for your local high school football team and sell some merchandise online.
We bring you a collection of free WordPress sports themes with plenty of fireworks to create an impressive online presence.
Best Sports WordPress Themes in 2023
Today, choosing a suitable WordPress theme for your sports website is more important than ever. Choosing one that looks great and functions well but has all the features you need to create a successful online presence is essential.
Here are the top Sports WordPress themes for 2023. Our selection includes themes built for sports websites, from popular professional teams to fitness clubs or running clubs.
They include e-commerce support for selling team merchandise, full integration with the SportsPress plugin for managing leagues and tournaments, and widgets that display scores, standings, and schedules.
Many of them also offer customization options so you can tailor your website to fit the look and feel of your team.
1. Smarter (By ThinkUpThemes)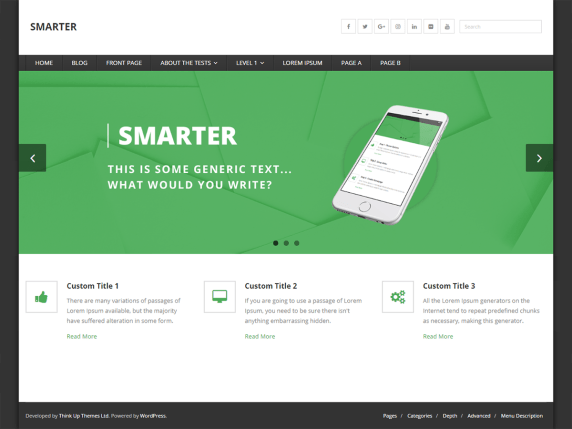 Smarter introduces you to the free version of the multi-purpose professional theme called Smarter Pro. It is brilliantly designed to fit an ideal for any business or blog website.
It features a 100% responsive layout with HD retina-ready graphics and a powerful theme options panel. All these will let you craft amazing websites and make tremendous changes without writing a single line of code.
As one of the best free WordPress sports themes available, it features a full-width, easy-to-use slider. Using the built-in layout, you can seamlessly integrate a logo and create a beautiful homepage.
Not only that, it also comes with advanced page-building features. You can create stunning pages for your blog or website in no time. It also features several custom widgets and customization features that allow you to change the appearance of your site without changing a line of code.
Finally, the theme supports famous plugins like Contact Form 7, WooCommerce, and Google Maps. You can also use the theme to create an online store or a portfolio page in no time.
With its unique design and powerful customization options, Smarter will help you easily create a modern website. Isn't it great if you could see how simple it is to create a fantastic website with Smarter? You won't be disappointed.
Key Features
Responsive Layout with HD Retina-Ready Graphics
Powerful Theme Options Panel
Full Width, Easy to use slider
Advanced Page Building Features
Custom Widgets for Endless Customization
Supports Popular Plugins (Contact Form 7, WooCommerce, Google Maps)
Unique Design and Powerful Customization Options
2. Alante (By ThinkUpThemes)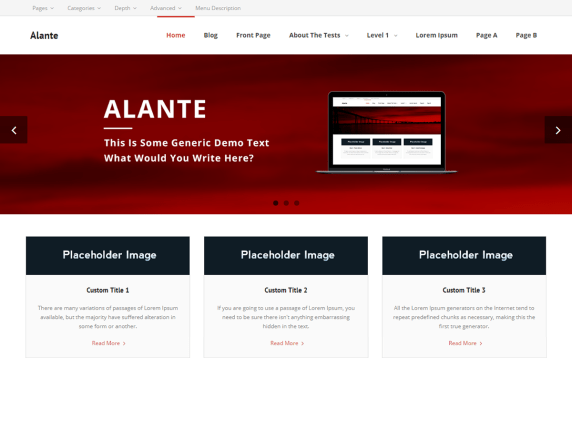 Featuring a beautiful minimal design, Alante is a free WordPress theme (Alante Pro) that sits perfectly on any website, and sports-based ones are no exception.
The theme loads with a sticky header that helps mold your website to stand out from competitors. With Alante, you'll get everything you can wish for, from page builders to amazing fonts while building websites.
Moreover, it offers many helpful features, such as a full-width slider, custom widgets, and post formats. The parallax scrolling effect provides a fantastic viewing experience with smooth transitions while you browse the website.
The best part? Alante has a modern responsive design that automatically adapts to any device size, from desktops to tablets and phones.
If you're looking for an easy-to-use WordPress theme with modern design elements to build your website, Alante is an excellent option.
It has everything you need to set up a professional website and manage it easily. Plus, with its user-friendly interface and advanced customization options, you'll be able to create the perfect design for your site within minutes.
Key Features
Responsive Design
Parallax Scrolling Effect
Sticky Header
Custom Widgets
WooCommerce Integration
One-Click Demo Import
Advanced Customization Options and Unlimited Color Options
3. VW Sports ( By VW THEMES)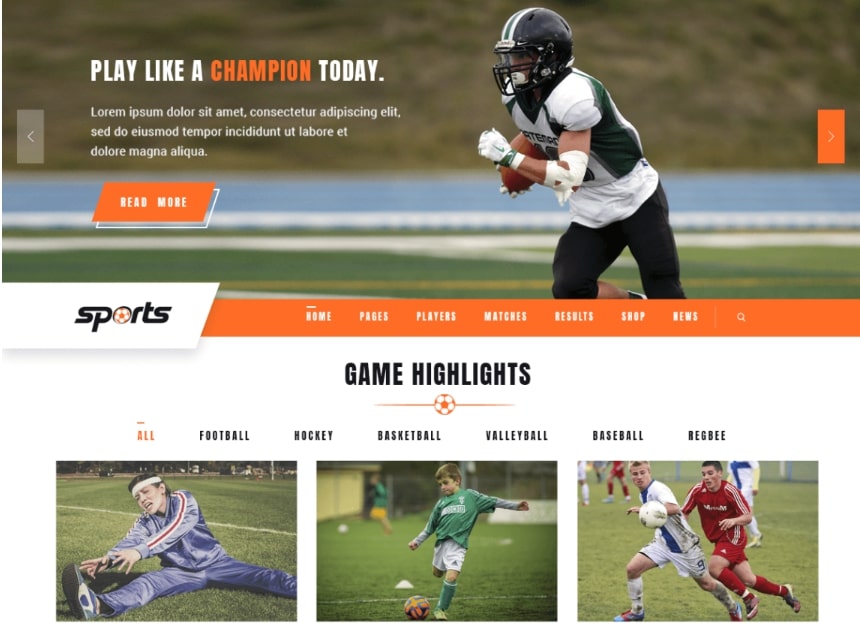 VW Sports is one of the best free WordPress sports themes that can provide a flying start to a sports website or an efficient online home for a sports club. The entire theme is geared in a manner that suits any sports-related site.
The theme's responsive and mobile-friendly design ensures your website looks great on any device. VW Sports is clean, elegant, and super simple to use, whether you're a beginner or an expert website designer.
It looks beautiful and has some great features. It has an easy-to-use drag-and-drop page builder and allows you to showcase stunning images, videos, and other sports media in style.
The theme also ships powerful built-in widgets like an advanced slider, recent posts, popular posts, advanced blog layout options for magazine-style websites, several custom page templates, and more.
In addition, this theme is SEO-optimized to help you rank higher in search engine results and includes several shortcodes so you can easily customize the content or elements on your site. Plus, it comes with an easy-to-use contact form so users can easily get in touch with you.
This WordPress Sports theme features a fantastic element that will be useful for displaying their portfolio. Overall a comprehensive sports package.
Key Features
Multiple Homepage Design Choices
Fully Responsive Design
SEO Optimized Code
Extensive Theme Options Panel
Styles Customizer
Header and Footer Layouts
Advanced Widgets and Shortcodes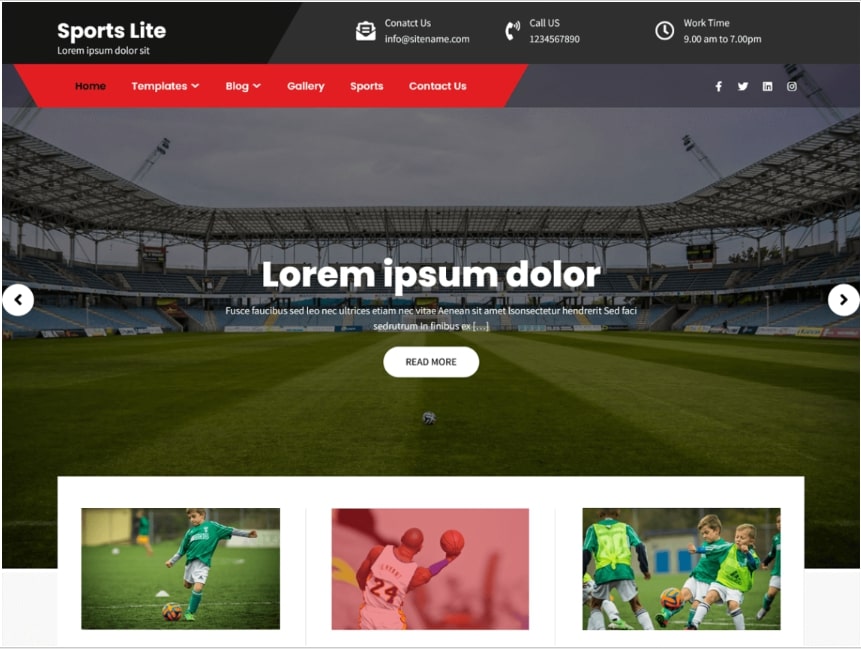 Next on our long list of best free Sports WP themes, we've got Sports Lite. The theme is dynamic and colorful for creative and responsive website building. Above all, Sports Lite is ultra-lightweight and super flexible and brings in a sleek and smooth design.
The theme brings a perfect platform to create an elegant-looking website for sports clubs, sports magazines, sports blogs, and sports-related websites.
In simple words, Sports Lite is among those fantastic WordPress sports themes with powerful and engaging elements essential for any sports academy website.
If you're looking for a creative, responsive website but don't have the budget or resources, this theme is ideal for you. It has amazing features like a sports-featured slider, sports team management, a fully responsive design, and more that make it the perfect choice for any website.
It features multiple widgets and plugins to enhance the functionality of your website based on the powerful Bootstrap framework. The theme also supports various page builder plugins, including Elementor and Visual Composer, making creating a fully functional website with this theme even easier.
In essence, Sports Lite allows you to create a powerful and professional-looking sports-related website without breaking the bank.
The intuitive dashboard and modern design make it perfect for beginners and experts. So if you're looking for a great solution to creating an impressive sports website, Sports Lite is worth considering.
Key Features
Easy customization options
Custom widgets and menus
Flexible layouts
Extensive color palette
Comprehensive documentation
Cross-browser compatibility
Translation-ready language files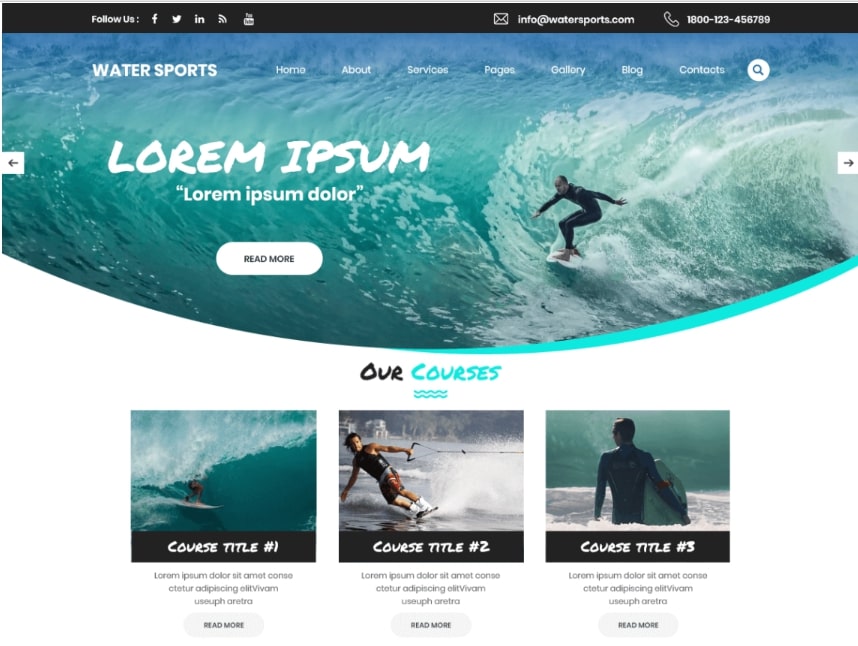 Coming from the home of "Iuzuk Themes," Water Sports Club is the perfect solution for those after sports WP themes and an online presence for a water sports club. Thanks to its elegant, trendy design, your website will be ready to engage visitors right away.
Above all, the theme shelters retina-ready graphics and a highly responsive nature that makes your website look pixel-perfect and perform equally great on every screen size. Water Sports Club is among those free sports WordPress themes which feature a user-friendly nature.
With limitless customization options, you can transform your website in the desired manner. Apart from all this stuff, the theme is SEO-ready to help rank higher in SERP queries. And also, it is WooCommerce-ready, which makes the task of monetizing your website effortless.
This WordPress theme helps you create a stunning online presence with its beautiful blog design that comes with four different post designs. Plus, there's a gallery section and portfolio area where you can showcase images or videos in the most mesmerizing manner.
On top of that, the theme has an inbuilt events section to give your users a heads-up regarding upcoming activities or matches. With the simple yet intuitive design, you can easily manage everything.
Overall, Water Sports Club is an ideal solution for every water sports club looking to take its business online. With its visually appealing design and advanced features, this theme is perfect for letting your visitors explore more about your brand.
Key Features
SEO Optimized
Advanced Typography Options
Retina-Ready Display
Social Media Integration
Custom Backgrounds
Multi-Language Support
Plugin Compatibility & Widgets Support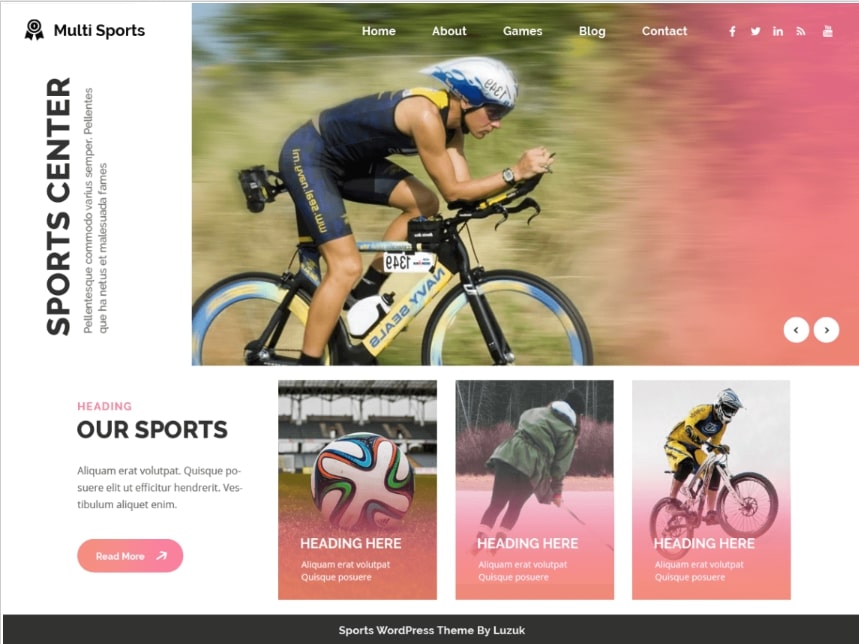 No matter if you're after creating a website that revolves around Cricket, Rugby, Soccer, Hockey, Tennis, Basketball, Football, Volleyball, Baseball, Games, trainers, Players, or any other sports, Multi Sports is an ideal fit.
This theme is one of the unique free WordPress sports themes that are capable of serving all the requirements of sports and any sport-related website. Your website can most effectively drive attention to your business if it has a clean, elegant layout.
Multi Sports is 100% responsive and thus makes your site operate perfectly on any screen size. Moreover, the theme is packed with many secure and clean codes. Additionally, the SEO-friendly nature will help your website beat its rivals pretty easily.
It is coded with the latest HTML5 and CSS3 techniques. It also has a responsive framework to ensure your website looks stunningly beautiful on all digital devices like tablets.
In addition, the theme offers custom widgets and sidebars. With the help of these, you can easily customize your website according to your needs. You can even add a multi-column drop-down menu to organize all of the content on your site in an orderly way.
Multi Sports is one of the best free WordPress sports themes for creating a sports-related website.
Key Features
Full-width slider
Responsive framework
SEO-friendly code
Custom widgets and sidebars
Multi-column drop-down menu
Call to action button and social media icons integration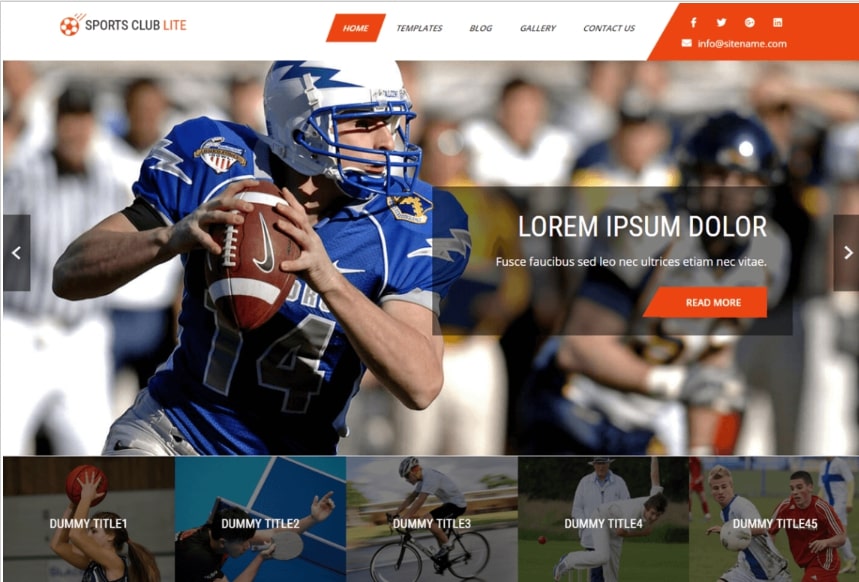 Moving a step forward with the list of best free SPorts WP themes, we've got Sports Club Lite featured next. The theme is resourceful, modern, and engaging, featuring youthful and lively nature.
Sports Club Lite is super flexible. You can employ this theme and build a website with any sports in focus. Besides, the theme is home to a highly responsive layout with which you can craft unique sports league WordPress websites in minutes.
This feature-rich theme is highly customizable as well. This means you'll be free to bring in creative modifications when you design your website with this free WordPress theme.
It also comes with cross-browser compatibility, WooCommerce support, a call to action button, a search engine-optimized codebase, and much more.
Sports Club Lite is a great free WordPress theme for sports clubs, sports teams, and other sports-related websites.
The theme also features a fully customizable homepage to personalize or customize your site according to your needs. You can add widgets such as recent posts, the latest news, and upcoming events in a few simple clicks.
So if you're looking for a simple, attractive, and feature-loaded sports WordPress theme, Sports Club Lite is your best bet.
Key Features
Responsive Layout
Highly Customizable
Cross-Browser Compatibility
WooCommerce Support
Search Engine Optimized Codebase
Fully Widgetized Homepage
Call to Action Button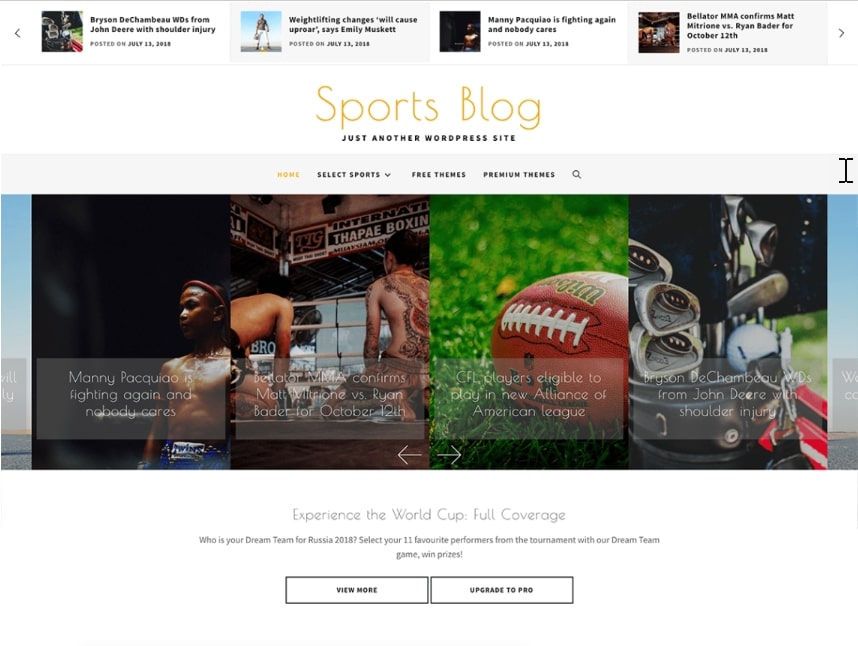 Sports Blog is another impressive free WordPress sport theme that needs your attention. You can easily create great blog sites with different eye-catching styles and options.
It is one of those impressive WordPress sports themes with a clean yet modern design. Apart from that, the theme promises to provide an excellent user experience and fulfill any customizable need.
You may customize this theme to match your needs, such as colors, typography, fonts, and other options. No matter which section we consider, you'll find that everything is designed with quality in mind. Sports Blog is also highly responsive and performs equally great on any device.
The theme offers several outstanding features. To begin with, it comes with a unique header slider that allows you to showcase your best images and a short description of them. Moreover, the Sports Blog theme includes an intuitive and easy gallery, a portfolio page, and four different blog page layouts.
Moreover, this theme supports social media integration so you can easily share your website's content with the world. It is integrated with Google Fonts and has several shortcodes to help you customize your site quickly. It doesn't require any coding to achieve the desired outcome.
It comes with an easy-to-use interface and offers users plenty of customization options. With this theme, your site will look professional and beautiful in no time.
So, if you are looking for a sport-themed website that looks stunning and works excellently, Sports Blog should be your first choice. With this WordPress theme, you can create a fantastic site for any purpose without having to write a single line of code.
Key Features
Unique header slider
Intuitive and easy gallery
Four different blog page layouts
Social media integration
Google Fonts integration
Shortcodes for customization
Fully responsive design
Plenty of customization options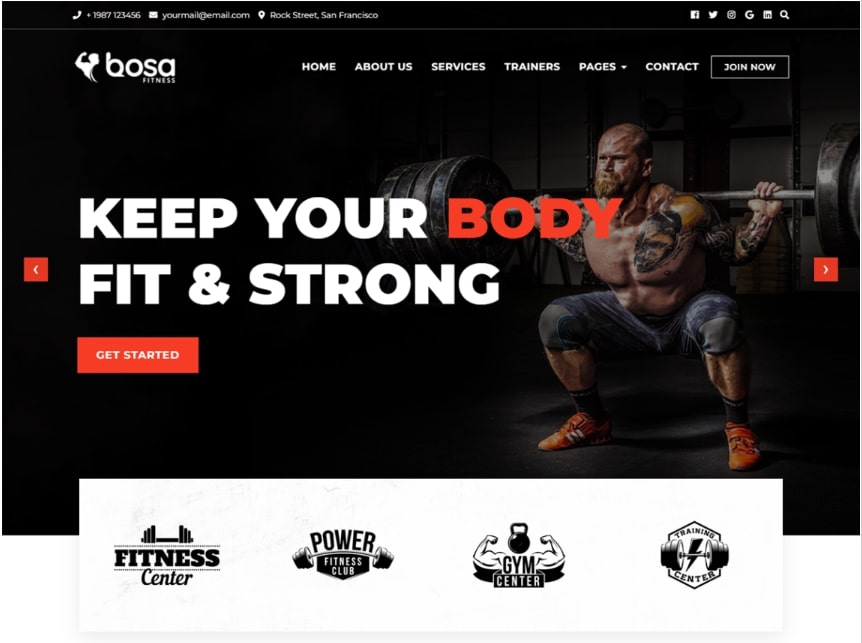 Bosa Fitness is a free WordPress fitness theme. However, thanks to its versatile nature, crafting sports-based websites is also practical. Bosa Fitness features a beautiful, clean, modern design that is fast, lightweight, and responsive.
In addition, it is one of those highly customizable free WordPress sports themes that users can use as a foundation to craft desired websites in minutes. As a fantastic WordPress website-building tool, Bosa Fitness is home with SEO code speed and usability in mind.
A professionally designed homepage generator simplifies the creation of attractive website interfaces. You may choose a logo, background, slider background, menus, and sidebar from the control panel in the WordPress admin panel.
The theme is also home to various website customization solutions, from different color options to typography and infinite custom widgets.
Moreover, Bosa Fitness has great sliders, portfolio grids, and custom post types. It also has WooCommerce integration, so you can start selling products online in just a few clicks.
The theme also supports multiple languages and comes packed with all the necessary documentation to get started faster.
In short, Bosa Fitness offers an amazing combination of design, speed, and usability. It has all the right features to create a visually stunning and professional website in minutes.
With its awesome customization options and powerful integration tools, this free WordPress sports theme will take your website experience to the next level.
Key Features
Sidebar Control
Responsive Design
Social Media Integration
Shortcodes Support
SEO Optimized
Cross-Browser Compatibility
Retina-Ready Graphics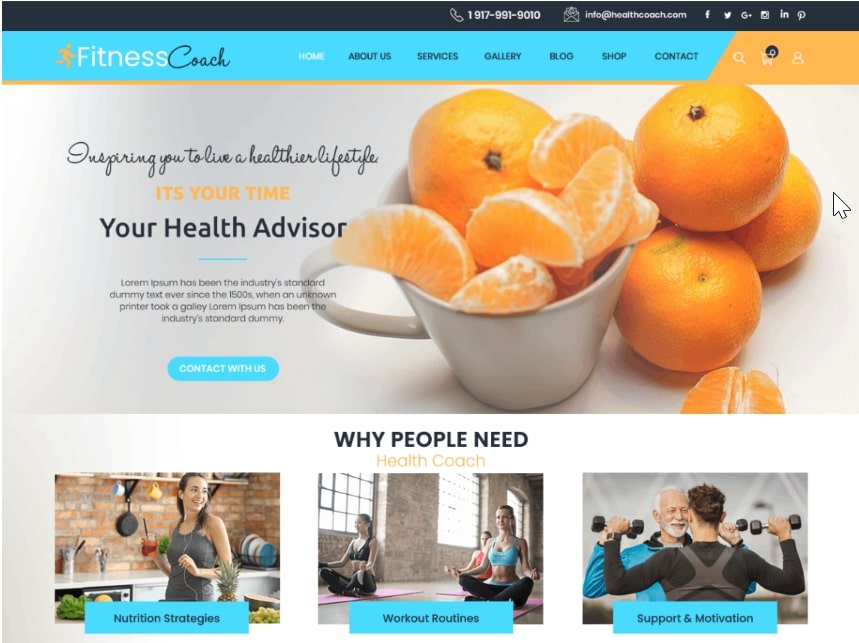 Fitness Coaching is an amazing free WordPress theme designed to create a stunning website. Home to several customization options, the theme has all the elements to fall in love with. It is a mobile-friendly theme that fits in any device with ease.
You'll be able to index your website easily with Fitness Coaching because it is SEO-friendly. It is one of those sports WordPress themes which are translation-ready and supports RTL layout. It bags a series of written, clean and secure codes.
The theme has a custom widget area that allows you to display your content in an organized and beautiful way. It gives you several page templates, blog layouts, and portfolio options. The theme also provides powerful features like unlimited colors, fonts, icons, and more.
It is compatible with popular plugins such as BuddyPress and WooCommerce, which allows you to extend its functionalities. In addition, it also features a powerful admin panel that allows you to customize the theme without any hassle.
Hence, if you are looking for an awesome WordPress theme to set up your fitness coaching website, Fitness Coaching is worth a try.
Key Features
Mobile Friendly Design
Translation Ready & RTL Support
Clean & Secure Codebase
SEO Friendly
Custom Widgets Areas
Multiple Page Templates
Multiple Blog Layouts & Portfolio Options
11. Top Event (By themepalace)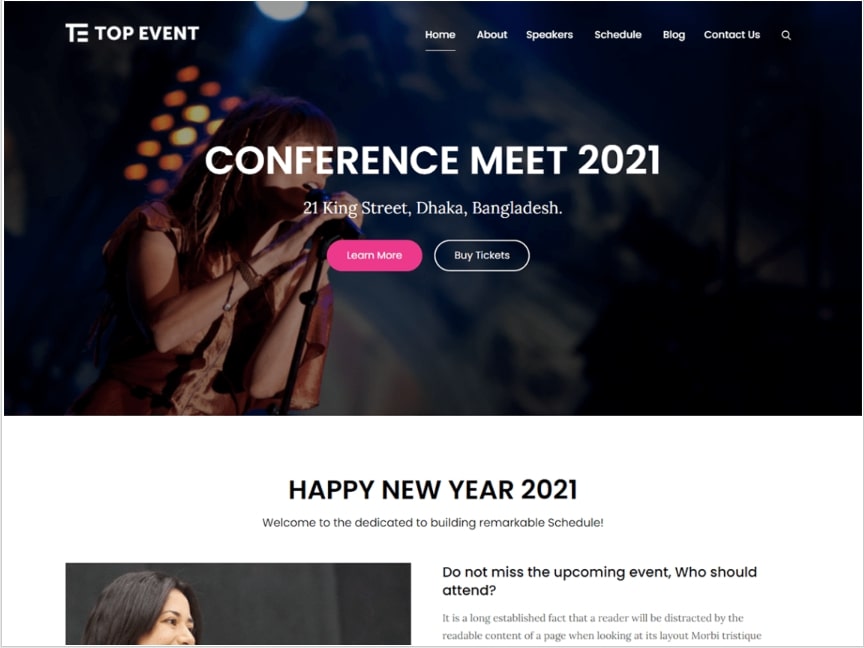 With Top Event, you're looking at another fantastic theme. Although the primary purpose is crafting websites that revolve around conferences and events, you can seamlessly create other sorts of websites as well. The theme is well-coded, super flexible, and very easy to use.
Home to pixel-perfect design, you can build websites for sporting events that can please visitors worldwide. Moreover, the theme bags are highly responsive to ensure they operate and look great on any device.
The theme has many features, including a drag-and-drop page builder, three preset homepages, and 12 header variations.
You can play around with custom widgets, typography options, translation support, and dynamic sidebars. The Theme Customizer lets you tweak your website's appearance until you get the desired look.
Top Event offers compatibility with premium plugins such as the Revolution Slider, Essential Grid, and Events Calendar. With social media integration, you can easily share your content on platforms like Facebook, Twitter, and Instagram.
Key Features
Drag-and-drop page builder
Custom widgets
Typography options
Translation support
Dynamic sidebars
Theme Customizer
Revolution Slider compatibility
Essential Grid compatibility
12. Real Fitness (By ClassicTemplate)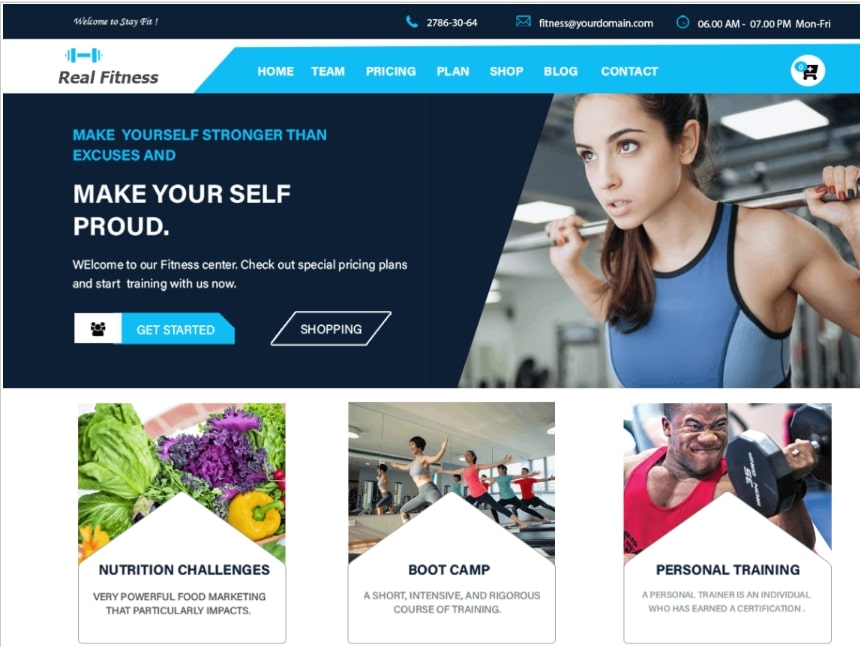 Real Fitness is an innovative free WordPress theme perfect for building engaging websites. Due to its SEO-friendly nature, the theme promises higher rankings in search engines.
The theme features a modern, luxurious, elegant, clean, and sophisticated design. The translation-ready and support for RTL layout is an additional benefit. The theme further allows users to add shortcodes to improve your website's overall functionality.
There are also multiple layout options, a full-width slider, a custom logo, a font selector, and a background color picker in the theme. It is also compatible with the latest version of WordPress and is optimized for speed and SEO.
You can also use Real Fitness's powerful page builder to create your website's layout. Furthermore, it is fully responsive and highly customizable. It is also compatible with WooCommerce, allowing you to build and manage online stores.
Real Fitness is a great choice for anyone looking to create an attractive website in no time at all. With its cutting-edge features and powerful tools, your website will surely stand out. The theme comes with detailed documentation that can be used to make configuration easier.
Key Features
SEO Friendly
Support for RTL Layout
Shortcode Support
Custom Logo and Font Selector
Multiple Layout Options
Page Builder Compatible
WooCommerce Compatible
13. Pixler Web (By Wpazure Themes)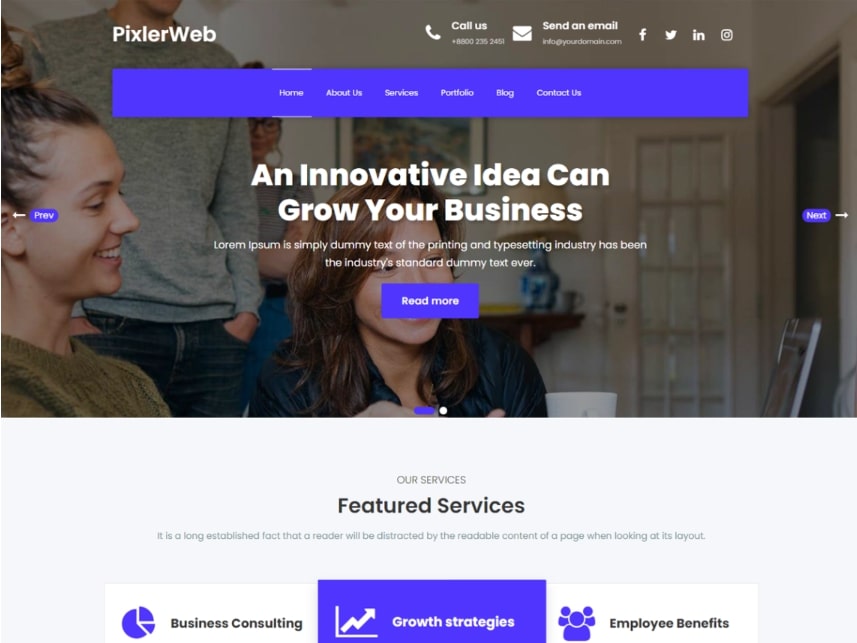 The Pixler Web WordPress theme provides a unique look and extra home page section layouts. It is a lightweight, flexible, multi-purpose child theme of the ConsultEra WordPress theme.
It is highly responsive and will make your website stand out. All these and more make it one of the best free sports WordPress themes.
The theme is suitable for any WordPress site, such as businesses, law firms, personal blogs, portfolios, startups, agencies, sports, magazines, fashion, fashion, shops, WooCommerce stores, finance, accounting, and consulting.
Fresh and modern aesthetics characterize the theme. It has a powerful options panel, one-click demo installation, unlimited colors and fonts, five custom page layouts, drag, and drop page builder (Elementor), a full-width hero slider & banner section, various color options, etc.
Your brand can be easily incorporated into the theme by adding customized backgrounds and adjusting color schemes. You can also set up a blog, portfolio section, and even an eCommerce shop using the included WooCommerce plugin.
In addition to social media buttons, contact forms, and search forms, the theme has excellent features for your visitors. It is well-optimized for SEO and speed to ensure your website is at its best for search engine rankings.
Pixler Web is one of the most elegant and stylish free WordPress themes available. It is perfect for creating beautiful websites with ease.
Key Features
Powerful options panel
One-click demo installation
Five custom page layouts
Drag and drop page builder (Elementor)
Full-width hero slider & banner section
Various color options
Social media buttons
Enjoy Mini is a minimal, fresh, and clean multi-purpose magazine WordPress theme. It suits any news/magazine or any niche market, viz., blog, fashion, technology, sports, football, politics, beauty, health, video, travel, fashion, yoga magazine website, etc.
This theme includes everything you need for any website. It is clean, sophisticated, user-friendly, fast-loading, customizable, flexible, and practical, and you can start your online sports-based website immediately.
It has unlimited colors, custom widgets, an SEO-friendly HTML structure, and a powerful admin panel. Enjoy Mini also offers you an easy way to customize the look of your website. It has multiple layouts designed for large screen sizes and small screens. It is built on Bootstrap 3 and HTML5 / CSS3 technology, making it very responsive.
Many features are included in this theme, including custom post types, a powerful drag-and-drop page builder, and an advanced live preview feature that lets you see real-time changes.
Using the Theme Customizer, you can create unlimited color schemes for your website. It is also compatible with popular WordPress plugins like WooCommerce and bbPress.
Enjoy Mini is designed to fit any business, personal or corporate website. It has a clean design that is easy to navigate and loads quickly on tablets and smartphones. The theme also allows you to easily create a custom logo for your website.
Key Features
Powerful admin panel-Multiple layouts
Built on Bootstrap 3 and HTML5/CSS3 technology
Custom post types -Drag and drop page builder
Live preview feature to see changes in real-time.
Theme customizer to create unlimited color schemes
Compatible with popular plugins such as WooCommerce and bbPress
An easy way to customize the appearance of your website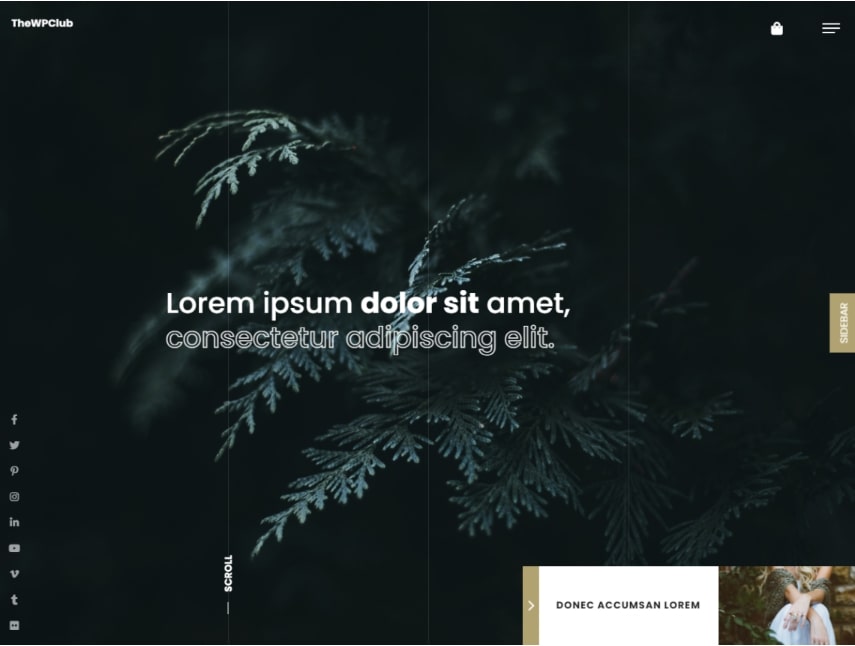 Club Nature is a clean, minimal, responsive WooCommerce WordPress theme suitable for fashion, writers, travel, Fitness, business, health, sports, finance, art, photography, personal, portfolio, design, or any other creative websites, blogs, and webshops.
This theme maintains a versatile nature, making it suitable for any website. Based on the bootstrap framework, it is mobile and tablet-friendly.
You can add your social media links to ClubNature. The theme has a full-width slider, several custom widgets, and post formats, making it easy for users to show off their content. It is SEO friendly, so you can optimize your website easily.
The theme's design is modern and fully customizable, from layout to colors. The theme is also completely customizable, from the header to the footer and everything in between. Several page templates are available to customize your website to your needs.
A speed-optimized theme is included, with options for caching and optimizing files. It also has a built-in customizer that allows you to easily adjust the site's settings. Furthermore, ClubNature supports WordPress's child themes, so you can customize the theme to your heart's content.
ClubNature is the perfect choice for creating an amazing website with WordPress. Modern design and extensive customization options make it a great fit for any website.
You can customize your website easily with a powerful backend control panel. Plus, you can add custom page templates and custom post types, giving you full control over the functionality of your site.
Key Features
Bootstrap Framework
Social Media Integration
WooCommerce Ready
Custom Widgets and Post Formats
Mobile and Tablet Friendly
Fully Customizable Layout and Colors
Multiple Page Templates
16. Yogis Lite (By Alexathemes)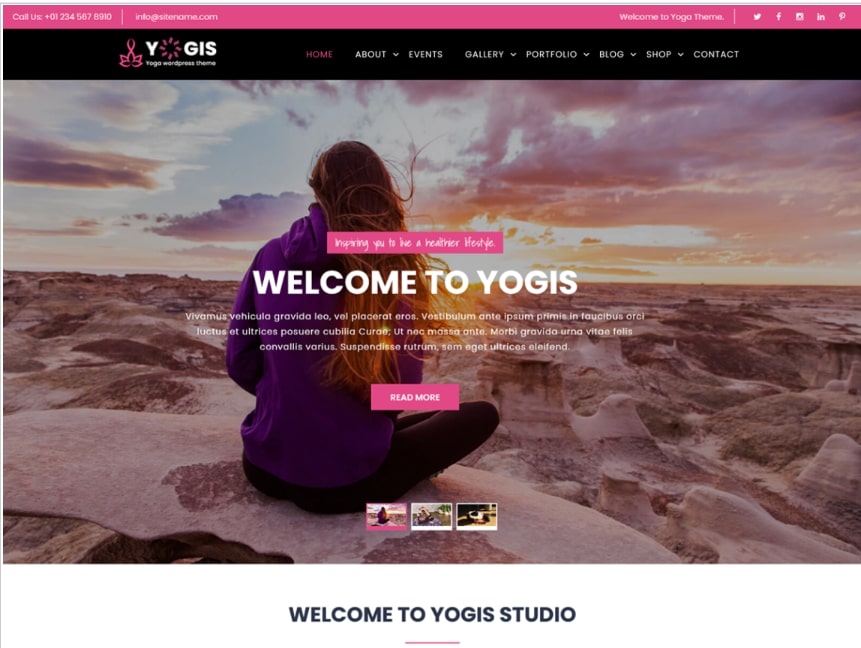 Yogis Lite is a fitness and yoga-based WordPress theme specially built for a fitness center, sports, yoga classes website, gym, Zumba classes, meditation center, and many more.
The theme accompanies a nice and clean design where you can showcase all the information related to your fitness center. Using this theme, you can design a powerful and dynamic website with remarkable features and elements.
This highly functional and responsive theme nicely performs on all screen resolutions and is also nicely performed for SEO purposes. A few sections and a slider are available in the customizer of Yogis Lite WordPress.
Yogis Lite theme is compatible with WooCommerce websites, so you can easily create your online store. The theme is examined and fits with the latest version of WordPress. You will get a fantastic and modern layout for your business if you use this theme.
Due to its light coding structure, it provides a fast loading time. It also offers detailed documentation content to easily install the theme.
With its modern and responsive design, you can showcase all the information related to your business attractively and professionally.
Moreover, the Yogis Lite theme comes with several advanced features. You can customize fonts, colors, and other design elements to make your website more attractive. Further, it supports the latest WordPress Gutenberg editor, which helps you create high-quality content without coding.
You might be looking for a powerful WordPress theme for your Fitness or yoga business; Yogis Lite would be an ideal option.
Key Features
Responsive design that works across all devices and screen resolutions
Compatible with WooCommerce for creating an online store
Optimized for SEO purposes
The latest version of WordPress Gutenberg editor
Customizable fonts, colors, and other design elements
Lightweight coding structure for fast loading times
17. Batpa (By themeplugs)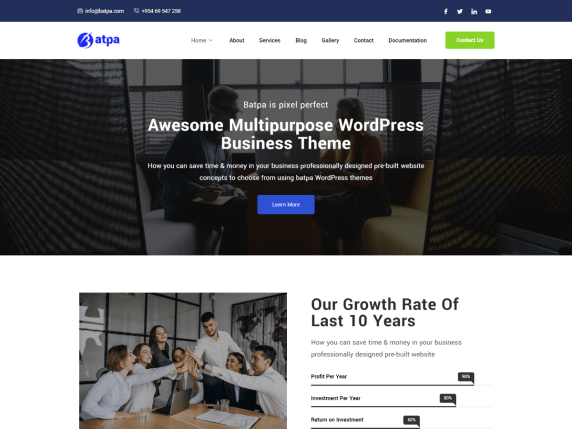 Batpa is an amazing business and multi-purpose WordPress theme. It's a fast, elegant, and customizable theme. It's your ideal WordPress Theme to create pixels perfect for websites.
You don't require any coding knowledge or write a single line of code to create an amazing website that will take your corresponding business to new heights. You can edit Content with Visual Drug & Drop Elementor Page Builder.
Creating Mobile responsive websites that appear good on any device has never been easier. The theme allows you to customize every page across various devices using intuitive and visual controls. It's also One-Click Demo Import Ready.
Aside from its countless features, Batpa allows you to build a website that looks and feels great. You can minimize loading time using the included minify JavaScript & CSS Compiler and create attractive and organized menus with up to 10 levels of drop-down support.
You'll get full control over your site's color and customized options. Plus, the options panel is extremely easy to use, so you can make changes quickly without any hassle. You can easily add a contact form for user queries and a Google map for visual guidance.
Overall, Batpa is an ideal WordPress theme with all the necessary features to create stunning websites effortlessly. It's highly customizable and provides a great user experience.
Key Features
Responsive Design
Easy Customization
SEO Optimized Layout
Cross-Browser Compatible
Multiple Homepage Layouts
Advanced Typography Options
Drag & Drop Page Builder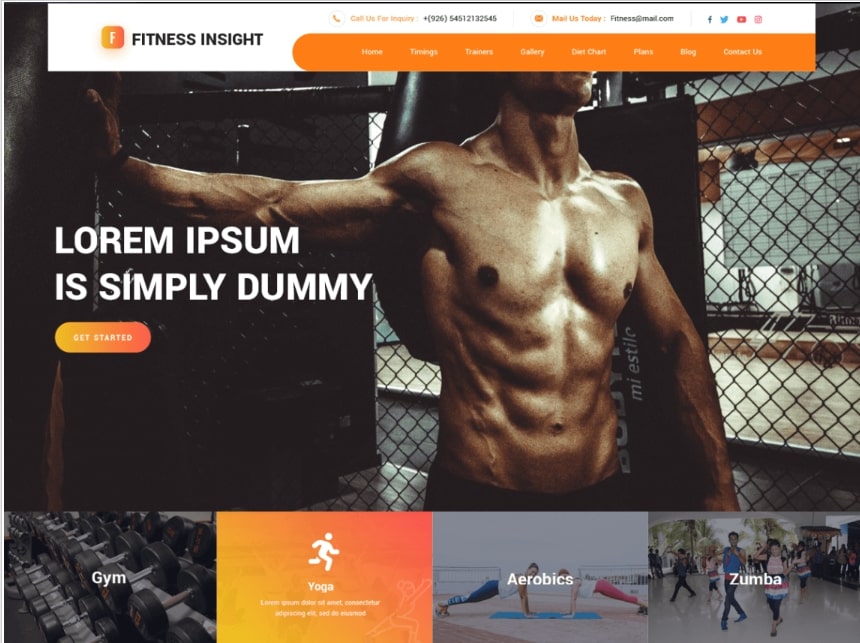 The Fitness Insight theme has a responsive layout which means it fits all devices and screen sizes.
It is SEO-friendly and a user-friendly theme with many customization options like advanced typography, a Call to Action Section, a sticky menu, etc. Because of its efficient coding, the page loads faster.
Based on the bootstrap framework and has social media integration. Also, the theme is cross-browser compatible and is translation-ready.
A wide selection of fonts and colors is available in Fitness Insight, giving users the freedom to customize their website. It also includes an easy-to-use contact form, dynamic sliders, and subscription forms.
The theme provides access to powerful tools such as Google Analytics integration and built-in spam protection. The theme offers shortcodes to embed videos, images, and audio on your website.
Moreover, Fitness Insight has a variety of page layouts, such as a blog page and a contact us page available. It is also compatible with popular plugins such as WPML, BuddyPress, and Jetpack.
Fitness Insight is a highly secure, multi-purpose WordPress theme ideal for Fitness, health, and wellness websites. It is easily customizable and fully responsive, with an intuitive user interface that helps create visually appealing websites. The theme also includes a powerful admin panel, making it easier to manage the website.
With its array of features, such as advanced typography options, custom page templates, and widgets for sidebars, this theme provides an all-in-one solution to create a stunning website. Additionally, its flexible layout makes it easy to customize your website's look.
Key Features
Optimized for speed & performance
Social media integration
Google Maps integration
eCommerce compatibility
Slider and gallery options
Pre-built page templates
Security updates & bug fixes
Cross-browser compatible coding & design elements
Parallax sections and backgrounds
Customizable page headers & footers
19. TopScorer (By Mikado-Themes)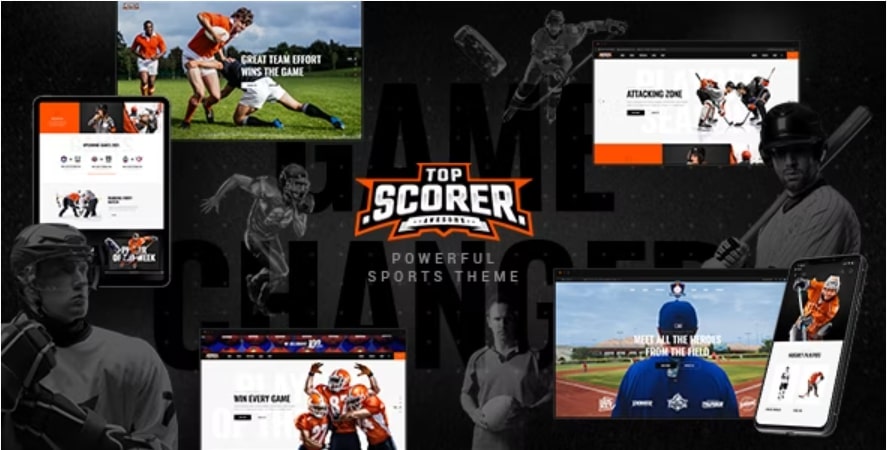 TopScorer is an advanced WordPress theme allowing users to create modern, complex websites without coding experience. It features a powerful admin panel and custom widgets that can customize each page's look.
The theme also includes various color schemes, allowing users to choose the right look for their website. Additionally, TopScorer is equipped with a responsive design, ensuring that all pages look great on desktop and mobile devices.
You can create an attractive website using the theme, which includes several powerful features. For instance, users can easily add images, slideshows, videos, and other media seamlessly into their posts.
Additionally, the theme offers a selection of custom page templates that can be used to create unique layouts. Furthermore, It is also SEO-friendly and optimized for speed, ensuring visitors have a smooth experience when browsing a website built with TopScorer.
In conclusion, TopScorer is an ideal WordPress theme for users who want to create dynamic websites without coding experience. It offers a wealth of features that let users customize the look and feel of their website, as well as provide an optimized layout for fast loading times and improved SEO rankings.
Key Features
Powerful Admin Panel
Custom Widgets
Color Schemes
Responsive Design
Image, Slideshow, and Video Support
Custom Page Templates
SEO Friendly and Optimized for Speed
20. Kickoff (By Kodeforest)
Kickoff is a WordPress theme designed to help businesses create professional, modern websites. It is versatile, easy to customize, and offers an intuitive visual interface for quickly building pages with dynamic content.
It includes over 50 powerful widgets and custom post types that allow users to design unique layouts for their websites. It has advanced features like responsive design, SEO optimization, WooCommerce integration, and a drag-and-drop page builder.
It is compatible with popular WordPress plugins like Jetpack, Yoast SEO, Gravity Forms, and WPML. With an extensive library of pro-premade designs that can be easily imported, Kickoff provides an unbeatable solution for user-friendly website creation.
Additionally, Kickoff offers its users extended support, including comprehensive documentation and video tutorials. Simple to install and use, Kickoff is the perfect WordPress theme for any project.
Overall, Kickoff is an extremely useful WordPress theme that helps businesses create personalized web pages with ease. Featuring a wide range of custom designs and advanced features, it provides a powerful platform for building functional websites quickly.
With its responsive design, WooCommerce integration, and drag-and-drop page builder, Kickoff is the ideal choice to get businesses online quickly and effortlessly.
Key Features
Responsive Design/Flexible Layout
Enhanced SEO Optimization
Custom Logo Uploader
Elegant Typography & Font Options
Social Media Integration
Multiple Color Schemes and Layouts
Image Slider and Gallery Option
Built-In Contact Form Builder
21. Shaka (By ProteusThemes)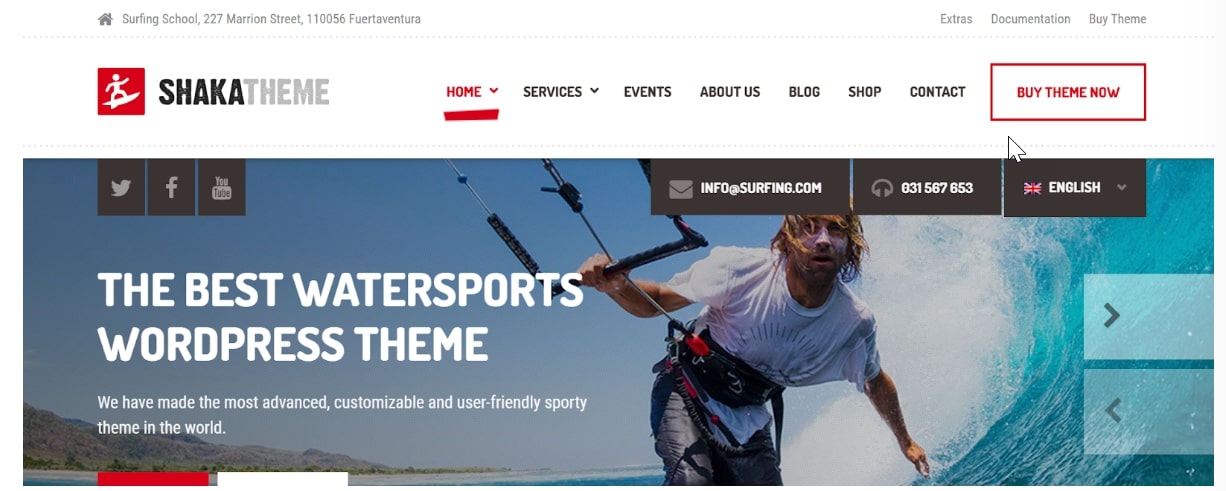 Shaka is a powerful and highly customizable WordPress theme. This theme allows you to create stunning websites quickly and easily. The theme offers many features, including multiple layout options, custom page templates, unlimited color schemes, responsive design, and translation-ready capabilities.
With Shaka, you can build a modern eCommerce store or a personal or business site in just a few clicks. The theme is SEO-friendly and optimized for fast loading times, ensuring visitors have a great experience visiting your website.
Additionally, Shaka comes with an intuitive drag-and-drop page builder to make customizing your site even easier. From creating beautiful sliders to adding contact forms and more, Shaka makes it easy to create a website that suits your needs. With a few clicks, you can also install plugins to extend the functionality of your Shaka site.
Whether you're looking for a professional business site or an online store, this theme is a great choice. Due to its user-friendly interface and advanced features, it is the perfect theme for any website. You won't be disappointed.
With its modern design and powerful features, Shaka is an excellent choice for creating a beautiful website. Its versatile design and intuitive drag-and-drop page builder make it easy to Customize your site, no matter its purpose.
Key Features
Retina Ready Graphics
Multi-Level Drop-down Navigation
Customized Color Schemes
Cross Browser Compatibility
SEO Optimization
Social Media Integration
Mobile Friendly Layout
Drag & Drop Page Builder
Shortcode Generator
Custom Post and Page Templates
Premium Customer Support
22. Redy (By axiomthemes)

Redy is a WordPress theme that offers the perfect blend of modern and classic design. With its clean and minimalistic design style, it will surely impress your website visitors.
It features a responsive layout, two different homepage layouts, custom widgets, post formats support, WooCommerce integration, advanced typography options, translation-ready code, and much more.
It has an intuitive and user-friendly layout and is optimized for all devices and screen sizes. Its sleek design allows for easy navigation and visitor content discovery, creating a pleasant browsing experience.
Additionally, the custom widgets in the theme give you complete control over your site's looks and functions.
The theme also includes post format support, allowing you to easily create different types of posts for your blog and other content areas. Additionally, its WooCommerce integration makes it easy to create an online shop.
Furthermore, the theme includes advanced typography options, which give you control over font sizes and colors so that your site always looks great.
For those looking for a WordPress theme that looks and functions great, Redy is a perfect choice. Its modern design style, responsive layout, and advanced features will make your website stand out. It's easy to set up and configure, making it ideal for users of all skill levels.
Key Features
Responsive layout
Two different homepage layouts
Custom widgets
Post formats support
WooCommerce integration
Advanced typography options
Translation-ready code
Clean and minimalistic design style
23. Xsports (By Templines)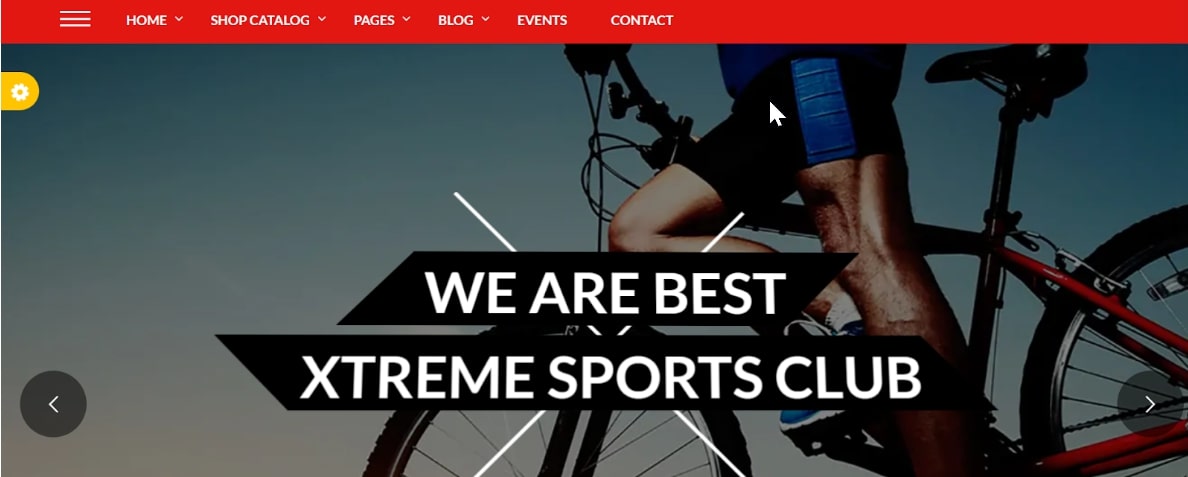 Xsports is a modern and fully responsive WordPress theme designed specifically for sports-related websites.
It is equipped with many powerful features that can help you easily create an impactful website. With its robust and easy-to-use drag & drop page builder, it has the perfect combination of simplicity and flexibility.
Its intuitive interface and array of customizations make it easy to create a unique website tailored to your needs. The theme includes multiple sports-related content sections, including team details, leagues, tournaments, and more.
You can customize the home page to impressively showcase your league or tournament information. It also has powerful shortcodes that can help you easily embed sports-related content and videos on your webpage.
Xsports has a robust team page builder that allows you to show off your teams attractively. The Xsports theme is perfect for creating engaging websites quickly and efficiently.
It includes many demos, presets, and options that make website creation effortless. With just a few clicks, you can customize your website's look and feel from the front to the inner pages. Furthermore, Xsports is SEO-optimized so that search engines can easily find your website.
Overall, Xsports is an excellent WordPress theme for sports websites. It provides all the necessary features and tools to create a unique website quickly.
From the intuitive page builder to the powerful shortcodes and page options, Xsports makes it easy to create a professional-looking website in no time. Whether looking for a simple sports website or an advanced one, Xsports is the perfect WordPress theme for any project.
Key Features
Drag & Drop Page Builder
Multiple Sports-related Content Sections
Customizable Homepage
Powerful Shortcodes
Team Page Builder
Demo Presets and Options
SEO Optimized
Intuitive Interface
Easy Customization Options
24. WaveRide (By Select-Themes)

This powerful sports WordPress theme has plenty of features and options to help you build a fully-functional and modern website for any team or club.
The minimalist design of WaveRide makes it easy to create stunning websites that will capture the attention of your visitors. It is an excellent option for those seeking a premium WordPress theme that offers both style and functionality in equal measure.
One of the best things about WaveRide is its flexibility. Whether you are just starting with a personal blog or need a professional website for your business, this theme has all the features and tools you need to create a great site that truly stands out from the crowd.
The theme's fully responsive layout ensures that your content will look great and work seamlessly on any device, including desktop computers, tablets, and smartphones.
Another great feature of WaveRide is its advanced design settings. With this theme, you can easily customize your site's appearance with a few clicks. From choosing the perfect color scheme to select custom fonts for the text on your website, everything is a breeze with WaveRide.
In addition to its excellent design features, WaveRide also includes many useful plugins and widgets that you can use to create a fully functioning website in no time.
Whether you need a slider for displaying your content or want to add social media buttons to your site quickly, the tools included with this theme make it easy to add the features you need.
Overall, WaveRide is one of the best WordPress themes today. It will become a favorite among anyone who wants to create a professional website without coding knowledge or technical skills.
Key Features
Minimalist design with a clean layout
Fully responsive layout for seamless viewing on all devices
Advanced design settings for customizing your site's appearance
Integrated plugins and widgets to create a fully functional website
Easy to use and navigate, even for beginners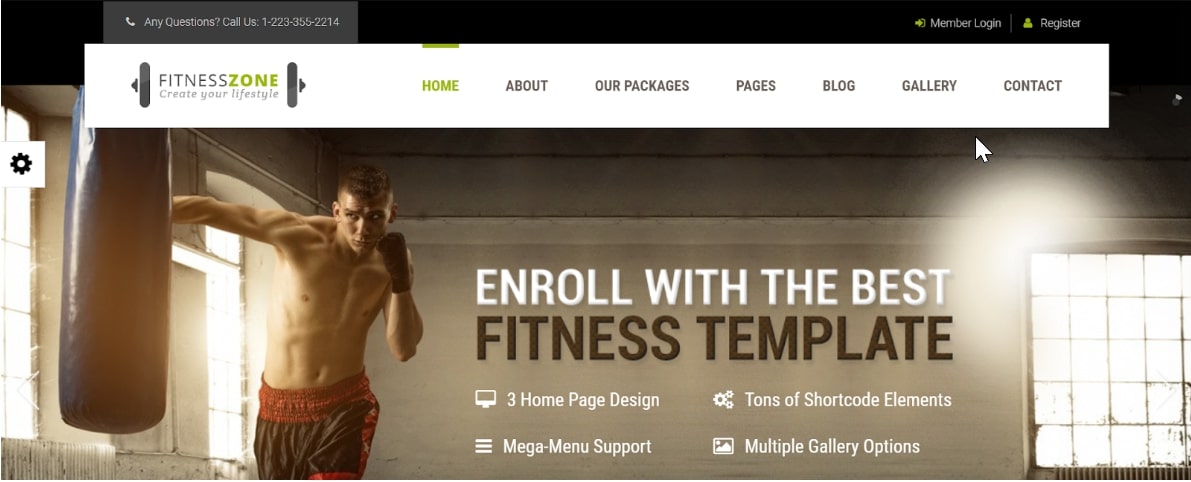 If you are looking for a powerful, feature-rich theme to create an effective website for your Fitness or health business, then the Fitness Zone WordPress theme is worth checking out.
With its clean, modern design, tons of customization options and tools, and outstanding support, it is the choice for anyone looking to create a stunning website that stands out from the crowd.
Whether you are a fitness professional, personal trainer, or gym owner, the Fitness Zone theme has everything you need to create an engaging and effective online presence for your business. This theme is packed with tons of customization options, features, and tools that make it easy to build a unique website in no time at all.
This WordPress theme is an excellent choice for anyone looking to create an outstanding online presence for their Fitness or health-related business. With the theme's drag-and-drop editor, you can easily create the perfect site layout.
Pre-built templates make it easy to start creating content without worrying about designing your website's look and feel from scratch. In addition to a responsive design, it offers easy customization options and plenty of space for content.
And with support from all the major social media networks, it is easy to build an online community around your fitness business and connect with potential customers.
Key Features
Responsive design
Drag and drop editor
Multiple blog layout options
Gallery and portfolio templates
Social media integration
Custom widgets
Conclusion
Choosing a sports WordPress theme for your website is essential to create a professional and engaging online presence. Whether you're a fan of baseball, football, or any other sport out there, there's a WordPress theme for you. With so many great themes available, it can be challenging to choose just one.
When it comes to sports WordPress themes, the sky's the limit. However, you can find the perfect option for your site by considering the most critical features and researching different themes. So start searching today and enjoy the benefits of having a professional and user-friendly sports website.