Sports is a way of life, so show your support by picking one of the best sports WordPress themes when building your site.
Maybe you're Looking for a way to support your favorite sports club by setting up a website to get new followers, or to create the perfect e-commerce store for your local high school football team and sell some merchandise online?
We bring you a collection of free WordPress sport themes with plenty of firepower to create an impressive online presence.
Best Sports WordPress Themes in 2021
---
Smarter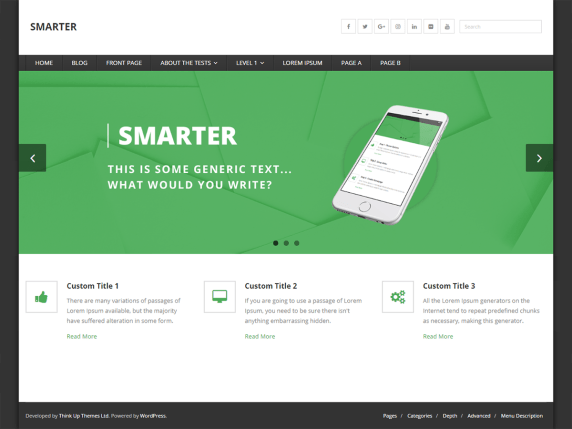 Smarter introduces you to the free version of the multi-purpose professional theme called Smarter Pro. It is brilliantly designed to fit ideal for any business or blog website.
The theme features a 100% responsive layout with HD retina-ready graphics and comes with a powerful theme options panel. All these will let you craft amazing websites and make awesome changes without writing a single line of code.
As one of the best available free WordPress sports themes, Smarter features a full-width easy to use slider. You can seamlessly add a logo to your site and accordingly create a beautiful homepage using the built-in homepage layout.
Alante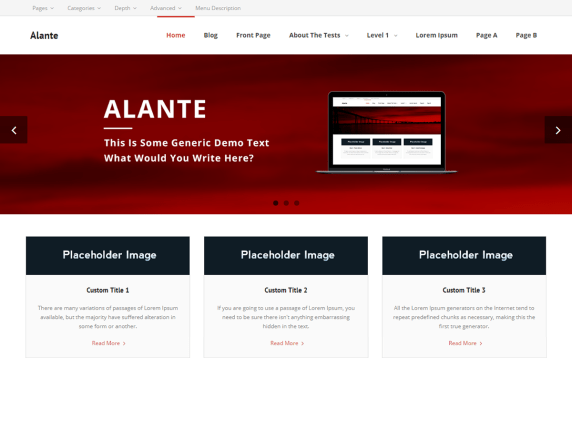 Featuring a beautiful minimal design, Alante is a free WordPress theme (Alante Pro) that sits perfectly for any type of website, and the sports-based ones are no exception.
The theme loads with a sticky header that really helps in molding your website to stand out from your competitors. From page builders to amazing fonts, with Alante, you'll get everything you can wish for while building websites.
VW Sports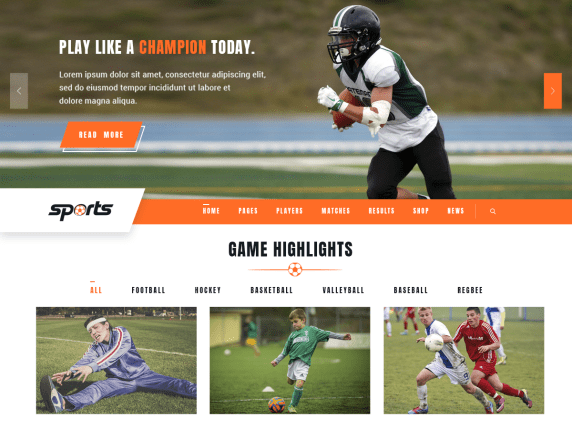 VW Sports is one of the best free WordPress sport themes that can provide a flying start to a sports website or an efficient online home for a sports club. The entire theme is geared in a manner that suits any kind of sports-related site.
The theme's responsive and mobile-friendly design makes sure your website looks great on any device. VW Sports is clean, elegant, and super simple to use, no matter if you're a beginner or an expert website designer.
This WordPress Sport theme features a fantastic element that will be useful to display their portfolio. Overall a comprehensive sports package.
Sports Lite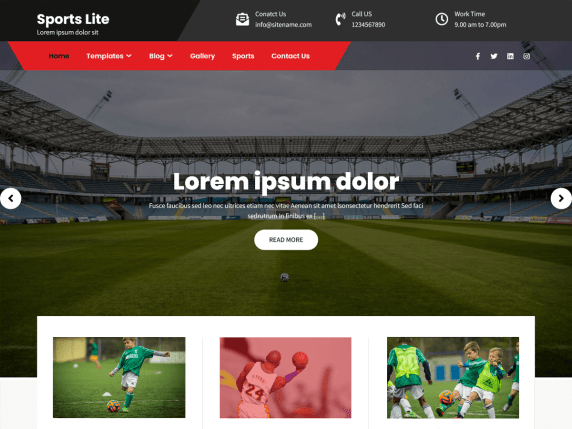 Up next on our long list of best free Sports WP themes, we've got Sports Lite. The theme is a dynamic and colorful solution to creative and responsive website building. Above all, Sports Lite is ultra-lightweight and super flexible and brings in a sleek and smooth design.
The theme brings a perfect platform to create an elegant-looking website for sports clubs, sports magazines, sports blogs, and sports-related websites.
In simple words, Sports Lite is among those fantastic WordPress sport themes which bag powerful and engaging elements that are essential for any sports academy.
Water Sports Club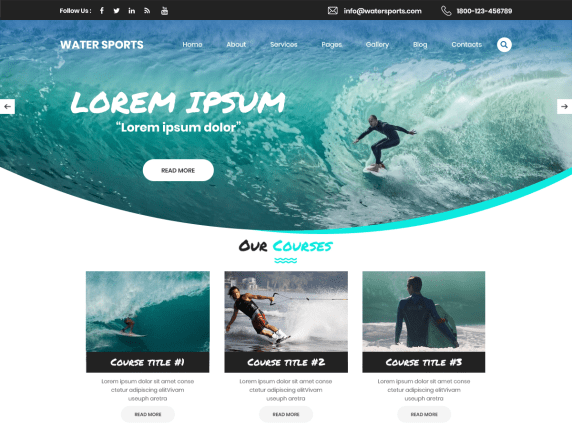 Coming from the home of "Iuzuk Themes," Water Sports Club is among the perfect solution for those who're after sports WP themes and an online presence for a water sports club. Thanks to its elegant, trendy design, your website will be ready to engage visitors right away.
Above all, the theme shelters retina-ready graphics and a highly responsive nature that makes your website look pixel-perfect and perform equally great on every screen size. Water Sports Club is among those free sports WordPress themes which feature a user-friendly nature.
With limitless customization options, you can transform your website in the desired manner. Apart from all this stuff, the theme is SEO-ready to help rank higher in SERP queries.
Multi Sports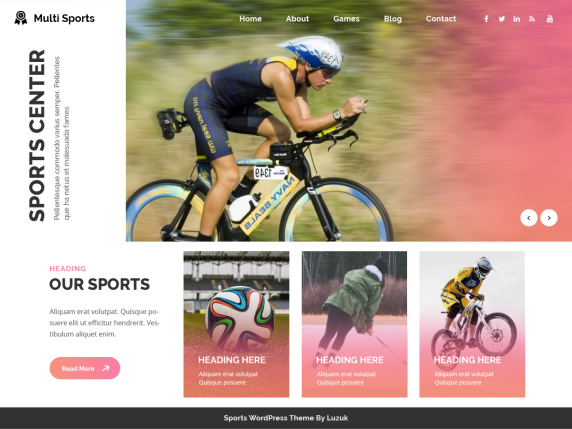 No matter if you're after creating a website that revolves around Cricket, Rugby, Soccer, Hockey, Tennis, Basketball, Football, Volleyball, Baseball, Games, trainers, Players, or any other sports, Multi Sports is an ideal fit.
This theme is basically one of the unique free WordPress sport themes that are capable of serving all the requirements of sports and any sport-related website. Sheltering a clean and elegantly crafted layout, your website can drive efficient attention most professionally.
Multi Sports is 100% responsive and thus makes your site operate perfectly on any screen size. Moreover, the theme is packed with a number of secure and clean codes. Additionally, the SEO-friendly nature will help your website beat its rivals pretty easily.
Sports Club Lite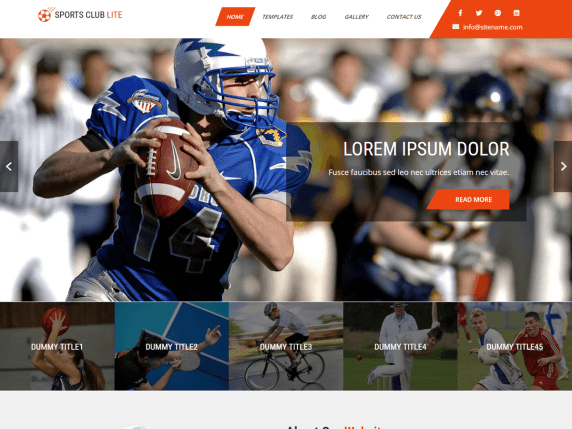 Moving a step forward with the list of best free SPorts WP themes, we've got Sports Club Lite featured next. The theme is basically a resourceful, modern, and engaging one that features youthful and lively nature.
Besides, the theme is home to a highly responsive layout with which you can craft impressive sports league WordPress websites in minutes. Sports Club Lite is super flexible. Having said that, you can employ this theme and build a website with any sports in focus.
This feature-rich theme is highly customizable as well. This means you'll have the freedom to bring in creative modifications when you decide to design your website with this free WordPress theme.
Sports Blog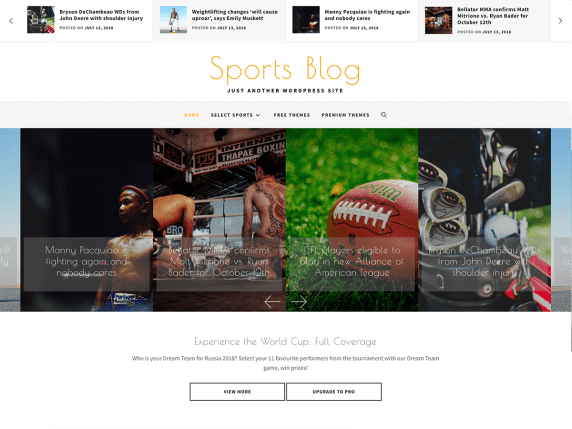 Sports Blog, yet another impressive free WordPress sport theme that needs to have your attention. Featuring several different eye-catching styles and options, you can create great blog sites with ease.
It is one of those impressive WordPress sport themes that comes with a clean and yet modern design. Apart from that, the theme promises to provide an excellent user experience together with fulfilling any kind of customizable need.
No matter which section we consider, you'll find that everything is designed with quality in mind. Sports Blog is also highly responsive and performs equally great on any device.
Bosa Fitness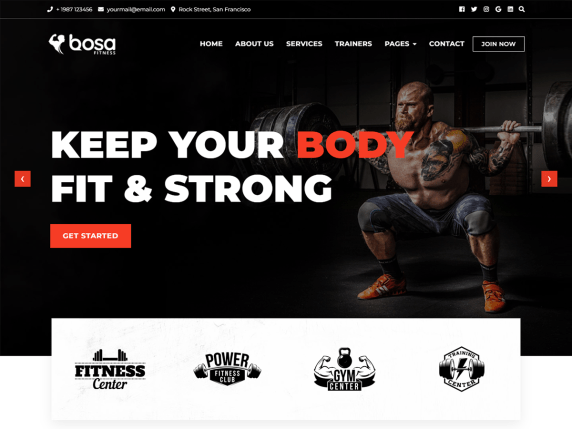 Bosa Fitness is a free WordPress fitness theme. However, thanks to its versatile nature, crafting sports-based websites is also a practical task. Bosa Fitness features a beautiful, clean, and modern design with a fast, lightweight, responsive nature.
In addition to that, it is one of those extremely customizable free WordPress sport themes that users can use as a foundation to craft desired websites in minutes. As an impressive WordPress website building tool, Bosa Fitness is home to SEO codes, speed, and usability in mind.
Fitness Coaching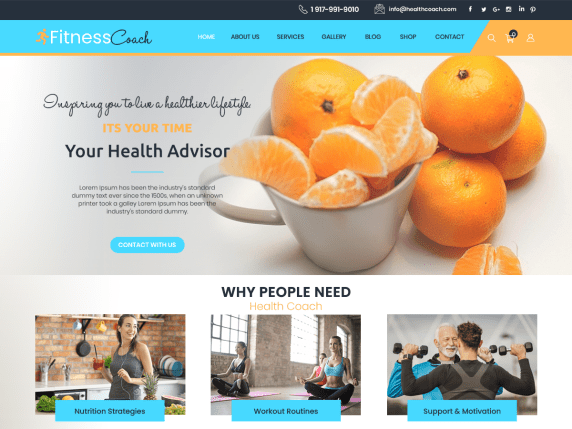 Fitness Coaching is an amazing free WordPress theme that is designed to create a stunning website. Home to several customization options, the theme has all the elements to fall in love with. It is a mobile-friendly theme that fits in any device with ease.
It is one of those sports WordPress themes which are translation-ready and supports RTL layout. It bags a series of written, clean and secure codes. Fitness Coaching is SEO-friendly which means indexing your website will be an easy task.
Top Event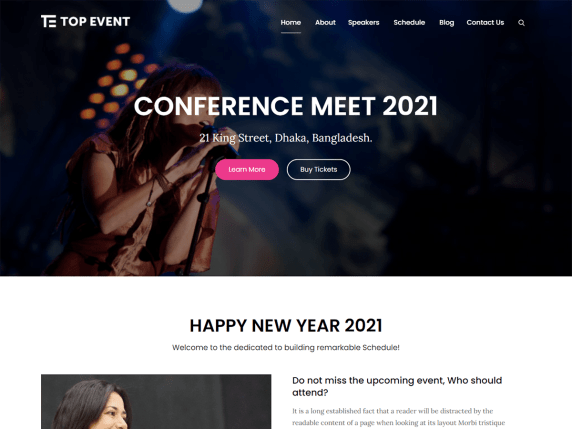 With Top Event, you're looking at another fantastic theme. Although the primary purpose is crafting websites that revolve around conferences and events, you can seamlessly create other sorts of websites as well. The theme is well-coded, super flexible, and very easy to use.
Home to pixel-perfect design, you can build websites for sporting events that can please visitors from all around the world. Moreover, the theme bags in a highly responsive nature to make sure it operates and looks great on any device.
Real Fitness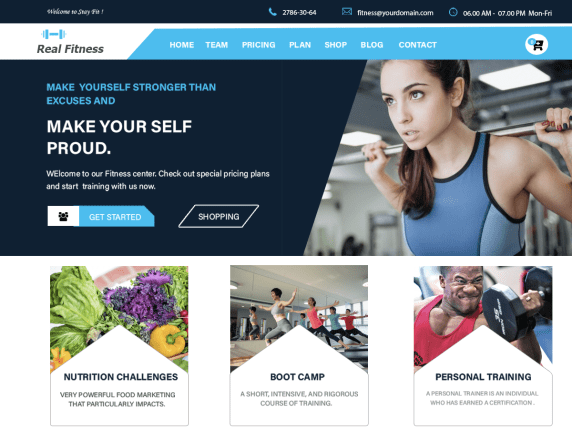 Real Fitness is an innovative free WordPress theme that is perfect for building engaging websites. Bringing home the SEO-friendly nature, the theme promises to help your website rank higher in search engines like Google.
Real Fitness features a modern, luxurious, elegant, clean, and sophisticated design. The translation-ready and support for RTL layout is an additional benefit. The theme further allows users to add shortcodes to it to improve the overall functionality of your website.
Pixler Web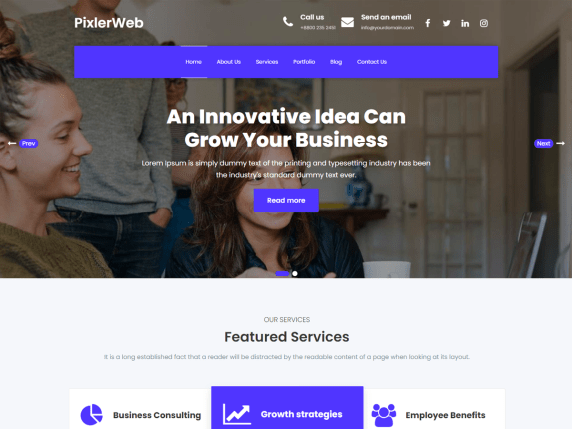 Pixler Web is a child theme of ConsultEra WordPress theme. It provides a unique look and extra home page section layouts. Pixler Web is a flexible, lightweight, multi-purpose theme.
It is highly responsive and will make your website stand out from the crowd. All these and more make it one of the best free sports WordPress themes of all time.
Busicorp is suitable for any WordPress site such as business, law firms, personal blog, portfolio, startups, agencies, sports, magazines, fashion, fashion, shop, WooCommerce stores, finance, accounting, and consulting.
Enjoy Mini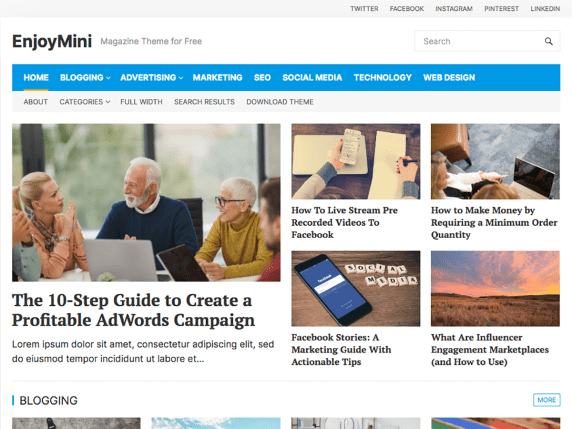 Enjoy Mini is a minimal, fresh, and clean multi-purpose magazine WordPress theme. It suits any news/magazine or any niche market, viz., blog, fashion, technology, sports, football, politics, beauty, health, video, travel, fashion, yoga magazine website, etc.
This theme includes everything you need for any kind of website. It is clean, sophisticated, user-friendly, fast-loading, customizable, flexible, and practical, and you can start your online sports-based website right away.
Club Nature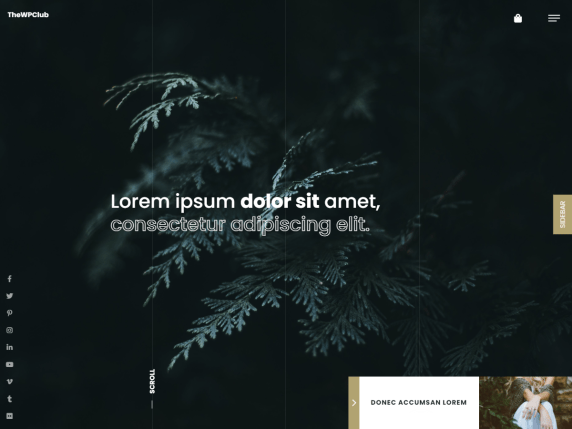 Club Nature is a free WordPress Blog / Magazine / Personal / Writers / Webshop theme.
ClubNature is a clean, minimal, and responsive WooCommerce WordPress theme that is suitable for fashion, writers, travel, fitness, business, health, sports, finance, art, photography, personal, portfolio, design, or any other creative websites, blogs, and webshops.
The theme holds on to a versatile nature, making it a perfect fit for any website. Club Nature is developed with a bootstrap framework that makes it mobile and tablet-friendly. ClubNature features the option to add your social media links. ClubNature is ready for WooCommerce.
Yogis Lite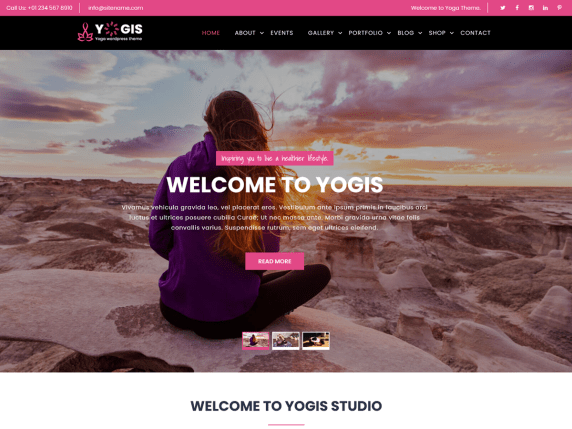 Yogis Lite is a fitness, and yoga-based WordPress theme is specially built for a fitness center, sports, yoga classes website, gym, Zumba classes, meditation center, and many more.
The theme accompanies a nice and clean design where you can showcase all the information related to your fitness center. By using this theme, you can design a powerful and dynamic website with remarkable features and elements.
This highly functional and responsive theme nicely performs on all screen resolutions; alit is also nicely performed for SEO purposes. Yogis Lite WordPress comes with a few sections and a slider available in the customizer.
Yogis Lite theme is compatible with WooCommerce websites, so you can easily create your online store. The theme is examined and fits with the latest version of WordPress. You will get a fantastic and modern layout for your business if you use this theme.
Batpa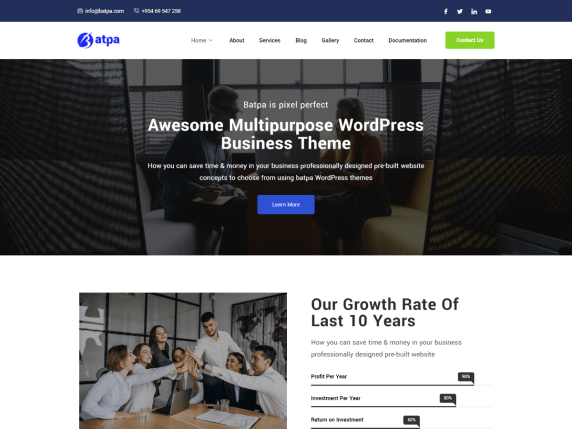 Batpa is an amazing business and multi-purpose WordPress theme. It's your ideal WordPress Theme to create pixels that are perfect for websites. It's a fast, elegant, and customizable theme.
You don't require any coding knowledge or write a single line of code to create an amazing website that will take your corresponding business to new heights. You can edit Content with Visual Drug & Drop Elementor Page Builder.
The theme also provides you with the opportunity to customize every page across various devices using intuitive and visual controls. Creating Mobile responsive websites that appear good on any device has never been easier. It's also One-Click Demo Import Ready.
Fitness Insight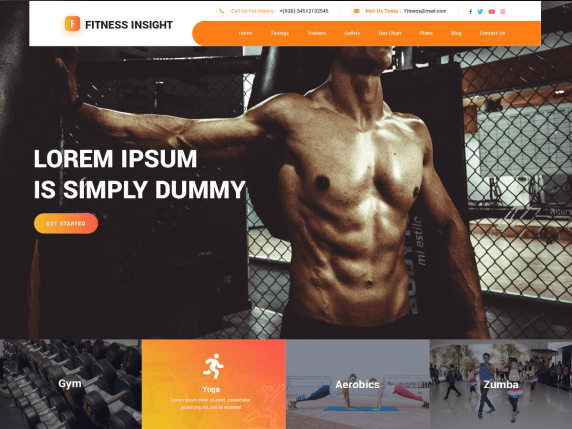 Concluding our list of best free WordPress sports themes we've Fitness Insight. Fitness Insight theme has a responsive layout which means it fits all devices and screen sizes.
It is SEO-friendly as well as a user-friendly theme with lots of options for customization like advanced typography, Call to action Section, sticky menu, etc. It is cleanly coded, which is responsible for faster page load times.
Based on the bootstrap framework and has social media integration. Also, the theme is cross-browser compatible and is translation-ready.