You've worked hard on your portfolio so show it off it one of the best free portfolio WordPress themes you can find.
The modern office is no longer confined to just the cubicle, with not just creative professionals such as designers, photographers, artists, and others taking on the online workspace, but traditional professionals such as web designers, accountants, and even consultants looking at the internet for some much-needed exposure.
To showcase your experience and skills online, you need a robust WordPress theme for portfolio that does justice to your work. We help you get to the next level in your career with some of these excellent free portfolio WordPress themes that will put you and your business on the map.
Best Free Portfolio WordPress Themes in 2021
---
Experon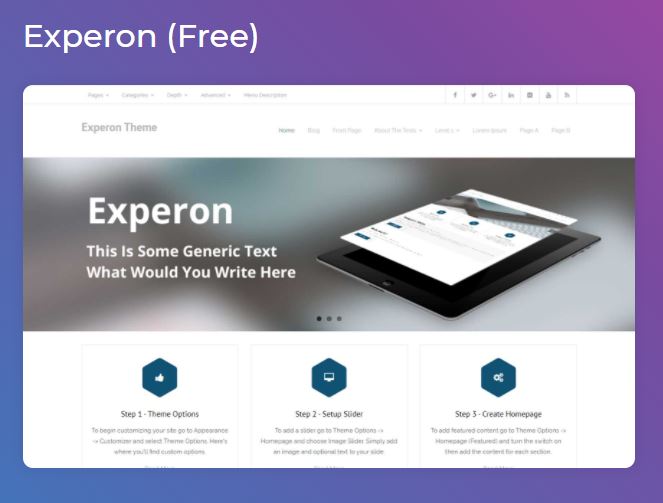 For those who're after creating an online portfolio that stands out, nothing can be better than using Experon. Although it is just a free version, you can do a whole lot of editing and similar kinds of stuff to come up with a website that is superb in functioning and look great at the same time.
Home to stunning featured homepage areas, page builders, fonts, SEO ready highly responsive layouts, and more, this is among those free WordPress portfolio themes that can even be used to craft other sorts of websites.
Sento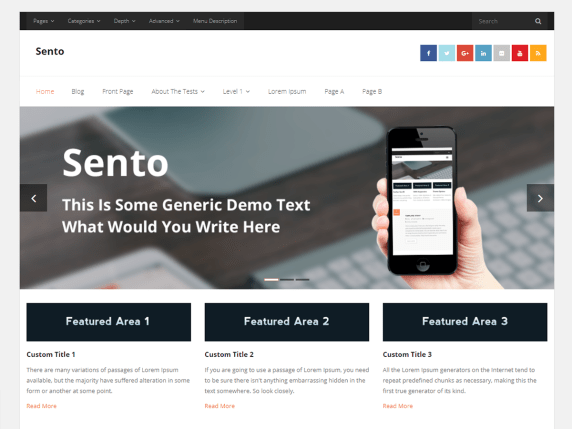 Get ready to impress your visitors as soon as they land with Sento. It doesn't really matter if you're after building portfolios, blogs, e-commerce stores, or anything else; this theme will make sure you start off with the appropriate approach.
To talk about the main features that list it among the best portfolio WordPress themes of all time includes Gutenberg ready nature for unlimited customization freedom, responsive layout for all-around performance in any device, SEO-friendly nature for better ranking in SERPs, and more.
ISTK Portfolio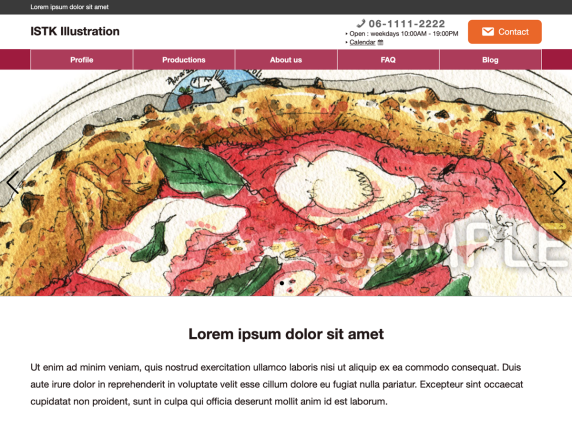 Next up on our list of best free WordPress portfolio themes, we've got the ISTK Portfolio. The theme is well designed to help users create a portfolio site that genuinely gets attention.
Whether you're an illustrator, an artist, a designer, or someone with skills extending in other directions, showcasing the best in your can't be better than this responsive WordPress theme for portfolio.
Moreover comes with a carousel slider on the very front page and is absolutely fantastic for displaying artworks.
CWW Portfolio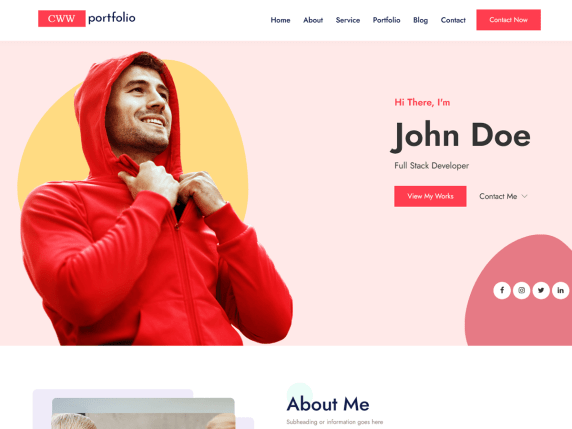 With CWW Portfolio, you're looking at a helpful theme for crafting personal portfolio sites that serve professional looks all throughout. Offering a highly responsive, clean, minimalist design, CWW Portfolio is indeed one of the most intuitive portfolio WP themes out there.
All thanks to its super flexible nature, publishing your personal websites in the desired style with multiple configuration options can never be that easy.
BlogJr Portfolio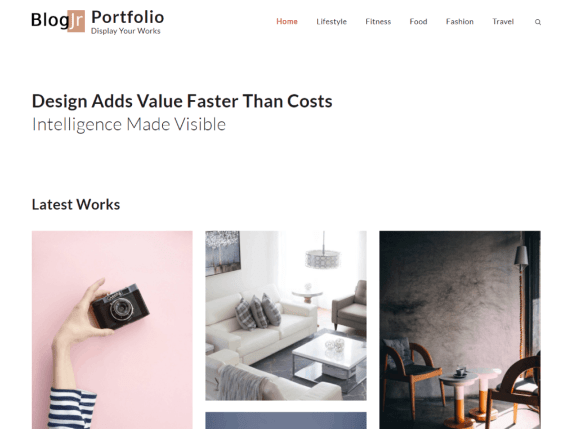 Talking about free WordPress portfolio themes, BlogJr Portfolio is an impressive one to look at. Although a child theme of BlogJr, this WordPress theme for portfolio loads with all the features and elements that can help you craft the most professional online home showcasing your skills.
BlogJr Portfolio offers masonry design and is very lightweight. Apart from that, the theme is 100% responsive, SEO-ready, and easy to use.
Portfolio Lite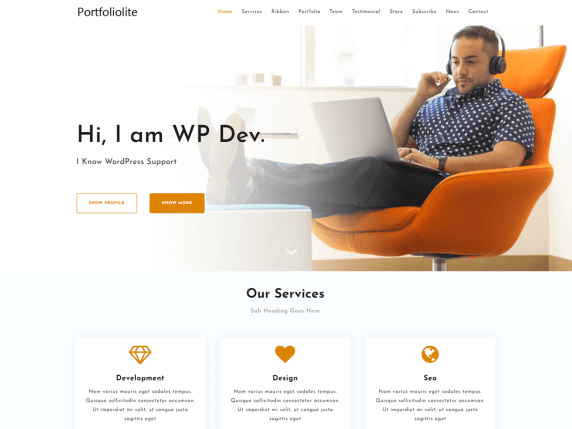 Portfolio Lite is a unique WordPress theme for the portfolio in 2021. The best thing about this fantastic theme is that it is not just something to deal with portfolio needs but also a multi-purpose option.
In other words, you can easily create websites for agencies, corporates, shops, etc., alongside crafting stunning portfolios. The theme comes with a superb sliding main section with an Ajax grid and a dedicated section.
Also, there exists a WooCommerce section. Portfolio Lite is compatible with nearly all the popular plugins available. All these and more lists Portfolio Lite as one of the best portfolio WP themes of all time.
Portfolio Magazine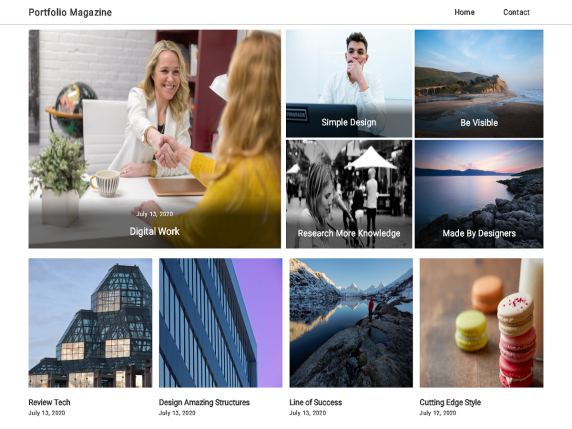 Portfolio Magazine is among the impressive free portfolio WordPress themes with a magazine and modern design. It is a brilliantly designed theme with responsive nature. Portfolio Magazine is a perfect fit for crafting personal blog, business, fashion, fitness, portfolio, travel, photography, magazine, news, or any content-focused website.
Portfolio Magazine features a piece of very simple news and magazine design that can drive attention in real-time. Further, the compatibility of this theme with Elementor, Divi, Gutenberg page Builder, and WooCommerce makes the website creation process more influential.
Career Portfolio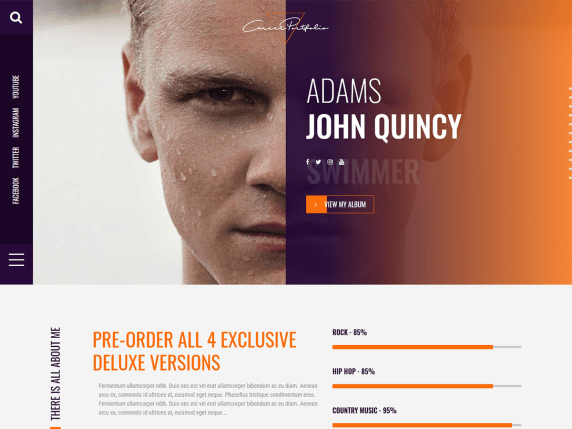 Career Portfolio is a modern and robust WordPress theme for portfolio which shelters a 100% responsive design. Featuring a number of premium quality elements that are best for designers, artists, creative professionals, agencies, creative business owners, photographers, and anyone who is willing to showcase their work in high quality.
It is one of the promising portfolio WP themes that comes with advanced theme options, dozens of shortcodes, various portfolio pages and leaves limitless space for creative touches. In simple words, Career Portfolio is for you to build your own unique and professional website.
Online Portfolio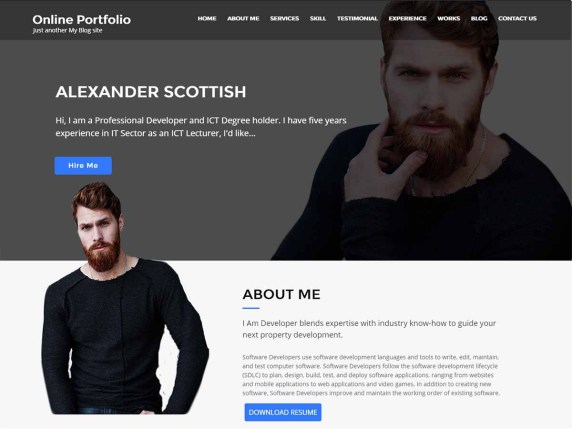 Online Portfolio is again an impressive free WordPress portfolio themes for crafting websites that can showcase your skills in the best possible manner. Taking full advantage of the available free widgets is genuinely next level.
You can use them to create fantastic personal websites no matter which field you hail from. Whether you're a web developer, software engineer, graphic designer, painter, artist, web designer, or photographer, customize everything and come up with the desired website in minutes.
ePortfolio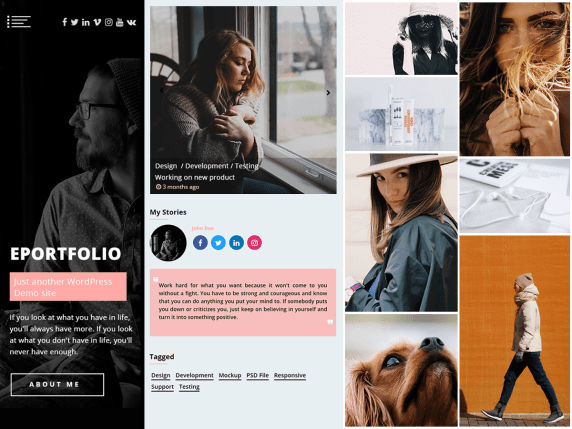 ePortfolio is another innovative theme for crafting online portfolios. Bringing home a minimalist design, this free WordPress theme for portfolios can make things simple and impressive for you. Moreover, ePortfolio is among those portfolio WOrdPress themes which are SEO optimized.
Having said that, you can easily beat your rivals online. Holding on to a multi-purpose nature, this WordPress Portfolio theme sits perfectly for any profession. ePortfolio is compatible with Gutenberg, Elementor, and other page builder plugins
Portfolio Way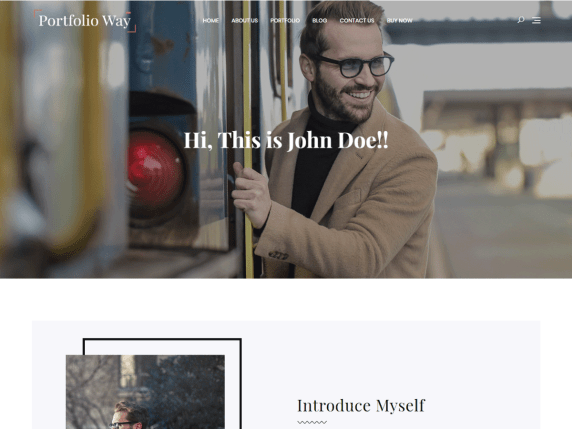 Portfolio Way introduces you to a simple, modern, yet powerful free WordPress theme for portfolios. Featuring clean, masonry, highly responsive, and Gutenberg-ready nature, the theme is undoubtedly one of the best free WordPress portfolio themes out there.
Portfolio Way suits any form of portfolio website, whether it is an official portfolio page or one crafted to serve personal needs. Home to well-designed styles, the theme will help you enhance the skill story of yours in an attention-grabbing manner.
Dank Portfolio
Dank portfolio is again another free WordPress theme for portfolio websites, which is based on Ajax; the theme is built for all kinds of digital agencies, creative portfolios, designer studios, illustrators, photography sites, and any content creator.
The theme comes with a heap of elements that provide customization freedom. You can use posts to create portfolio items and showcase them on a modern responsive grid very straightforwardly. Indeed one of the best portfolio WP themes of all time.
Elegant Portfolio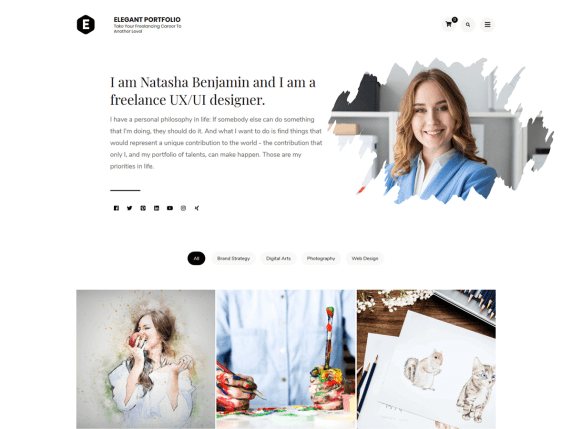 Creating online portfolios has never been that easy. Elegant Portfolio, the child theme of Perfect Portfolio, is a free WordPress theme, yet efficient enough to craft a website that speaks the language of quality in every aspect.
The theme features one of the most convenient solutions to create a clean, elegant, and highly responsive portfolio or blog using this theme. It is one of the best serving free portfolio WordPress themes to attract visitors worldwide.
Gute Portfolio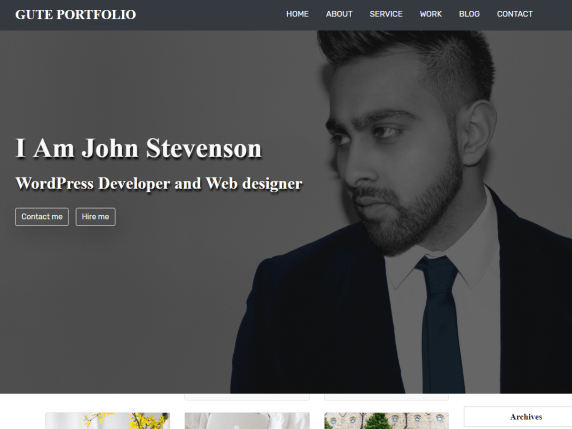 Gute portfolio is a super impressive free responsive WordPress theme for portfolio. The theme is a brilliant way to build a personal portfolio because you can seamlessly show your personal skills in a manner loved by all.
From the personal details menu to the editable and super flexible functionality, everything is excellent. One of those portfolio WP themes which are rich in features and is nice, beautiful, and home to several professional layouts.
Additionally, the theme is fully responsive and is ready to serve SEO needs.
GTL Portfolio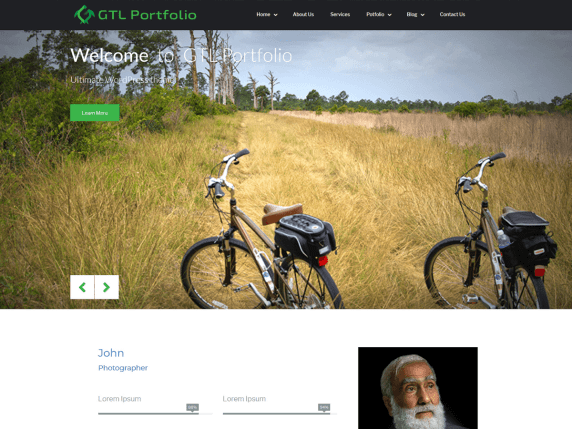 GtL Portfolio is a brilliantly designed, simple, super impressive, beautifully designed, highly responsive multi-purpose WordPress theme for portfolios. This theme is pretty easy to customize. It is perfectly stitched for the do-it-yourself types, and agencies, and also the freelancers.
Other premium features of this portfolio WP theme includes online chat, email, alongside WordPress support forum. The theme is SEO-friendly and ready to work with Gutenberg.
Multipurpose Portfolio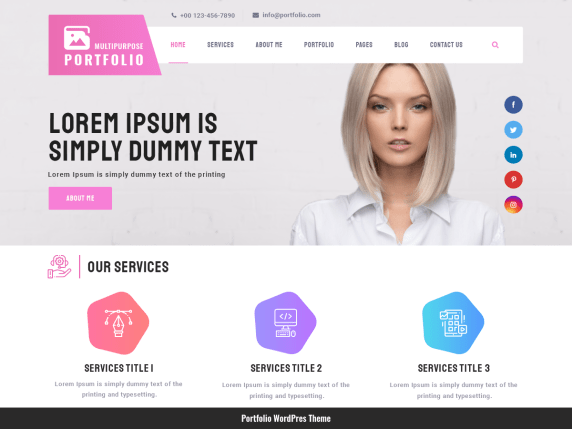 Multipurpose Portfolio is one of the most impressive free WordPress portfolio themes available. The theme is highly suitable for any digital agency alongside creative portfolios. This theme is well known for serving perfection mainly because of the trendy looks that feel lovely as well
The best thing is, all your skills and works can be showcased and stitched in a promising manner that is professional and well organized in every way. The theme is SEO-ready, 100% responsive that comprises multiple layout options, a Full-width template, associated logo, featured content, typography breadcrumbs, and much more.
Aqua Portfolio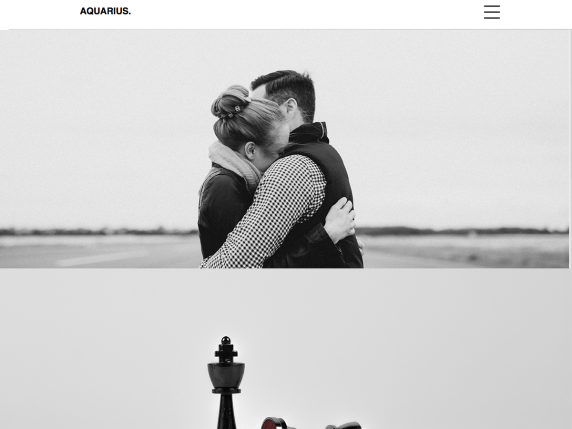 Aqua portfolio is another brilliant WordPress theme for portfolios. The Ajax-based portfolio theme is built for all kinds of digital agencies, photography sites, and any content creator. The best thing about the Aqua Portfolio is that it is freely available.
You can seamlessly use posts to create portfolio items and showcase them on a modern responsive and attention-grabbing grid. One of the portfolio WP themes to craft pages with video and image galleries. Get ready to attract visitors.
Portfolio Web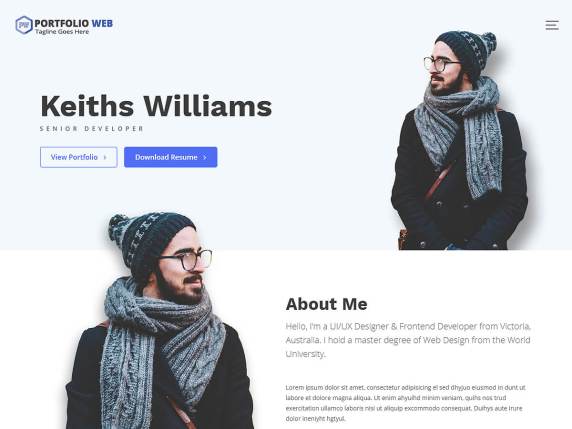 Coming from the home of Acme Themes, Portfolio Web is a superb solution to build online portfolios. Featuring a minimalist and sleek design, crafted particularly for a portfolio website., Portfolio Web is one of the most surprising and engaging free WordPress portfolio themes.
This theme suits perfectly for both Personal and Corporate Portfolio websites. Thanks to the trendy and lovely look, you can use Portfolio Web for engagingly showcasing your works to audiences worldwide.
The theme features a live customizer with which you can design everything in the desired manner.
Shuttle Portfolio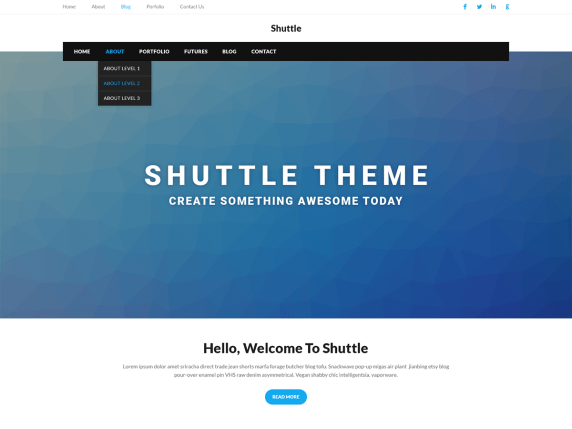 Shuttle Portfolio, an awesome free version of the popular Shuttle Pro. It is a brilliant and excellently made WordPress portfolio theme for professionals. No matter if you wish to make an online home for your business, big or small, this theme fits in perfectly.
So no matter if it is a restaurant, sport, freelancer, medical, startup, corporate, business, eCommerce, portfolio, or any type of online agency or firm, you'll want to use the incredible design of this theme. It also features a multi-purpose design with widget areas in the footer, so now even easy to make a blog/news website that looks really clean and professional.
Shutter Portfolio is responsive, WPML ready, Polylang, Retina ready, SEO embedded code, alongside super design. Shuttle is also fast and lightweight and can easily be used for any type of website, fully compatible with the eCommerce plugin.
Aperture Portfolio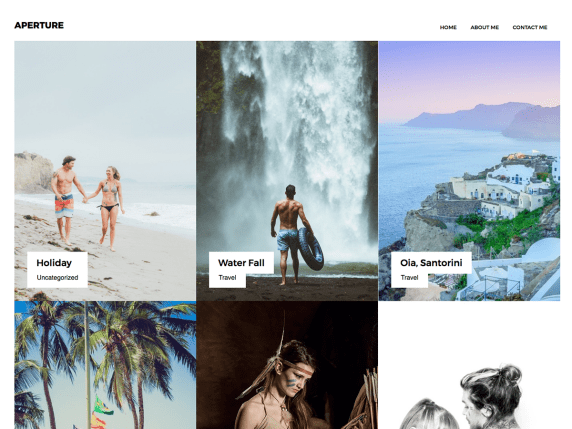 In a word, the Aperture portfolio is great. It is one of those impressive free WordPress portfolio themes that is built for digital agencies, creative portfolios, photography sites, and other creative heads.
Featuring a modern responsive grid, you can showcase your works in a manner that stuns visitors right away. It is one of the best portfolio WP themes that comes with amazing image galleries. All together, Aperture Portfolio is a modern-looking portfolio theme you'd love to create your websites with.
Advance Portfolio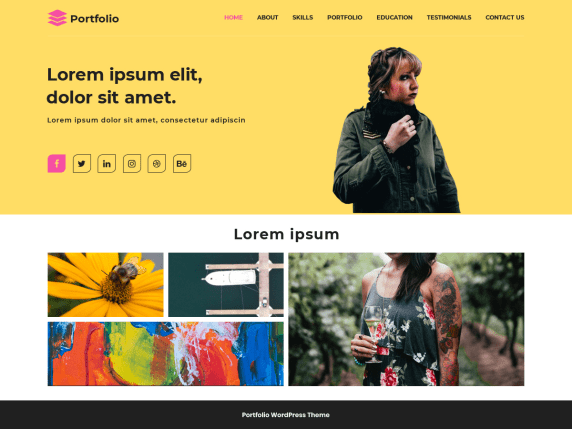 Advance Portfolio is a free WordPress theme for portfolios with a clean, sleek, and creative design. The theme features one of the easiest possible ways to craft websites. The theme is fully responsive and seamlessly compatible with multiple browsers.
All thanks to that, it can adapt on several devices and browsers with no issues. Sheltering numerous design elements, you can even give your website a desired personal touch. The theme, in other words, provides complete customization control.
Besides looks, this is one of those portfolio WP themes that drives the functionality section in a promising manner.
VW Portfolio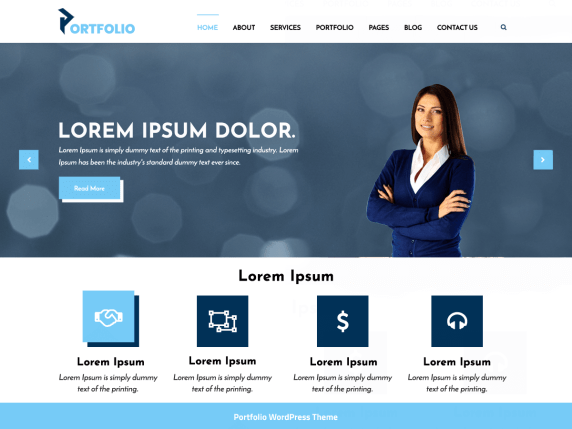 VW Portfolio is a super stylish, elegant, modern, and attractive free WordPress portfolio theme for anyone who wants to craft the best medium for showcasing their work in the best possible manner. The theme is brilliantly built for designing creative portfolios with ease.
One of the best portfolio WP themes embeds a fully responsive design that looks and performs well in every device.
The theme bags efficient social media integration alongside a list of other elements, including the Sticky Post option, customized shortcodes, custom colors, cross-browser compatibility, SEO-ready, and more.
Perfect Portfolio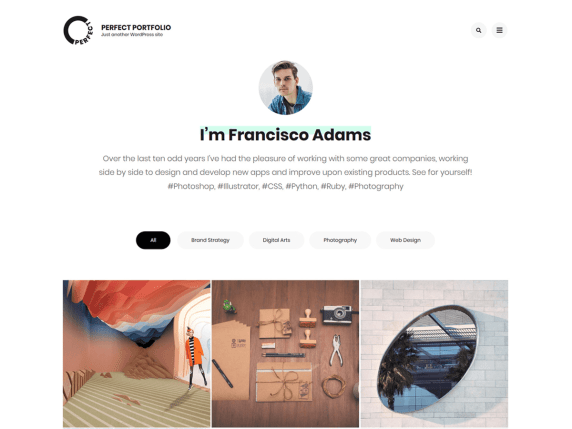 Just how its name goes, get ready to craft the most perfect portfolio ever. Perfect Portfolio is yet another free WordPress theme for portfolios that will genuinely help you come up with a website that delivers the best and stands out from the crowd.
The theme loads with a number of premium-looking elements to customize your portfolio. Perfect Portfolio has an eye-catching blog layout. This is indeed a great way to show your expertise in the field through the most innovative and informative content.
Moreover, you'll be getting Schema-friendly, Optimized Speed code for proper functioning.
Brix Portfolio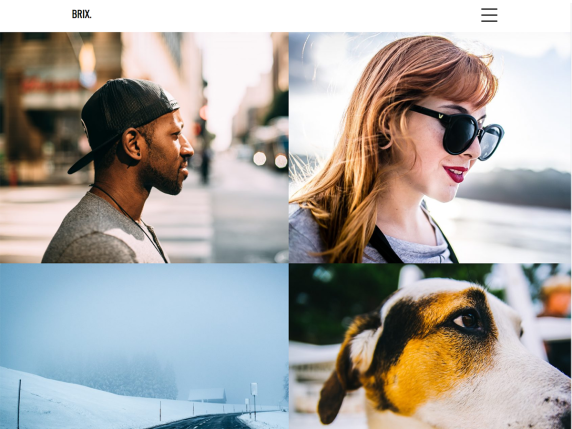 We've got Brix Portfolio featured next, moving forward with the list of best free portfolio WordPress themes. The theme is powered by Ajax and is a perfect fit for digital agencies, creative portfolios, photography sites, and more.
The theme is entirely free to use. You can seamlessly take any of the posts and stitch various portfolio items within a modern responsive grid. The theme is 100% responsive and serves SEO factors to offer good rankings in SERPs.
Medical Portfolio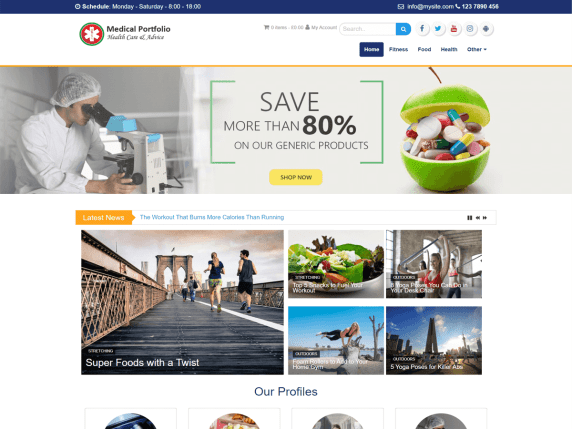 Medical Portfolio, another amazing portfolio creation tool. It ranks itself as the best portfolio WP theme for designing attention-grabbing blogs, websites that revolve around news, articles, and portfolios that deal with the medical profession.
The theme also supports WooCommerce with proper and adequate Google structure data. Also, you can always expect a better user experience thanks to all the plugins, including Jetpack infinite scroll support and more.
Xi Portfolio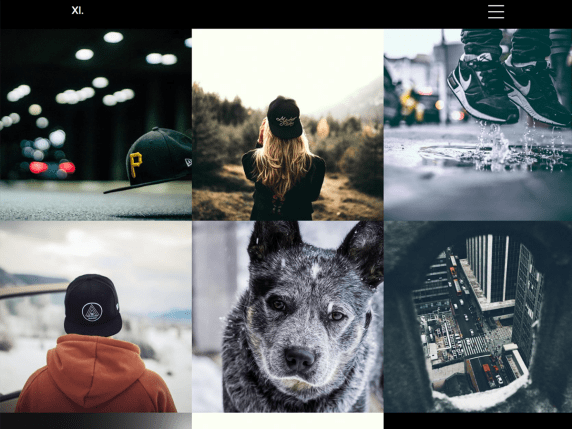 From being 100% responsive to SEO-friendly lightweight to one that features clean and modern looks, XI Portfolio is an amazing free WordPress theme for portfolios to work with. The theme is based on AJAX and offers limitless customization freedom.
In other words, you can incorporate desired elements, customize them accordingly, and come up with a website that pleases visitors worldwide. Plugin support, RTL ready, availability of slider are among the other efficient features of this theme.
Thumbs Portfolio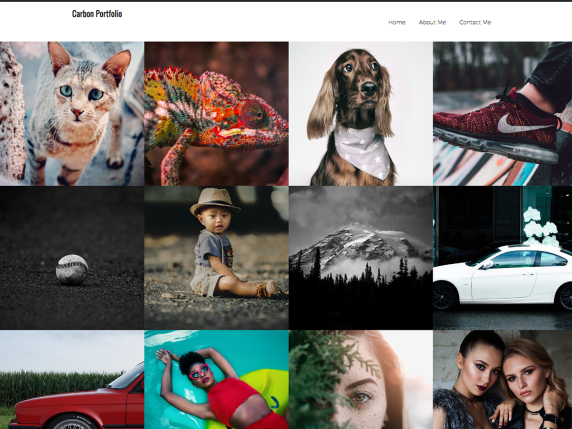 Thumbs Portfolio is a free WordPress theme to craft amazing online portfolios. The theme is highly responsive and features SEO friendly nature to offer healthy rankings. In addition to these, the theme also brings in an elegant design that can grab your audience's attention in no time.
Portfolioo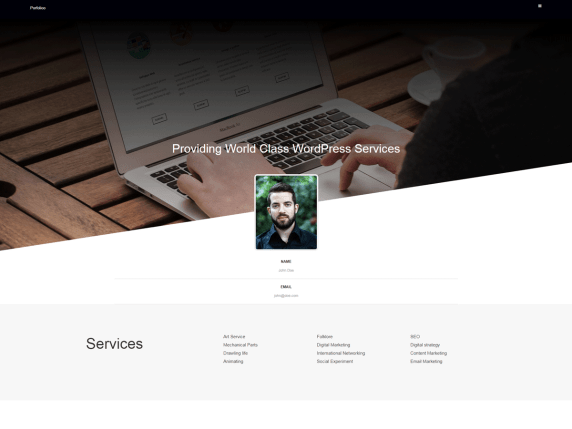 Portfolioo is a bloat-free WordPress theme for portfolios that is efficient enough for building an eye-catching personal website. Taking full advantage of the free widgets is within your reach.
With the help of those elements, you can seamlessly create amazing personal websites regardless of which niche you belong to. Among the other SEO-friendly nature, mobile optimized and retina ready, Gutenberg block editor ready are worth mentioning.
Clean Portfolio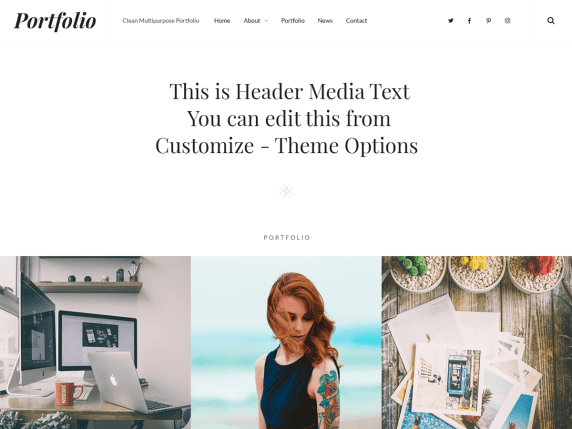 Having talked about a number of free WordPress portfolio themes already, let us now talk about one that is specially designed to reveal the creative person in you. Clean Portfolio is a super clean, modern, impressive theme that represents simplicity and clarity.
The theme is completely responsive to look and performs great on any device. Also, being minimalistic and lightweight, the website created with Clean Portfolio loads up really quick.
Besides, the theme provides you with a set of crucial features that are essential for creating an elegant-looking website of any kind.
Aya Portfolio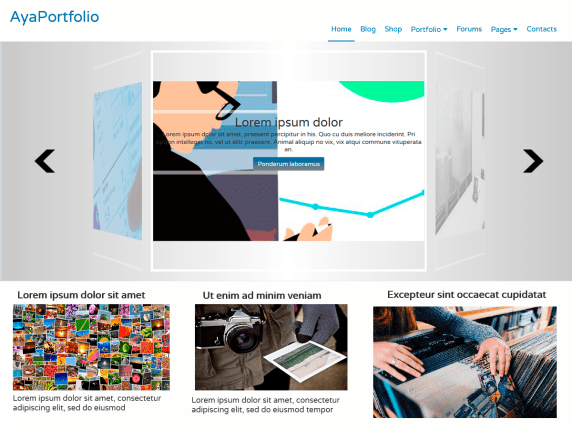 AyaPortfolio is a 100% Responsive free WordPress theme for portfolios. The theme bags several notable features: a built-in home page slider, brilliant custom logo, promising custom background, optimized footer copyright text customizations, and more.
AyaPortfolio is also home to Widget Areas, Multi-Level Drop-Down Header Menu, Gutenberg Compatible, Sidebar, around three Footer Columns. Also, the Translation-Ready and SEO-friendly nature will help you build the most professional and functional website ever.
X Portfolio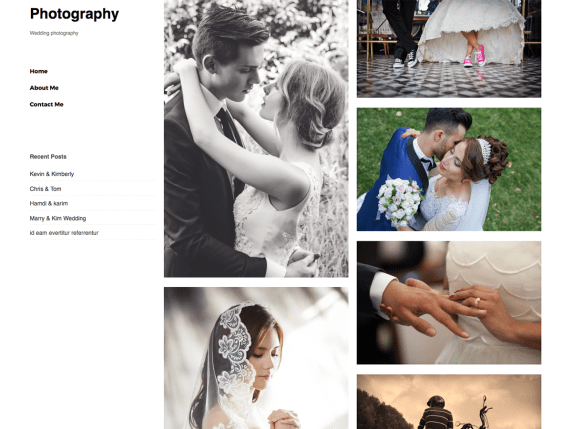 Are you looking for the best available free WordPress portfolio themes that focus on wedding photography skills? Well, look no further. X Portfolio is a responsive WordPress theme design for the wedding photography niche.
However, thanks to its versatile nature, you can craft online agency portfolios, personal portfolios, and a promising online presence for personal photography and studio.
Portfolio Lite Organic Themes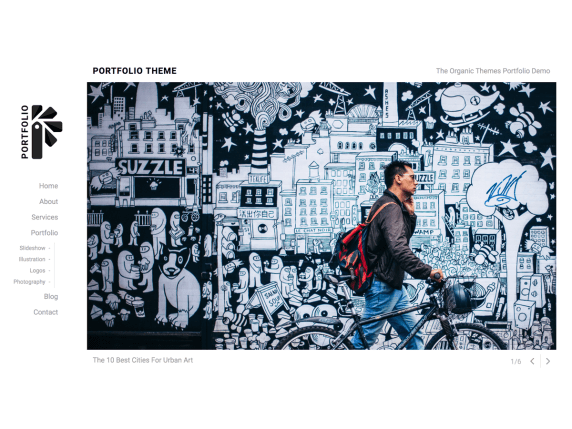 Portfolio Lite by "Organic Themes" is a robust, professional, modern, with a minimal design that's perfect for artists, designers, photographers, and other creative minds. The theme brings a slideshow page template with which you can create a slideshow from the WordPress image gallery.
The slideshow is usually centered vertically and horizontally to offer a brilliant feel altogether. Additionally, the categories section is smartly displayed in a multi-column portfolio layout.
Overall, Portfolio Lite is among the portfolio WP themes that are optimized for dealing with unlimited customization options using blocks with the Gutenberg content editor.
Splendid Portfolio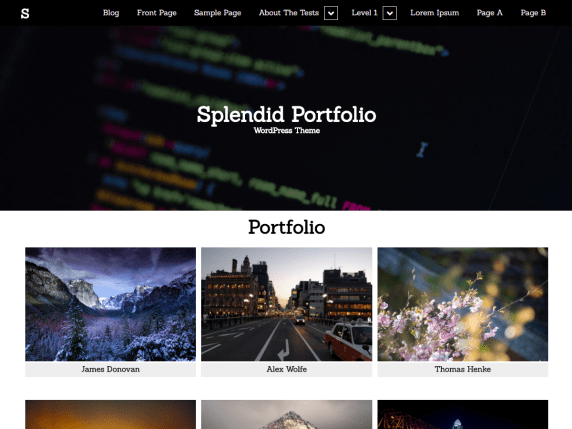 Suppose you're still looking for the best free WordPress portfolio themes. In that case, Splendid Portfolio is an amazing one to have your attention.
The Splendid Portfolio is a 100% functional responsive theme that is designed in a manner that looks great on desktops, tablets, and smartphones. Splendid Portfolio features exclusive support for the popular Jetpack's Portfolio Custom Post Type.
Draft Portfolio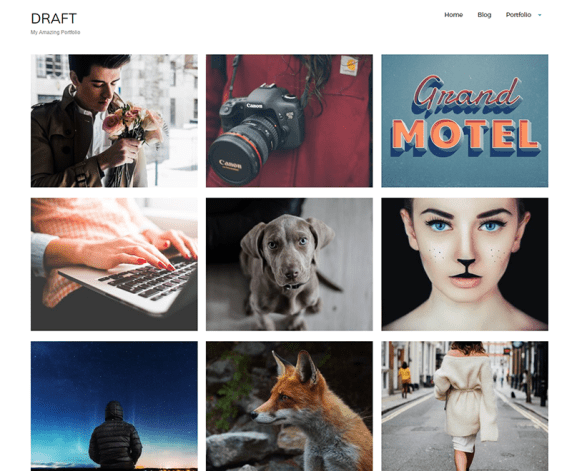 Although minimal, Draft Portfolio is a beautifully designed WordPress theme that doesn't lack functionality. Wonderfully optimized to meet the requirements of Photographers, designers, illustrators, and creative agencies, craft the most intuitive portfolio in minutes.
Set it up in a few minutes. Home to a dedicated portfolio post type alongside several amazing features that include a gallery and several other layout options, there is a list of amazing things to do with Draft Portfolio.
Seos Portfolio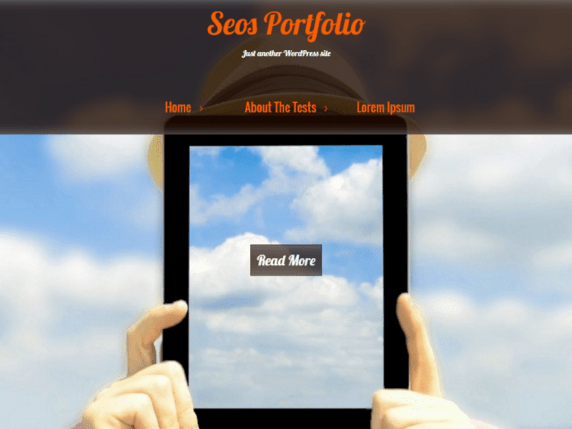 Looking at Seos Portfolio is like walking across a multi-purpose theme build with a responsive column layout. The entire theme is designed using a mobile-first approach in mind. In other words, no matter if your audience is using a mobile, tablet, or any other device to browse your portfolio, they will have a pleasing experience.
Bagging a customizer, header images, background images, read more button, home page responsive boxes, background color, home page featured image, and over 600 font awesome icons, Seos Portfolio is among the best portfolio WP themes that have everything you can ever wish for.
fPortfolio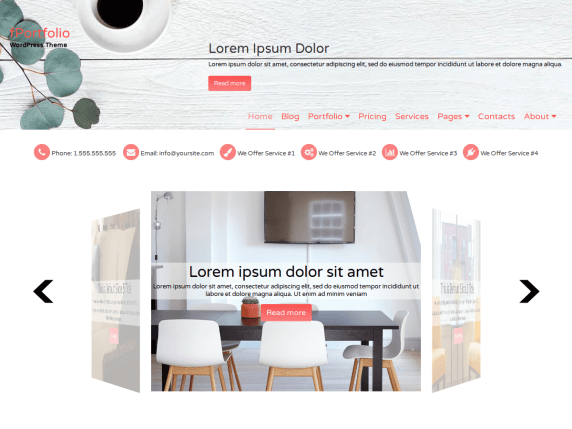 A highly responsive WordPress theme, fPortfolio is an ideal choice for a business work presentation portfolio website. Brilliantly designed to craft blogs, or just a portfolio site, everything about this WordPress theme is flawless.
The features are many from Animation Effects to Multi-Level Drop-Down Header Menu from W3C Markup Validated to Sidebar Widget Area.
Alongside, you'll have several promising elements like Header Widget Area, Header Below Menu Widget Area, Search Engine Optimized, Admin Options Full-Width Page, Multiple Browser Compatible, Gutenberg Compatibility, and Translation Ready, and more.
Qi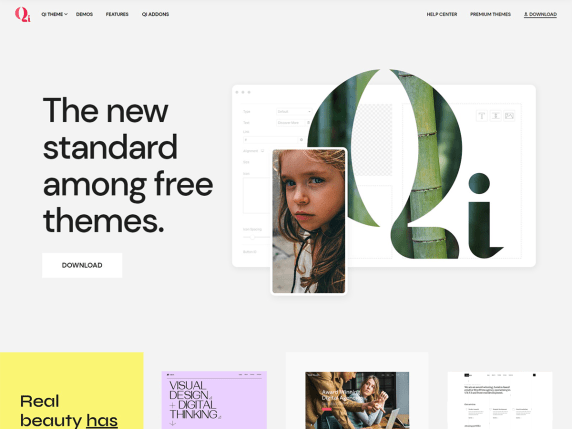 Qi theme is the modern-day solution to create amazing websites for free. Developed by Qode Interactive, Qi makes you look at one of the feature-rich free WordPress themes. First things first, the theme features comprehensive modules for your portfolio.
Apart from that, the tool is a great way to craft online shops, blogs, and other types of websites. Home to a beautiful selection of contemporary premade inner page templates, setting up your online workstation is pretty flexible and simple with Qi.
Digitally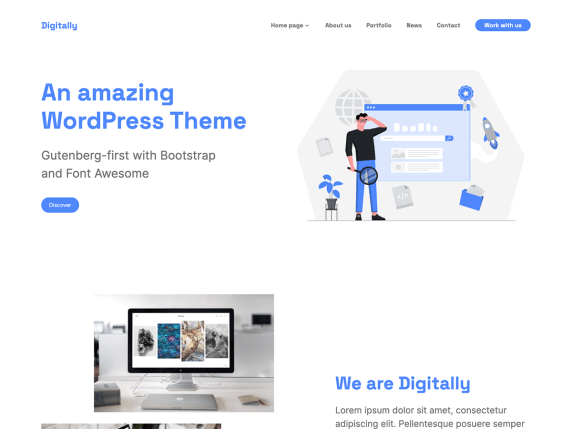 Digitally is a powerful free WordPress theme for portfolios and multi-purpose website that features Gutenberg-ready nature. The theme is super-optimized for all sorts of digital businesses, and it allows you to build elegance-rich websites pretty easily.
With Digitally Theme, you'll get exclusive access to the Digitally Custom Posts Plugin. It brings one of the most straightforward ways to publish your best projects in the desired portfolio section. Also, managing the published items alongside obs offers is super flexible.
The theme is 100% responsive and is translation-ready, which means the user experience will be served in the best possible manner.
We Are The Youth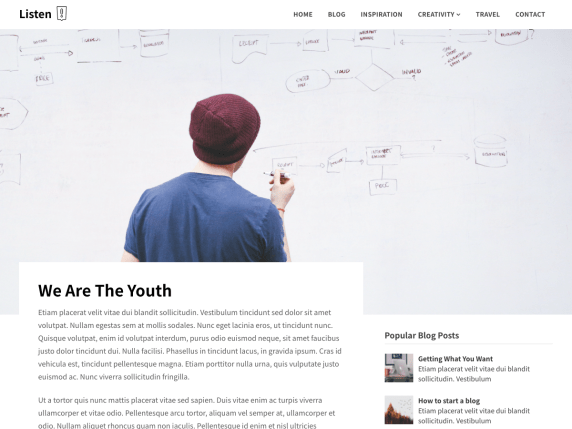 We Are The Youth by "Superb Themes" is an interesting website designing tool. The theme is SEO-friendly and highly responsive, entirely made for blogging, newspapers, and portfolio needs.
The code used in this free WordPress theme for portfolios is clean. Hence your website will be quick to load fast and offer a brilliant user experience.
Sakti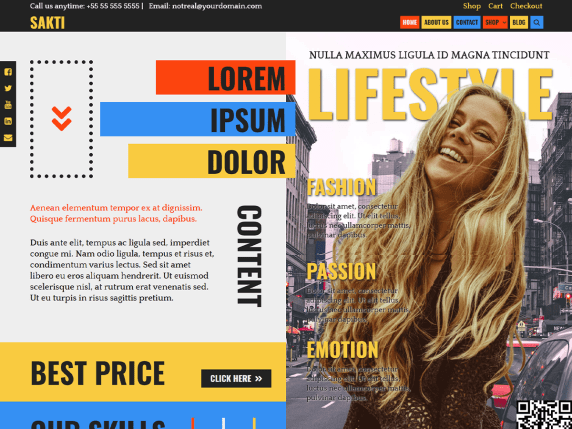 Sakti is a promising free WordPress theme to build websites with. The design is super impressive to craft an online presence that leaves a pleasing visual representation. As a portfolio WP theme, you can flawlessly showcase your works to the world in a manner that everyone admires.
Omkara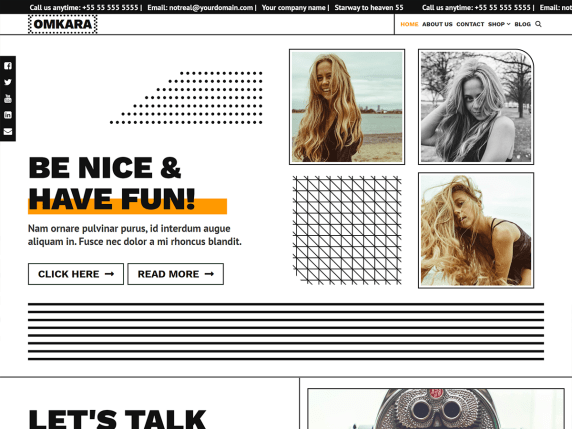 Feature ready, this is what the theme Omkara is all about. From amazing demos that use Elementor to popular plugins like WooCommerce and Contact Form 7, you'll have all the resources by your side when you decide to craft a portfolio with Omkara.
Omkara features an easy-to-use admin that also loads with a number of customizer functions, so that you can build the website of your dreams without coding a single line. The theme is responsive, SEO friendly, and ready to get translated into multiple languages.
My Photography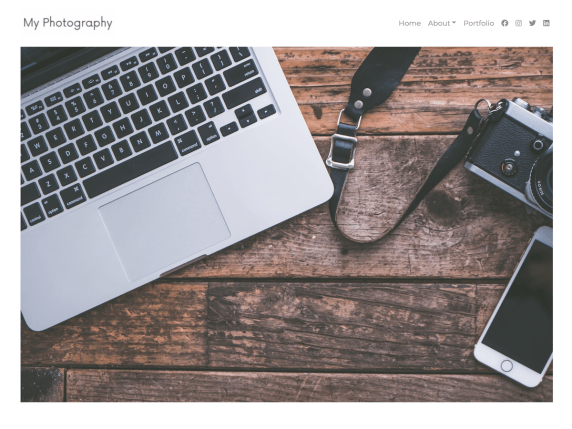 Concluding our list of best portfolio WP themes, we've one specially built for all the photographers. My Photography is a lightweight theme to display your photography posts in a masonry style.
The entire design is thoughtfully crafted to provide your visitors a never forgetting experience.