Looking for the best free portfolio WordPress plugins to showcase your work to the world? Great, you're in the right place!
Every profession in the world has either directly, or indirectly connected with the web to improve and evolve. A large part of connecting with businesses, clients, and professionals who cater to these various industries, consider web presence to be a significant advantage.
The best way to showcase what you do, and how well your past clients have responded, is by the means of a portfolio, which can easily be added to any website, as long as you know which WordPress portfolio plugins to install.
Best Free Portfolio WordPress Plugins in 2021
---
Visual Portfolio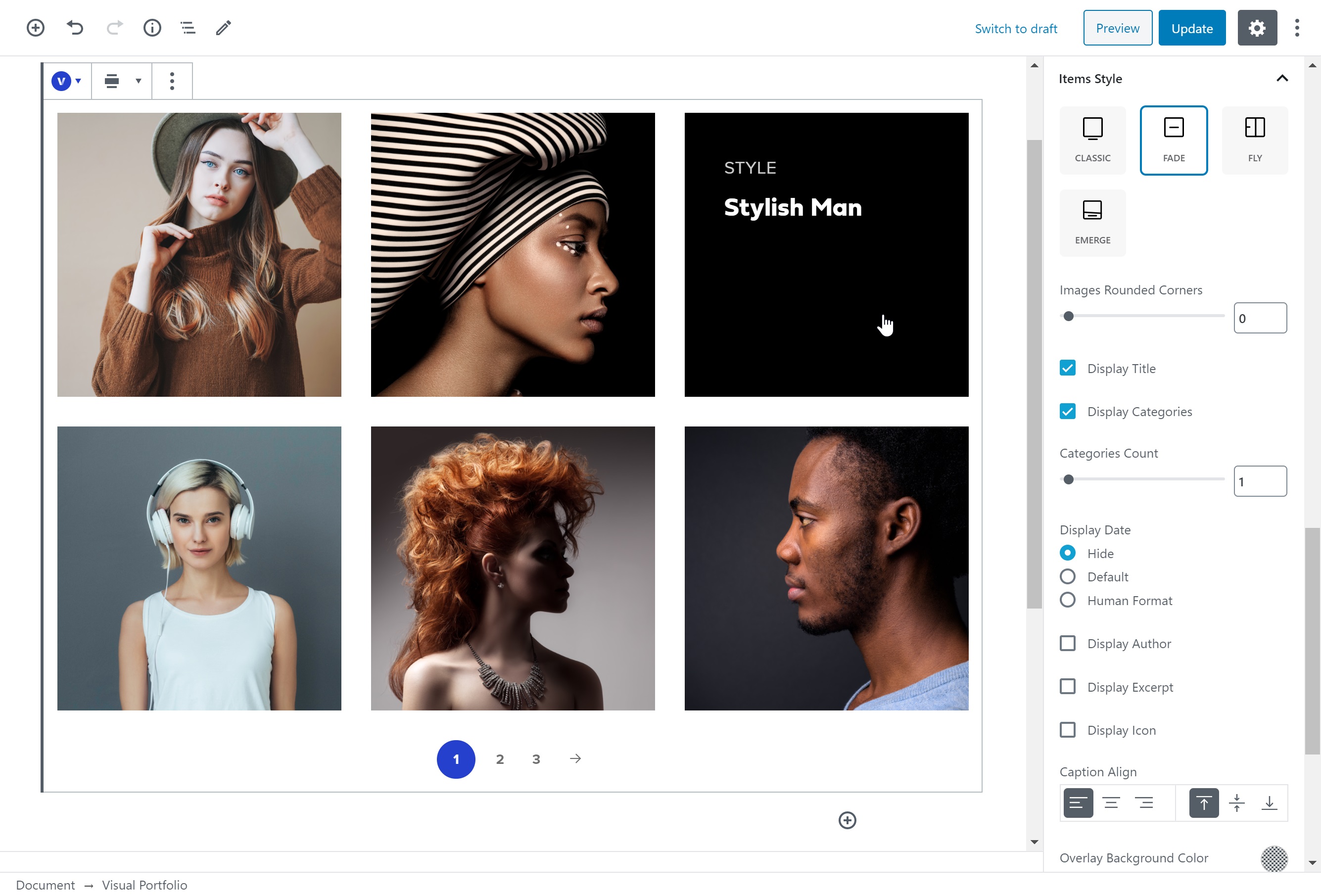 Visual Portfolio is among the best free Portfolio WordPress plugins that will let you create beautiful, clean, and influential photo galleries and portfolio layouts. Although it is just a visual Portfolio that is relatively easy for simple photo galleries, the plugin is powerful enough for professionals.
Whether you're a photographer, agency, or anything else, Visual Portfolio will make sure it boosts your online presence. Build your portfolio and gallery blocks even without writing a single line of code.
All thanks to the Gutenberg page builder, you'll be able to create and customize visually amazing galleries. Convenient visual block editor features to support various layouts such as Masonry, Justified, Tiles, Grid, and Carousel.
The nK team's well-thought-out design, powerful features, and years of development make Visual Portfolio a game-changing Portfolio and Gallery plugin that will level the WordPress showcases playing field in your favor to help increase visitors' engagement.
WordPress Portfolio Plugin Grid Kit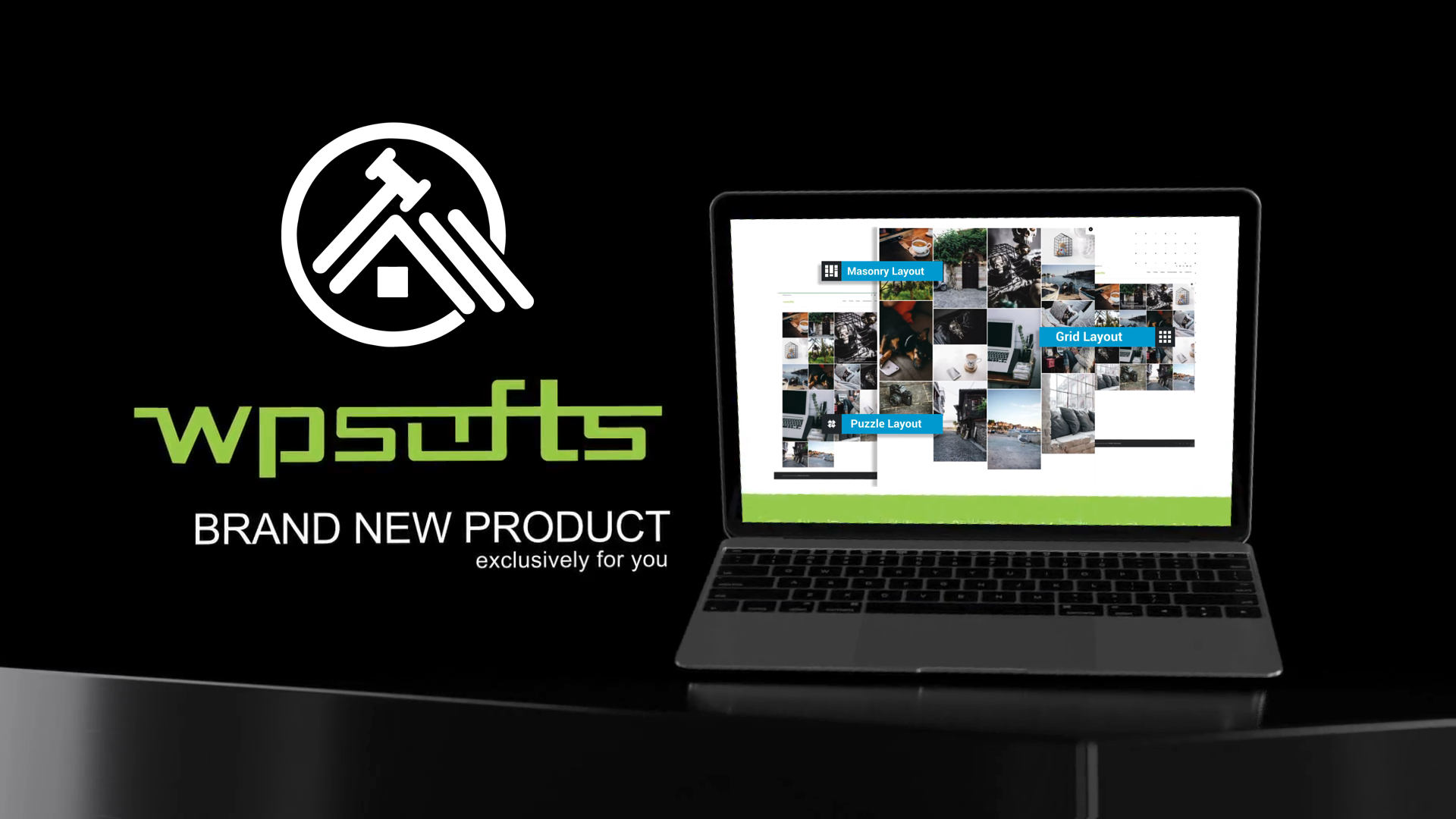 Suppose you want to build WordPress layouts, such as portfolio showcase, video or photo gallery, image slider, clients, product catalog, or team members gallery. In that case, the WordPress Portfolio Plugin Grid Kit you're looking at is indeed the ultimate solution.
You don't need to worry about responsiveness anymore. With Grid Kit Portfolio Gallery, your content will be compatible in any environment, be it a mobile, tablet, or desktop. It comes with a ready-made embedded layout builder, which is actually included as a Free feature.
The build layout structures from your portfolio, photo gallery, product catalog, gallery sliders, clients logos, and team members Also, the popup extension will make your Portfolio showcase a set of attractive and informative insights about your portfolio projects.
Just put your portfolio in your pages, posts, widgets, or wherever you wish to by using native shortcodes.
WordPress Portfolio Builder

Next on our list, we've got one of the most searchable, creative wordpress portfolio plugins dedicated to the gallery, WordPress Portfolio Builder. With all sorts of new features, numerous customization, and styling options, it has all the things that anyone needs for their convenience and liberty of choice.
It is the best WordPress portfolio plugin that comes with the lightest code, the most straightforward user experience in the field, and the most responsive design options. Portfolio Gallery is a fantastic plugin for adding specialized portfolio galleries.
You can show off your work in an awesome portfolio gallery with Portfolio Hub and get hired with ease. Using Images or YouTube/Vimeo videos in your portfolio gallery, create the best-looking portfolios for your website.
You have the option to add an unlimited amount of images and videos and create an unlimited amount of portfolio gallery. Our portfolio is also compatible with the Elementor page builder.
Portfolio Gallery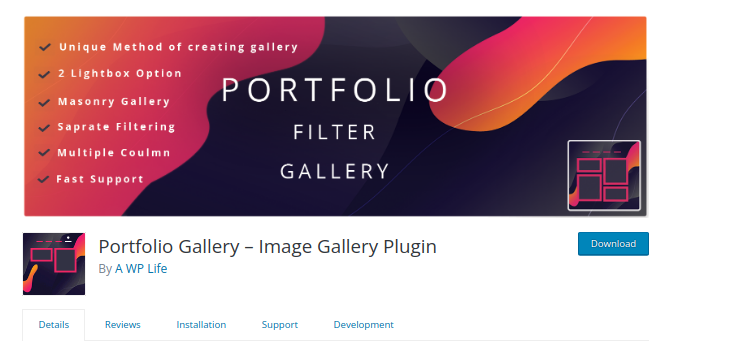 A super-easy way to create a beautiful and responsive portfolio for your WordPress websites. The portfolio filter gallery is highly responsive and works with all Macbook, tablets, desktop PC, and mobile devices.
The Portfolio Gallery is the first Portfolio plugin in WordPress for a separate category page. The portfolio gallery method is really easy to use. You will find a particular category page, and the user only needs a minute to create a portfolio.
You can now choose the filters with the images with a select box for making a really different portfolio filter gallery with other plugins. You can show your portfolio both, with or without a lightbox. In the free version of the portfolio, you have a bootstrap lightbox with navigation.
You can also show the title with images, and the title will also appear with a bootstrap lightbox at the bottom. If you don't want a lightbox, you can also link your portfolio to an external project.
Easy Photography Portfolio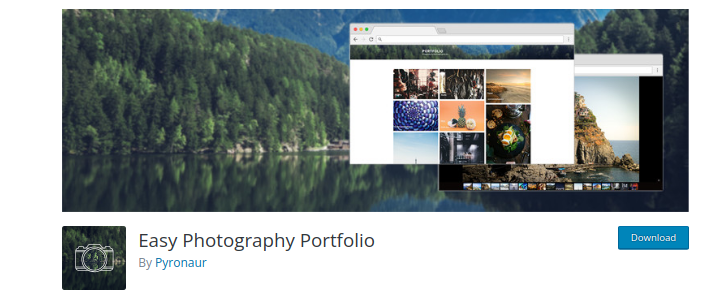 Are you planning to build a photography-based Portfolio for WordPress should be easy, right? Here's a plugin that is going to help you with that. Easy Photography Portfolio is entirely based on the idea of albums with images that can be grouped into different categories.
Albums and images are generally displayed in a masonry gallery. First of all, you need to open up an album to see all the images. After that, click on an image to look at it closer. The Photography Portfolio is built using Masonry Layout (think Pinterest).
It is one of the most easily portable layouts to any website layout while keeping the feel of the brand. Its plugin can be easily extended with the user's custom archive and single-view layouts.
TLP Portfolio
The TLP Portfolio is a highly responsive plugin that displays your company or personal portfolio. You can easily add your portfolio items from the admin panel. It has a widget included with a carousel slider with different settings.
It has the different custom fields Short Description, Project URL, Tags, Tools/ Technique used.
Portfolio Gallery Responsive Image Gallery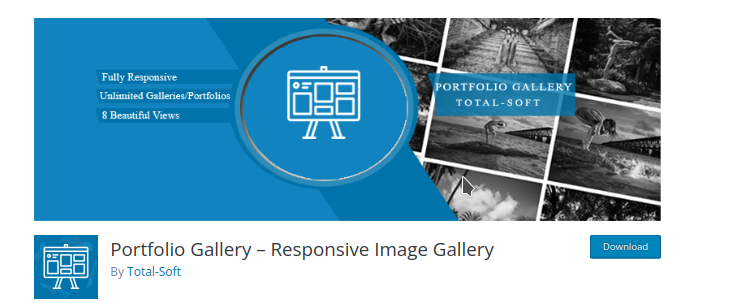 Gallery plugin will help you in creating a portfolio gallery, image gallery, photo gallery, portfolio, photo album, gallery lightbox, and slider more easily. Gallery plugin is mainly created for persons who like to show their photos in high quality with the best gallery design.
A beautiful responsive portfolio gallery. The plugin supports all devices like desktop, tablet, and mobile browsers. With this amazing plugin, your visitors can filter items by group. It's great for creating a responsive & Filterable Portfolio website.
The gallery can be used to creating a portfolio, but that's not all. With its help, you can showcase your latest work and expand it to do much more. Each of the Portfolio items is able to be in multiple categories, and you can even link it to certain filters with a URL
Portfolio Post Type

One of the best WordPress portfolio plugins, Portfolio Post Type, registers itself as a custom post type for portfolio items. For tags and categories, it also registers separate portfolio taxonomies. If you select featured images, they will be displayed in the column view.
This plugin doesn't change how portfolio items are displayed in your theme. You'll need to add templates for archive-portfolio.php and single-portfolio.php if you want to customize the display of portfolio items.
Portfolio for Elementor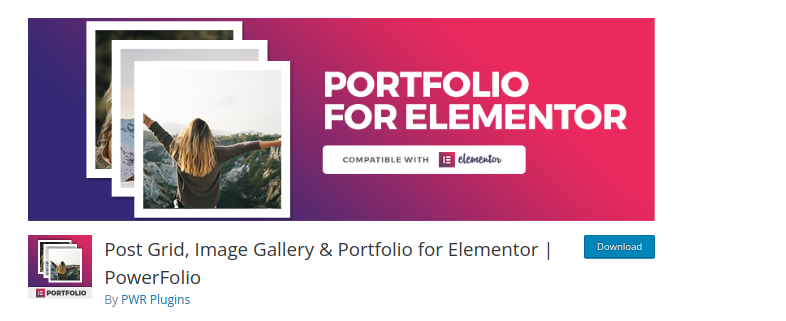 This plugin extends Elementor by adding free Post Grid, Portfolio & Filterable Image Gallery addons/widgets. It enables you to create a creative portfolio design to show your projects using the Drag & Drop interface of Elementor.
Not just that, you can also add a filterable image gallery with several options to customize. It's very useful for creating a portfolio of websites or web development projects and is specially made for creative professionals such as designers, photographers, and web developers.
You can also enable the filterable portfolio and gallery option, separating your projects into categories that can be filtered. It's also useful to create amazing image galleries on your website.
Besides, it now also has Post Grid and Product Grid widgets for Elementor, with several options on the Elementor screen to customize each part of the posts grid or Woocommerce product grids.
Genesis Portfolio Pro

Genesis Portfolio Pro is among the innovative WordPress Portfolio Plugins. It will add a new "Portfolio" post type where you can add portfolio entries with images to display your off visual content. The default template and styles are customized in such a way that a portfolio grid is created showing your featured images in landscape orientation.
These will link the same to a simple page where all the content, including text, images, and even galleries, can be controlled by you. To start off, click "add new" under the new "Portfolio" menu item, and your first Portfolio entry will be added.
Simply add required images and content; you already know how to do with posts and publish. Then, add a few more entries to build your portfolio archive and show off your work in an attractive grid.
Responsive Filterable Portfolio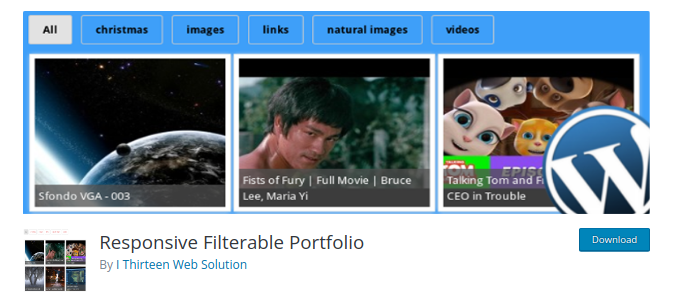 The Responsive Filterable Portfolio is one of the most beautiful responsive WordPress portfolio plugins with a responsive lightbox plugin for WordPress sites and blogs. The user can manage any number of videos, images, links into the portfolio grid.
You can add, edit and delete videos, images, links from your portfolio. Admin can set the media title to lightbox. Before adding a portfolio to the WordPress blog, the user can preview a portfolio grid.
That's not it; you can set the height, the width of the portfolio media. Admin (user) can also set the background color of the portfolio.
Portfolio by BestWebSoft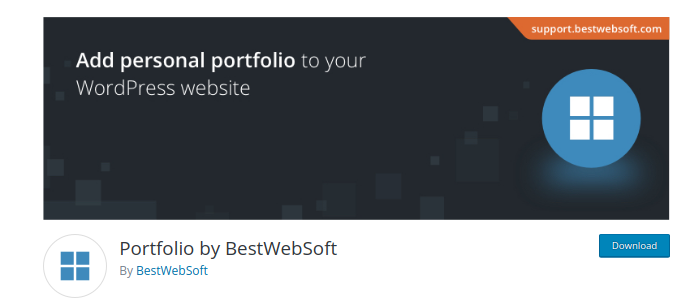 With Portfolio by BestWebSoft, you're looking at another promising WordPress portfolio plugin. It offers the best way to create and add past projects to your WordPress website. Create, configure and manage an unlimited number of portfolio projects.
Include project details, short and long descriptions, URL, screenshots, date of completion along with each project, and much more. Showcase your recent work to get more jobs and grow your business!
Logichunt Portfolio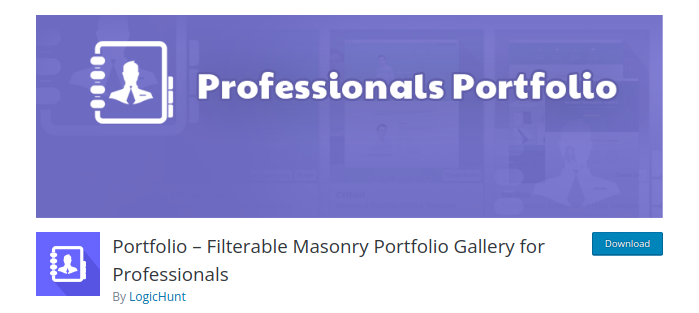 Logichunt Portfolio is one of the best free, highly responsive WordPress portfolio plugins. It is for professionals. They've got a responsive grid with filters and masonry. A portfolio is the perfect starting point for users to build a portfolio site.
The portfolio is a responsive and filterable WordPress Portfolio Gallery plugin for Professionals. This plugin provides a powerful portfolio Gallery with beautiful animated filtering and masonry.
The portfolio permits you to create a unique page for displaying portfolio items that include screenshots and additional information such as project name, intro text, clients name, custom tag, URL, etc.
Portfolio X

Portfolio X is among the advanced, responsive WordPress portfolio plugins that focus on the gallery for digital works or design project portfolios with unique photo gallery styles, portfolio widgets, and project showcases.
This portfolio plugin features streamlined workflow and unique designs and templates to display your works or projects. Portfolio Widgets and Portfolio Showcase are included in it. This free and highly responsive WordPress Portfolio plugin with categories and descriptions was designed and developed by keeping accessibility in mind.
You only need to add some images and descriptions of your works, and the plugin will automatically show them in a nice and engaging format. This is the best portfolio plugin for wordpress in 2021. This wordpress portfolio plugin is specifically suited for web designers, digital studios, digital artists.
Arconix Portfolio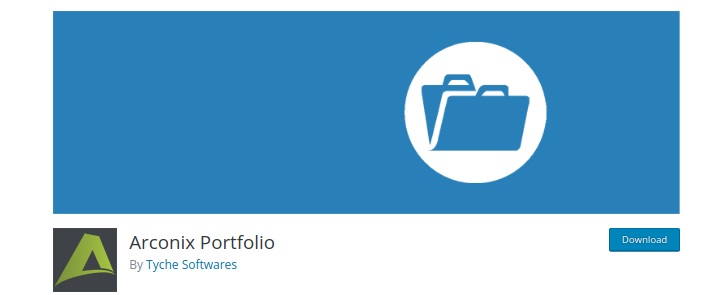 Let's be honest if you need to read a full-blown user manual or watch a detailed video to use a portfolio plugin; you know something's wrong.
A good plugin is one that is simple to set up and use and integrate tightly with WordPress providing the smallest learning curve possible to get up and running quickly and that's exactly what Arconix Portfolio offers.
Awesome Wp Mixitup Portfolio

Awesome Mixitup Portfolio, one of the finest WordPress Portfolio plugins, allows designers, photographers, and artists to create, manage and publish a very advanced and remarkable Mixitup portfolio. It can be filtered using smooth animations and cool image hover effects.
You can select from a huge set of effects and animation presets to customize the look of your portfolio. Set up, customize, and publish your portfolio within just a few minutes.
Modal Portfolio

Modal Portfolio works both in English and in French. Modal Portfolio uses the shortcode [modal-portfolio] (with or without options). It is used for displaying image galleries with video (optional), title, and description in a modal.
There are many settings available to optimize the display and display filters by category. The main feature of Modal Portfolio is to manage several categories of the portfolio with different customizable shortcodes. Thus, you can have multiple portfolios depending on the chosen categories.
a3 Portfolio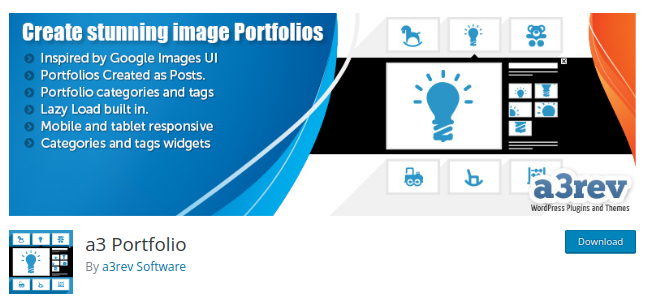 Inspired by the Google Images UI a3 Portfolio is an amazing image-based creation and management extension for every blogger, artist, photographer, and web developer to showcase their own and client's work.
Modula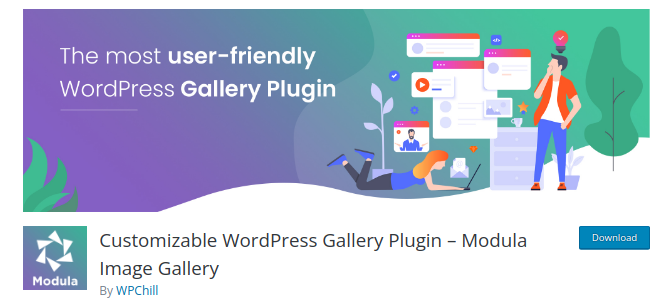 Modula is among the easiest WordPress Portfolio Plugins. It's easier to build stunning lightbox galleries, custom grids, masonry grids, and many more in a few clicks right from the WordPress dashboard using Modula.
Modula is the best WordPress portfolio plugin based on the gallery for adding custom, unique and responsive galleries to the website. Modula is available in a free version (Modula Lite) and premium version (Modula Pro).
Both of the versions allow you to add amazing, fast-loading galleries to your website.