When it comes to building a stunning website, Bootstrap has changed the game! Here's our picks for the best free Bootstrap WordPress themes around today!
So what is Bootstrap? The entire idea behind using Bootstrap for WordPress is to make front-end web development easier so that you can ultimately build a website faster.
Since Bootstrap was first released back in 2011, it's been widely used by the developer community because of how versatile it is, so when you combine it with WordPress, the power is limitless.
Create any type of website with a Bootstrap WordPress theme, from shopping websites to professional online portfolios. Let's go ahead and take a sneak peek.
Best Free Bootstrap WordPress Themes in 2021
---
Alante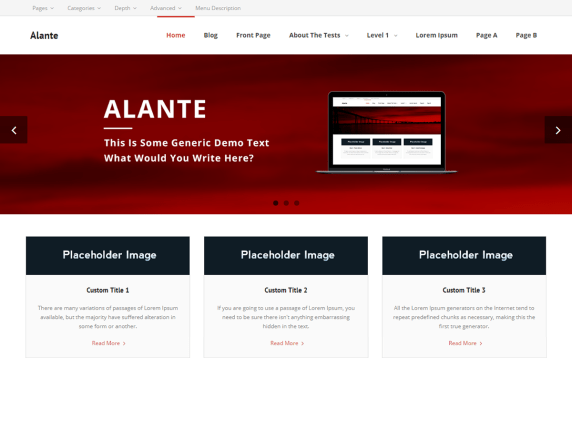 Are you a blogger looking to attract readers worldwide or a business owner who is willing to set up a promising online home? Whatever might be the goal or your website building decision, Alante will help. It is a beautiful WordPress theme that features a minimal design.
The design is perfectly crafted to meet the requirements of any type of website. Besides serving efficient looks, the theme offers a long list of elements that can enhance the productivity of your website in no time.
The list includes a sticky header, page builder with limitless customization, fonts, and more. Everything about Alate helps to make your website stand out from all the rest.
Bootstrap Coach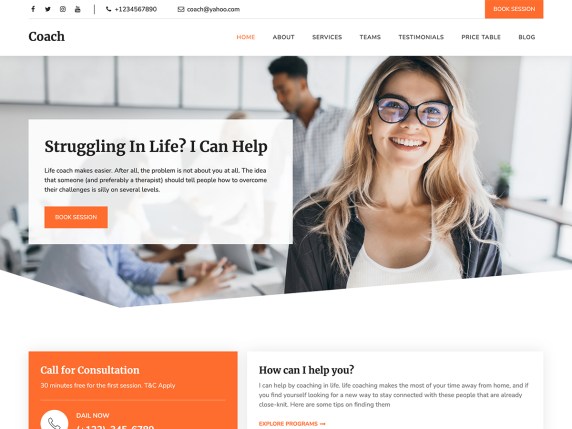 Bootstrap Coach is an incredible free WordPress theme designed for the life coach business. This is indeed among the efficient bootstrap WordPress themes, which are simple yet elegant.
The theme is intended to create a fully functional and professional website that can highlight your coaching businesses in the most promising manner. As one of the best free bootstrap wp themes, anyone can use the Bootstrap Coach efficiently without prior coding knowledge.
They can even bring in desired modifications using the live customizer option of WordPress.
The Bootstrap Blog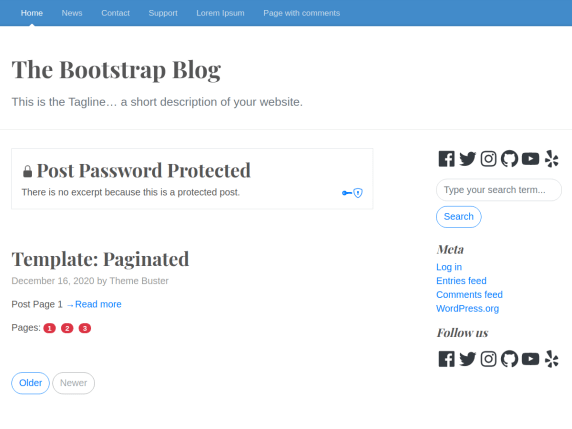 With The Bootstrap blog, you're basically looking at a brilliant blog solution in 2021. Entirely based on the popular Bootstrap 4 library, this free WordPress theme brings in the most professional website creation approach.
It also displays how a mobile-friendly CSS framework can be utilized to create a sleek, simple, and fast website. Alongside these traits, the bootstrap WordPress theme free variant doesn't lack in functionality.
Plus this theme offers an easy and intuitive way in modern front-end web development days.
Bootstrap Photography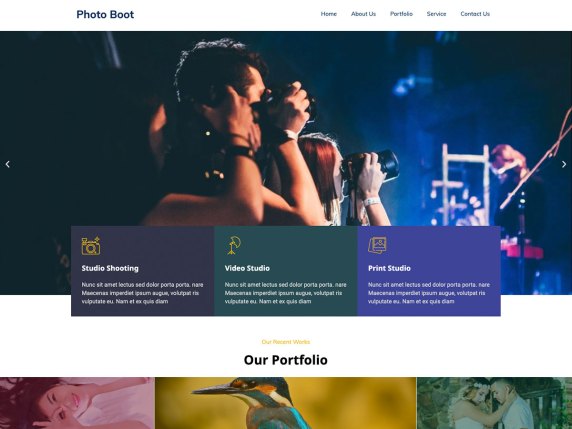 Bootstrap Photography is yet another fantastic WordPress theme that is available for free. Loaded with unique features, the theme is among the best free bootstrap WordPress themes that are nurtured to serve the photographers in every possible manner.
The theme is a great way to come up with the most lovely online home. Bootstrap Photography is Elementor based, one of the most popular page builders. Apart from being perfect for photographers, the theme fits ideal for writers, travel bloggers, etc.
Bootstrap Blog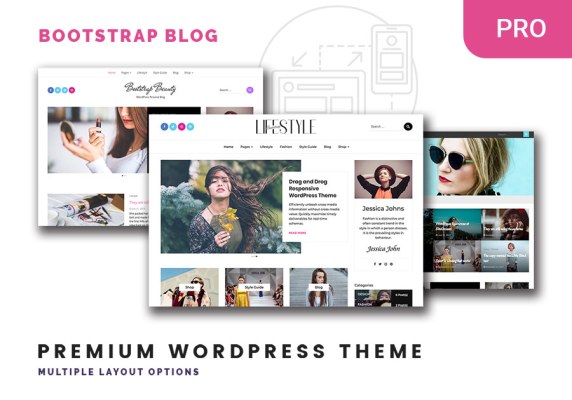 Bootstrap Blog, as the name suggests, is an innovative WordPress blog theme. No matter if you're a lifestyle blogger or style guide, personal blogger, or feminine, traveler, or journalist, photographer, or anyone else, the theme is pretty sure to fit in your niche flexibly.
In addition to that, Bootstrap Blog is very easy to use and features limitless customization options. In other words, you can customize everything with a live preview.
Supporting popular plugins like Woocommerce and being readily SEO optimized, Bootstrap Blog is undoubtedly one of the best bootstrap WordPress themes of all time.
BPT Bootstrap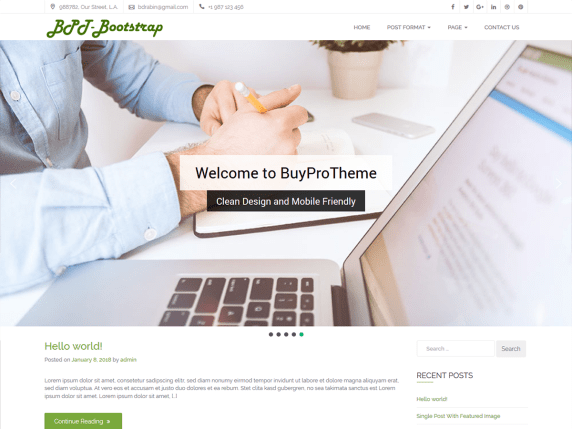 For those who're looking for free bootstrap wp themes that serve minimalist nature, look no further. BPT Bootstrap introduces you to a very straightforward, elegant, highly responsive WordPress theme that sits as a superb creative option for agencies and other businesses.
In BPT Bootstrap, every single detail is carefully designed to make a seamless and extraordinary user experience. From performing great on any device to SEO friendly, BPT Bootstrap meets the quality requirements of users in every step of website creation and management.
Bootstrap Basic4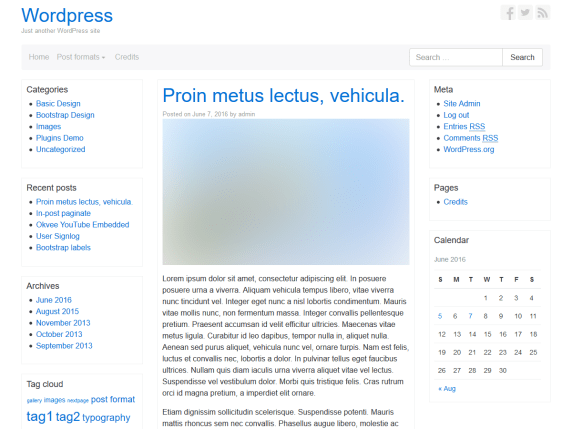 If you're a developer and looking for the best free bootstrap wp themes, you need to have your attention right here. Bootstrap Basic version 4 is a free WordPress theme crafted for developers. Ready to work with WordPress 5 or Gutenberg ready, the theme is a genuinely promising solution.
The entire concept is to keep the game basic, which means you can't expect rich features, additional functions. Yes, it is not a great option for general users to move forward with, but indeed brilliant for those who're willing to start developing their theme.
Flat Bootstrap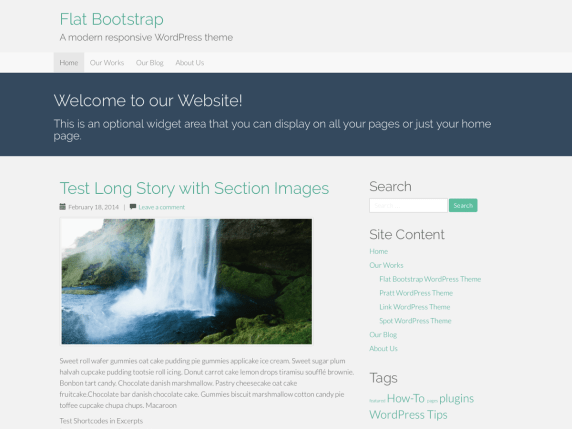 Flat Bootstrap by XtremelySocial is an impressive free bootstrap wp theme with a modern and clean design. The theme features a 100% responsive layout that loads up well on any device. The prime highlight of this free WordPress theme is the flat" style that comes with a nice color palette.
Apart from that, the theme includes other efficient elements like big full-width images and full-width colored sections. Flat Bootstrap, as already mentioned, automatically adapts for desktops, tablets, and phones. Designed on the basis of the WordPress standard starter theme (_S) alongside the Twitter Bootstrap CSS framework, the theme is flawless to work with.
Other notable features: mobile navigation bar, labels, badges, tabbed content areas, collapsible content areas, multiple columns (grid), buttons, icons, progress bars, alert boxes, carousels (sliders), and more. The theme, Flat Bootstrap, is ideal for both general users and theme developers with lots of features.
Bootstrap Basic 3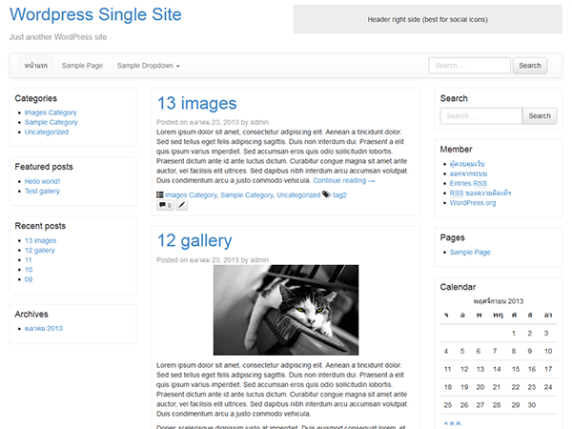 Bootstrap Basic V3 is basically the predecessor of version 4 we've mentioned earlier. To put it in simple words, the theme is a one-stop destination for all those new coders who're after free bootstrap WordPress themes.
Bootstrap Basic is a theme that bags in all the traits that you can wish for. Also, the compatibility with the latest version of WordPress eases things up to a great extent.
NGO Charity Donation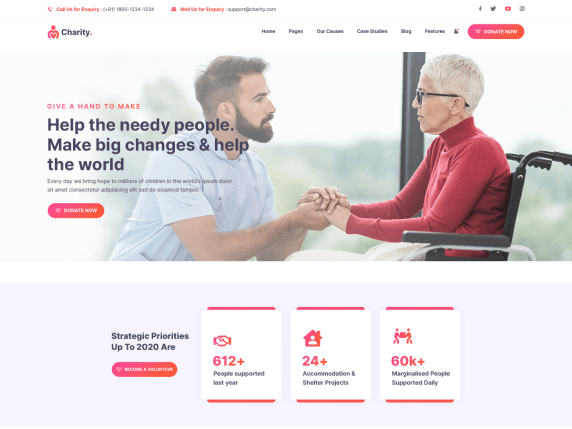 Having talked about a number of free bootstrap WordPress themes already, let us now look at one for the non-profit organizations.
The theme is ideal for creating a website that can drive people and make them aware of the charitable cause—amazingly designed with all the modern, luxurious, and professional requirements in mind, the theme that is sure to please visitors and hook to the website.
The theme perfectly fits the websites that revolve around charity foundations, NGOs, fundraising, welfare activities, old age, donation, blood donation, campaigns, and such related websites.
Apart from other notable features, the theme is translation-ready and supports the RTL layout. It is also optimized for speed and embeds efficient SEO codes.
Tech Startup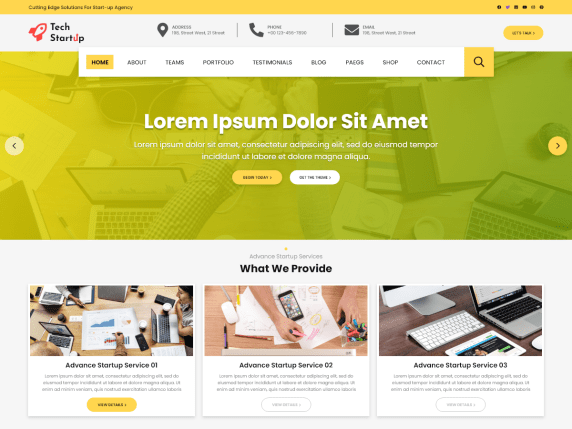 No matter which startup we're talking about, an efficient website is genuinely necessary, and the scenes are no different with tech-based startups. In fact, the necessity for this niche seems to be even more. All thanks to the Tech Startup WordPress theme, you can create amazing websites in minutes.
As the design is based on the Bootstrap framework, the theme comes out to be a robust option. The theme serves 100% responsiveness, for which it is mobile-friendly while being user-friendly at the same time. In other words, you can craft an excellent user-friendly website that looks beautiful on any screen.
Featuring a clean layout that shows every detail in a minimalist way, this theme's design is sure to attract visitors towards your main content without dealing much with fluffs around.
Apart from that, Tech Startup is one of the best free bootstrap WP themes that work great with SEO and can help you beat your rivals in the SERPs.
Property Builder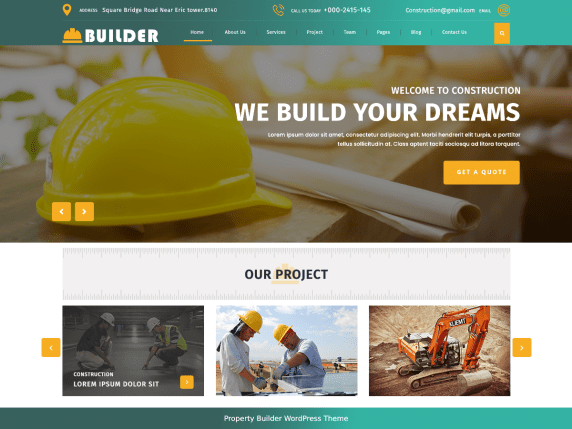 We're done talking about the best available free bootstrap WP themes that can create an impressive online presence for bloggers, startups, and even charity fundraisers. However, Property Builder is an option that directly tends towards the construction company.
In other words, Property Builder is a super-efficient option and indeed a terrific choice to create a modern and professional website for real estate, construction businesses, contractors, architectural firms, plumbing builders, and other similar services.
The theme is one that is rich in features. Apart from that, the bootstrap framework-based theme serves SEO-friendly nature at its best. Also, with 100% responsiveness and fast loading speeds, creating the most promising website is just a step away with Property Builder.
Home Construction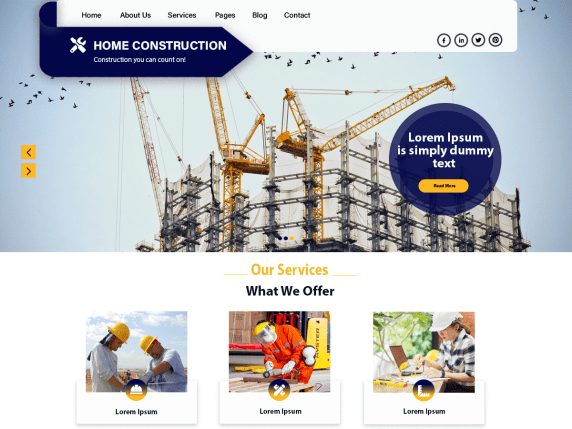 Home Construction is a free Bootstrap WordPress theme that is a high-quality choice for creating landing pages for construction businesses, property dealer websites, estate broker websites, or real estate solutions.
When we talk about the most professional appeal, Home Construction literally stands out. It is fully capable of grabbing attention, all thanks to the elegant and minimal design that is packed within a highly responsive layout.
In case you wish to make your website more interactive, Home Construction provides a solution. It is among the free bootstrap WP themes that feature a Call To Action Buttons (CTA).
Moreover, the theme is SEO-friendly, lightweight, and has all other elements you can probably wish for.
VCard CV Resume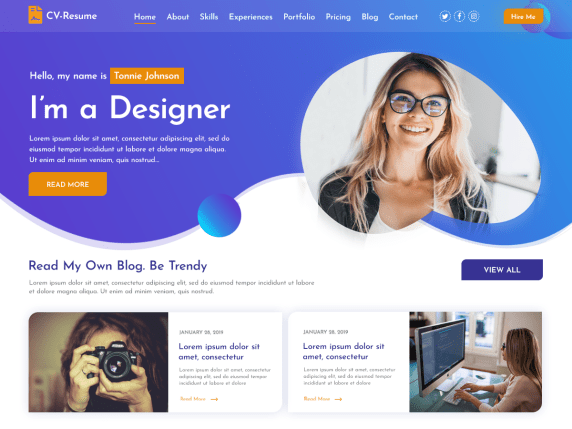 Vcard CV Resume by VW Themes makes you look at a multifunctional theme that can help you create impressive personal portfolios, business VCards, resumes, or CV online. The theme is entirely based on bootstrap and provides one of the best approaches to craft an online portfolio no matter which skill you bear.
The theme is highly responsive and loads up quickly, giving a faster page load time. In addition, the theme comprises secure and clean codes to make sure it is a super-efficient option.
Fitness Coaching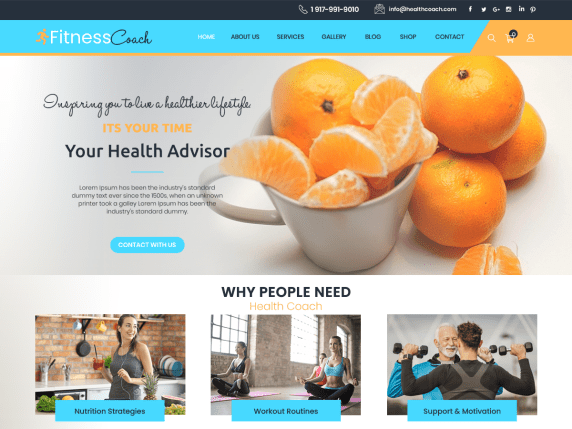 A piece of good news for all the fitness coaches who are willing to get online. Fitness Coaching is one of the most loved free bootstrap WordPress themes to craft stunning websites in minutes.
As with all other promising WordPress themes, Fitness Coaching is highly responsive and loads up with SEO friendly nature. It further features customizable elements and a series of secure codes that will help you present your website in the most promising manner.
Jewellery Shop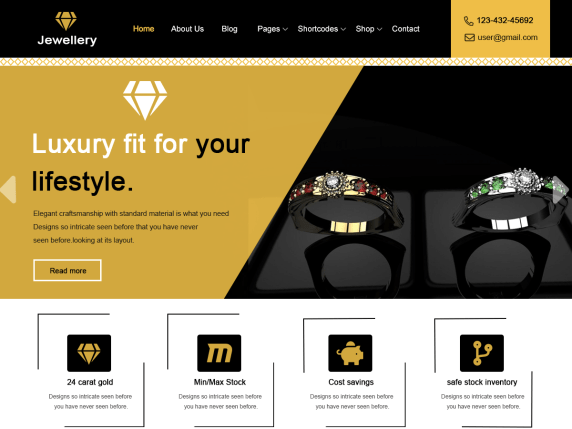 Just by its name, Jewellery Shop, you know that the theme is the best choice for easily crafting an online store. You can use this theme to set up an online store with ease by sheltering all sorts of customization. It brings in a beautiful, stunning, modern, and luxurious layout that can showcase your focused content with the right intent.
Bearing SEO-friendly codes, the theme will help your website rank on significant search engines. Jewellery Shop is among those free bootstrap WordPress themes which are translation-ready and supports RTL layout.
IT Services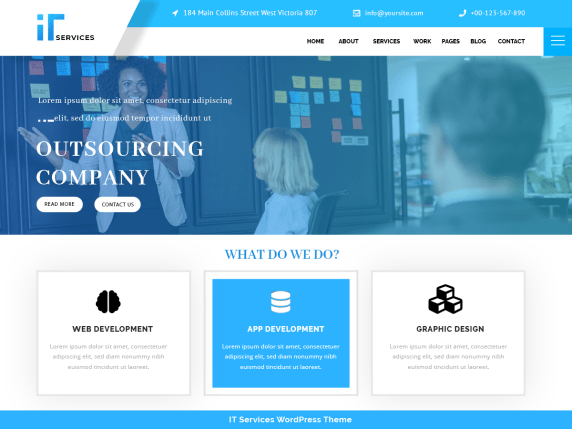 IT Services is one of the best free bootstrap WP themes typically designed for the IT sector and businesses that provide IT services.
Along with an eye-catching design, this Bootstrap-based theme features many other options like a Call To Action Button that further adds up to the interactive part. It also comes with a responsive layout, responsive slider, retina-ready images, SEO-ready codes, and more.
Spice Software
Spice Software is among the free bootstrap WP themes which is lightweight, elegant, fully responsive, and translation-ready. This theme is an excellent tool that allows you to create stunning blogs and websites in the blink of an eye.
The theme is well suited for all the companies, agencies, travel, photography, design, arts, law firms, eCommerce, finance, personal, and any other creative websites. The theme is designed using the Bootstrap 4 framework.
It bags in outstanding elements that are pretty sure to please you. These generally include pre designed home pages, good-looking header designs, several content sections, SEO codes, and more.
Auto Car Care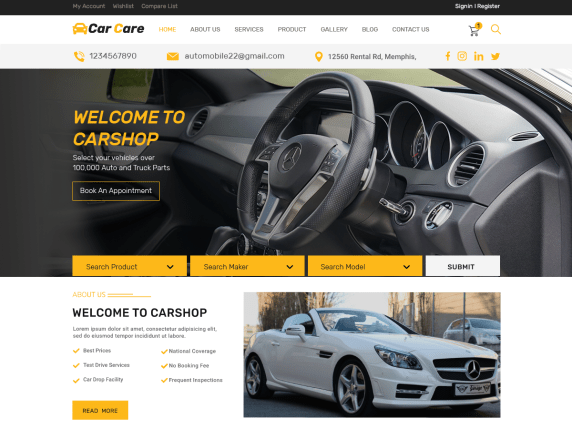 To conclude our list of best free bootstrap WP themes, we've got Auto Car Care by "themespride." Auto Car Care is a fabulous WordPRess theme that features multipurpose nature. It is well optimized to meet the WordPress standards.
It comes with a highly responsive layout that fits in beautifully and performs efficiently on any device. It is also SEO-friendly, will help your website beat the rivals, and rank soon on major search engines like Google.