Are you a travel blogger looking for the best travel blog WordPress themes to showcase your experiences out and about? Well, if this is the case, you might have made your way here searching for the best WordPress theme for Travel Blogs. In this post, we've compiled the best travel WordPress theme list, which would help you share your adventure stories in the most engaging way.
Best Travel Agency WordPress Themes
---
Trawell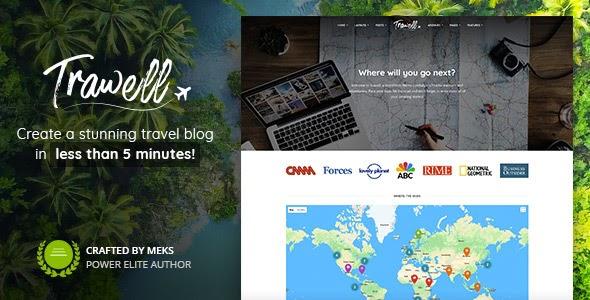 Trawell is a professionally built WordPress theme that comes with templates beautifully designed to portray your travel stories. Loaded with intelligent features, Trawell is one of the best WordPress themes for travel blogs. From categorizing your destinations to including Google Maps most elegantly, this theme brings everything you need to represent the fun part of travelling in a way that engages your readers. Besides, this theme is entirely functional, with plugins essential for any travel blog, which adds convenience.
WPVoyager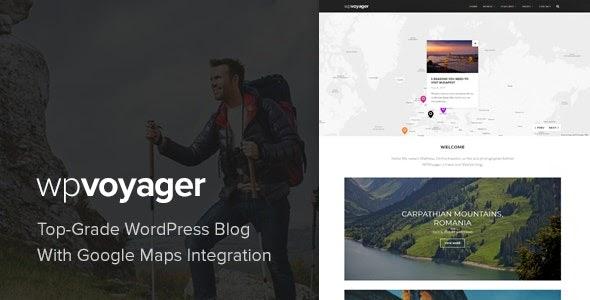 Talking about the best WordPress themes for travel blogs, WPVoyager is something that fits any wanderer. The Google Map Integration, the support of KML file, and everything else that features in this WordPress theme makes it easy to share a traveller's adventure effectively. Despite being home to advanced travel-oriented features, WPVoyager sets up a clean and responsive experience. Also, with the attractive Social Media Integrations and other Sharing Options, never miss out on reaching viewers worldwide with your travel stories.
Backpack Traveler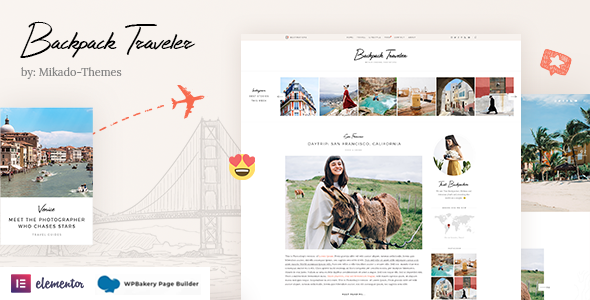 Coming from the home of Mikado Themes, Backpack Traveler is another excellent WordPress theme for travel blogs. With "Backpack Traveler," you are looking at a highly customizable theme that is perfect for every travel blogger. The theme sees several destination layouts blended for wanderers to write and portray travel stories. Also, the compatibility of the theme with "Elementor" and "WPBakery" makes the theme super handy for any travel blogger. The single post templates, attention-grabbing blog sliders, easy Google Map integration, and much more make this theme stand out as one of the best travel blog themes ever made.
Journey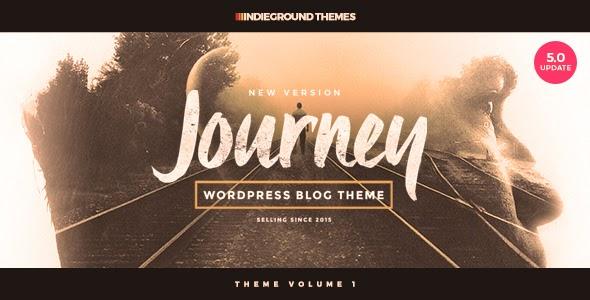 Are you looking to tell your travel stories to the entire world? A personal WordPress blog theme, "Journey" by indieground, will help you do exactly that. Home to clean and elegant design, this WordPress theme for travel blogs provides what you need to grab attention. Apart from design, Journey is flooded with excellent features, including auto-translation, visual composer, responsive design, Gutenberg compatibility, and more, making it one of the best WordPress themes for travel blogs.
Essence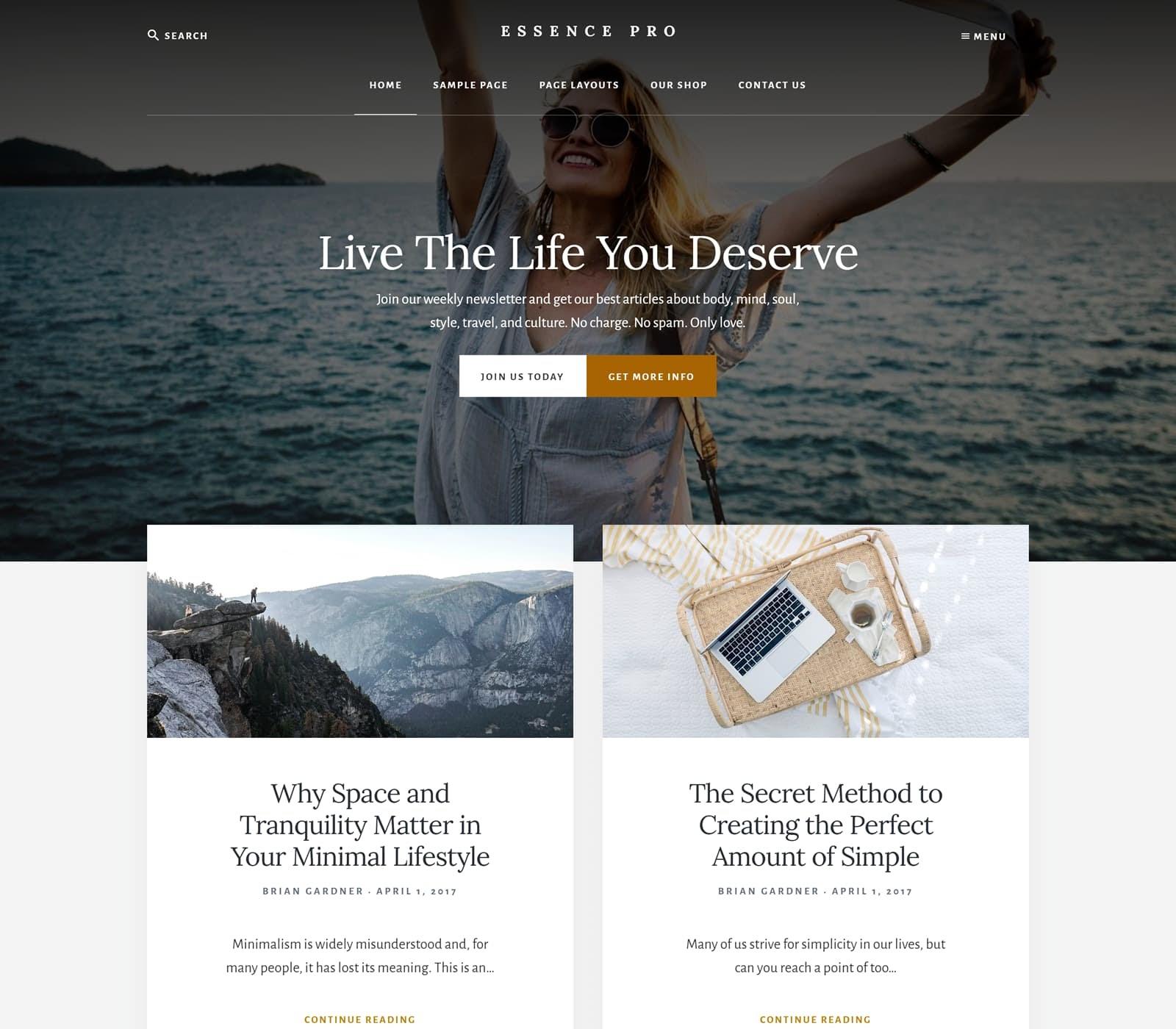 Essence is a WordPress theme that provides a clean and attractive visual experience. Designed to portray the stories of lifestyle and travel bloggers, this theme is also effective for multiple other niches as well. Talking about travel blogging, this AMP-ready theme brings in highly customizable options to showcase the best memories from your traveling experience. Besides, the Essence theme comes loaded with various WP Plugins that make it even more of an effective solution for bloggers. Although the theme comes with WP Premium Hosting's bundle, users with other hosting platforms are also open to buy the theme and enjoy the fantastic features.
Travelogue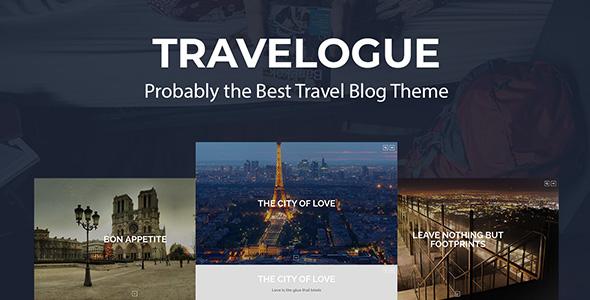 Travelogue from "modeltheme" brings in a unique and elegant design for travel bloggers. Whether we talk about the awesome fonts or the page-specific transition effects, everything within the theme makes sure to leave your viewers with a next-level experience as they browse across your travel stories. Overall, if you're looking for a lightweight and responsive WordPress theme that can serve as a perfect visual narrator for your stories around the world, Travelogue can be an effective choice.
Norway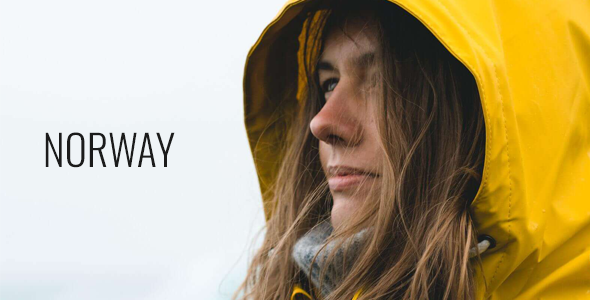 Have you got many travel stories to share? Well then, you've one from MajorThemes that fits as a perfect place for sharing your stories. With a clean and impressive design, Norway is an excellent pick when we talk about the best WordPress themes for travel blogs. Norway is a travel and lifestyle WordPress theme that features a super-fast response with no bloating. From being easy to use out of the box to multiple layouts, this theme is made to serve the user experience.
SmartBlog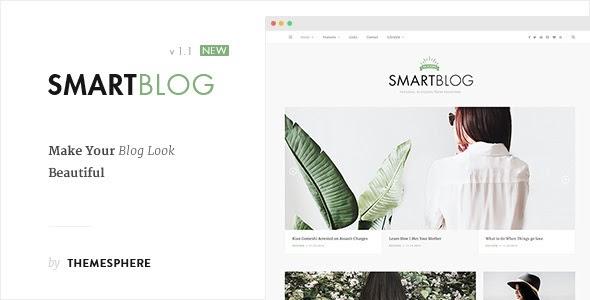 With 8 unique designs, 400+ homepage layouts, and over 1000 features, SmartBlog from ThemeSphere is an excellent choice for travel bloggers. Although the versatile nature makes it effective for any kind of blog, some of the features qualify it as an ideal theme for sharing travel stories. The theme brings in an entirely responsive design with high-end retina graphics. Besides being beautiful, SmartBlog serves effectiveness as it is home to every element that a travel blogger can ask for.
Travel Diaries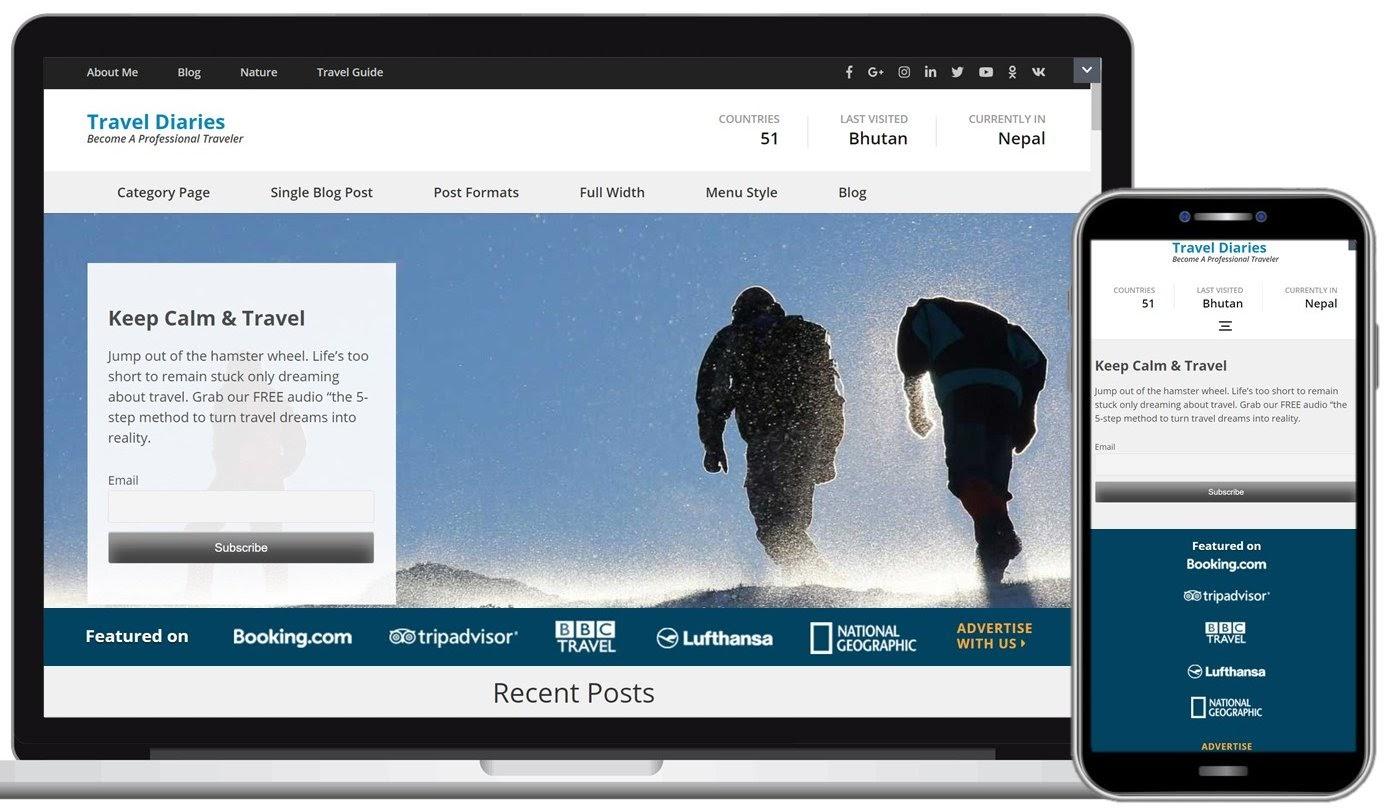 One of the most popular WordPress themes available, Travel Diaries from Rara Themes, is excellent for travel bloggers. Featuring advanced elements, this theme will help you take your travel blog to a whole new level. The theme is speed optimized and blends in a pixel-perfect design for the ultimate viewing experience. Although the theme is flooded with premium features, the best thing is you can try it out for free. The multiple pre-optimized layouts and the unlimited options to customize almost everything will allow you to bind your travel experiences in the most engaging way.
Loving our list of the Best Travel Blog WordPress Themes?
Impronta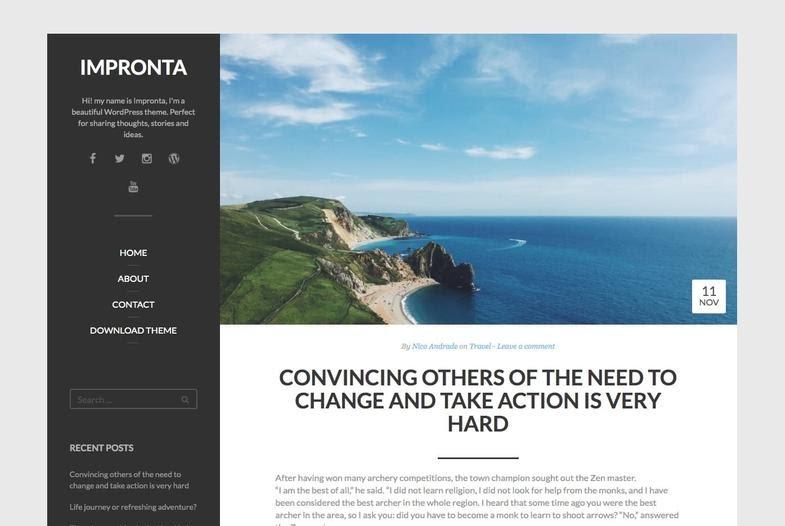 A free WordPress theme for travel blogs, Impronta is excellent for sharing travel stories. The theme comes with a clean yet modern look to catch the attention of the viewers instantly. Besides serving the looks section, the theme does justice with the overall feel as well, thanks to the highly responsive design and varied CSS animations. The other features, like the availability of social icons and the auto-translate ability, makes Impronta a compelling free travel WordPress theme.
Poseidon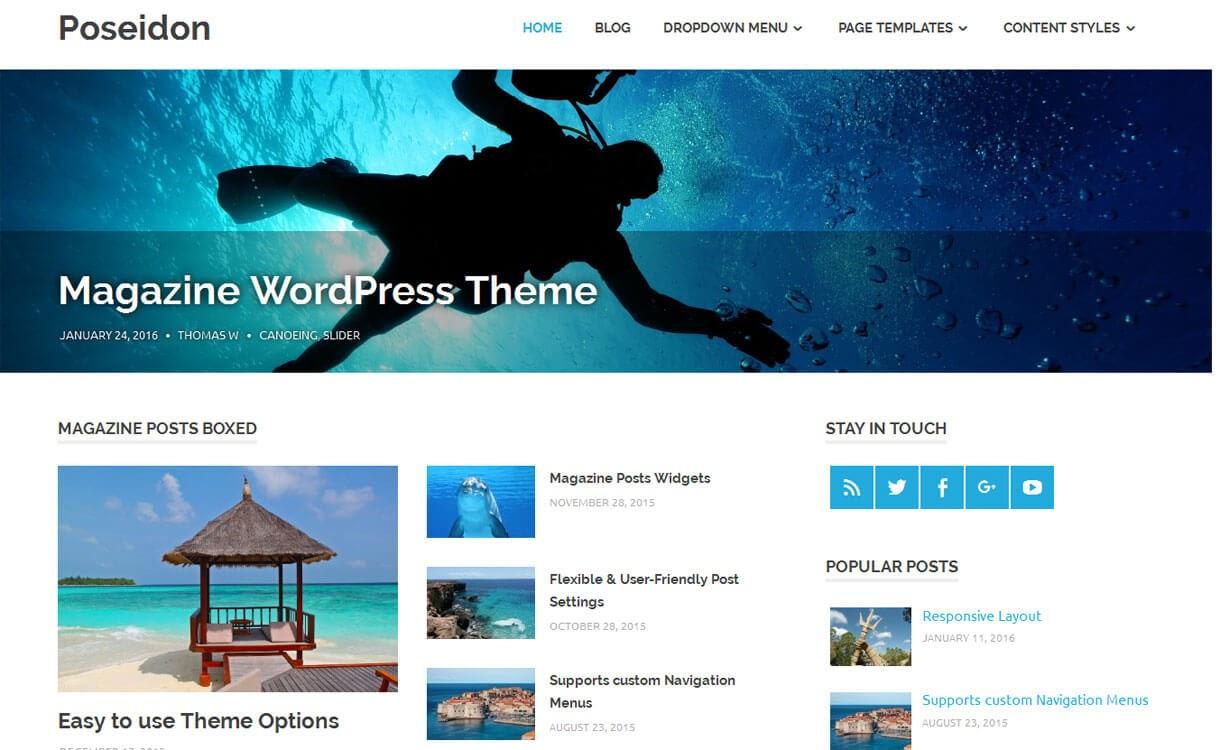 Talking about one of the best free WordPress themes for Travel Blogs, we've got Poseidon as a perfect choice. This theme comes with several features that make it an effective solution for travel bloggers, from cross-browser compatibility to a highly responsive design. The theme comes with a full-screen slider for embedding images and list-up all your travel tales to catch a viewer's attention right away. In simple words, Poseidon provides you with a free effective way of portraying different travel stories.
Virtue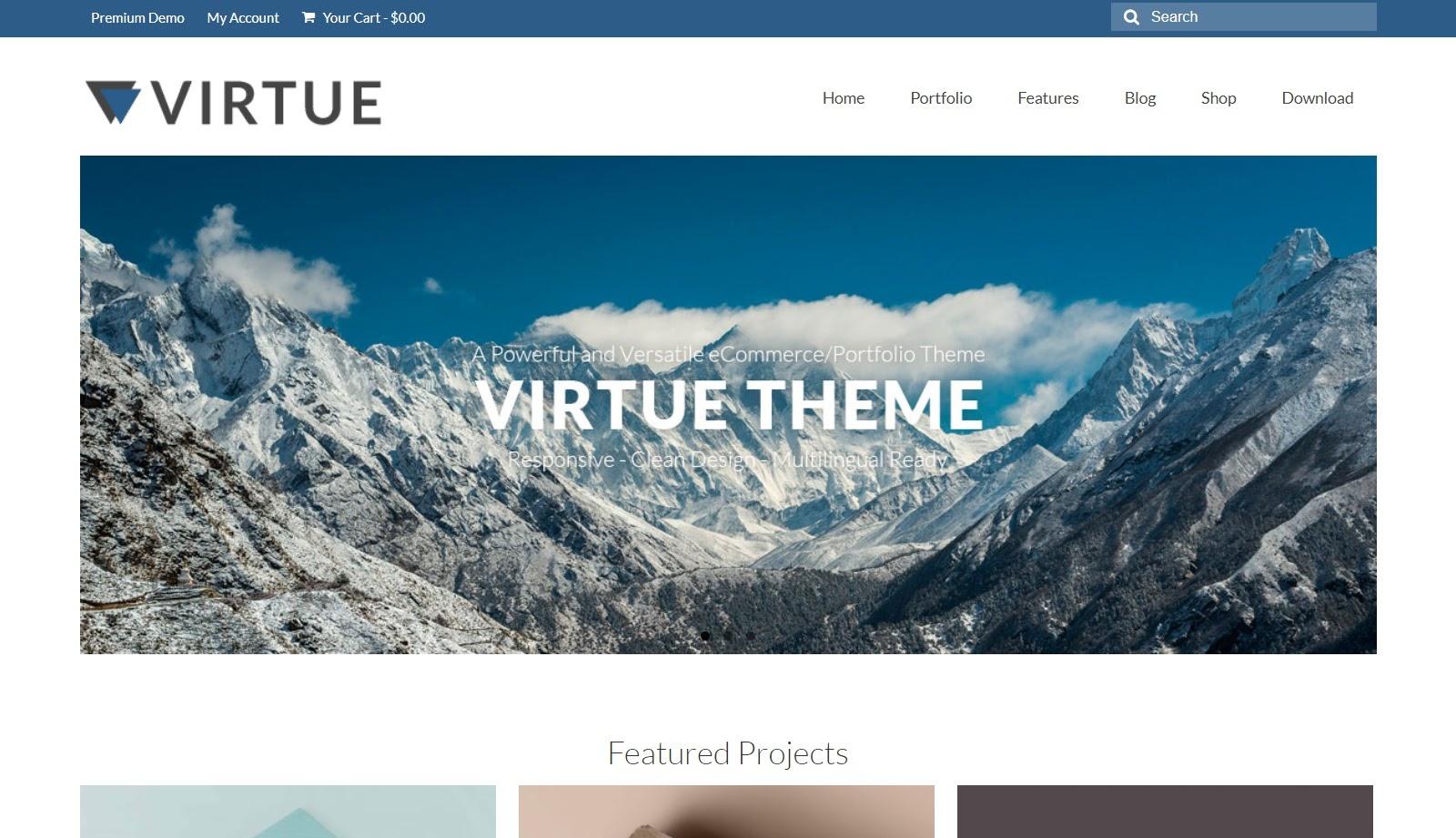 Virtue is another free travel WordPress theme that will help you share your stories in the most elegant way possible. This theme provides a versatile design blended with multiple features. Moreover, this free travel WordPress theme is translation ready, making sure your viewers don't miss out on a chance of reliving your adventures. From being perfectly responsive to mobile devices to being compatible with the WooCommerce plugin, Virtue is an effective free WordPress theme to enhance your website.
Love what you just read?
There you have the 11 most promising WordPress themes for travel blogs. We hope this will help you get along with becoming a compelling travel blogger among the masses. Make sure to let us know which theme from the list has been able to catch your attention.