If you're looking to run a successful podcast, having a well-crafted, fully functional website is essential. A promising online home for your podcast will efficiently serve new and existing eyes. Having said that, let us look at the best 16 WordPress themes for podcasts and related websites. These themes not only come with stunning looks but are also home to productive elements.
Best Podcast WordPress Themes 2021
---
Podcaster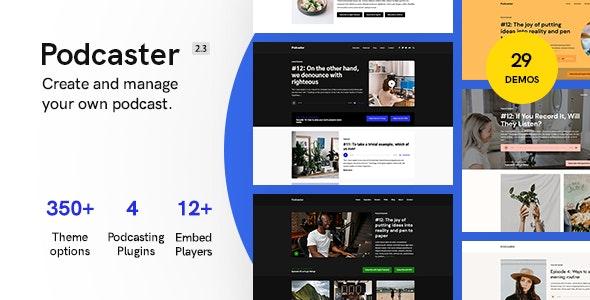 Podcaster by Themestation is a remarkable WordPress theme for podcasts and related websites with all the necessary elements to help you started right away. It not only allows embedding of various media conveniently, but several supported podcast plugins, namely Blubrry Power Press, Seriously Simple Podcasting, Libsyn and Simple Cast Embed, also lets you manage your podcasts professionally.
WP Cast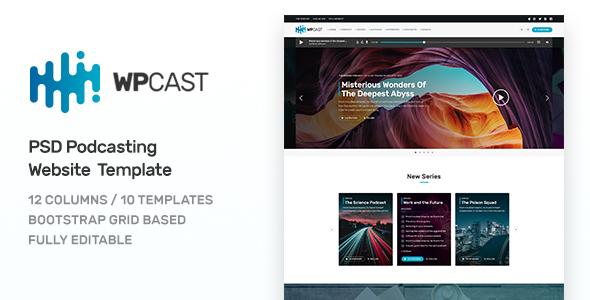 WPcast is an all in WordPress podcast theme. Coming from the home of Qantum Themes, WPcast brings in the efficient solution to craft a professional-looking, fully functional website for podcasts. Thanks for letting users integrate their website with both Apple Podcast and Google Podcast; this theme leaves no stones unturned to be one of the most efficient website building tools. Further, it is also compatible with premium podcast management plugins, including Libsyn, Anchor.fm and Blubrry.
Castilo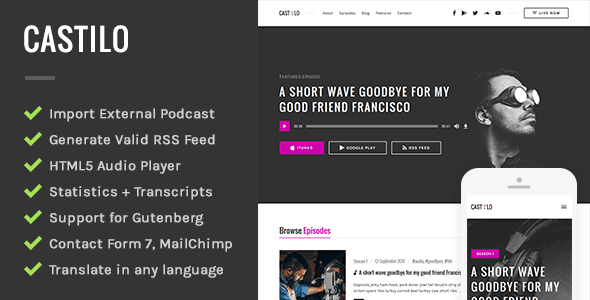 Castilo is an elegant and responsive WordPress theme for podcasts with several essential elements. The theme is designed keeping all the podcaster things in mind. You'll have everything that you can ask for while crafting a flexible podcast website. Castilo also allows users to submit their podcasts to the popular names iTunes, Google Play Music or even to any other RSS based directories.
Soundbyte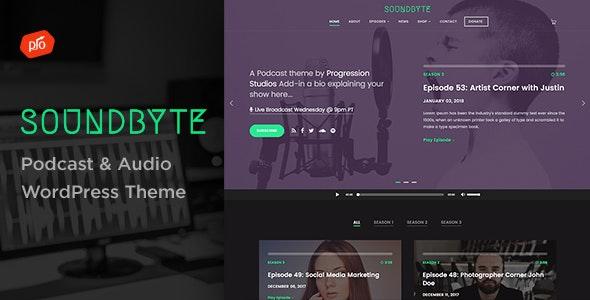 Soundbyte is yet another excellent WordPress podcasting theme. Home to a drag and drop page builder, this theme by "ProgressionStudios" opens up unlimited creative options to have your podcast website designed most stunningly. To ease things up, the theme also features demos to help you get started in no time. Besides, the audio player and other podcasting elements further justify the productivity of Soundbyte as a podcasting WordPress theme.
Megabyte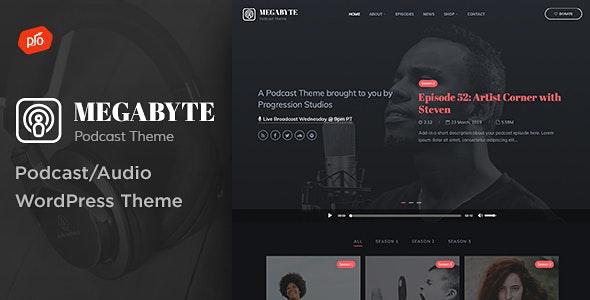 Megabyte is a comprehensive solution for crafting a professional website for your podcast. With this podcasting theme, you can start blending your creative designs into a fully functional website pretty conveniently, thanks to the premium sliders and the drag-drop builder. Moreover, Megabyte is 100% responsive, featuring advanced theme options to help build the website for your podcasts in the desired manner.
Viseo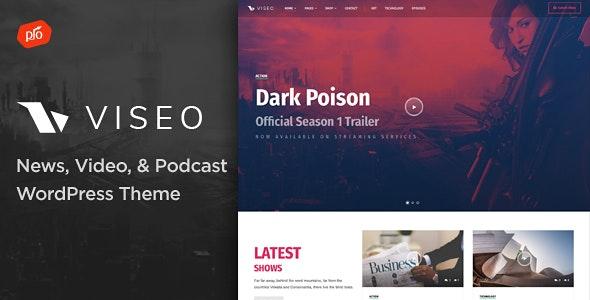 Viseo is quite a multipurpose WordPress theme that fits in for a promising podcasting website as well. With a modern look and boosted elements, this theme by 'ProgressionStudios" is the ultimate solution for building stunningly engaging websites. Viseo is a perfect fit for everyone, whether beginner or professional.
Fastcast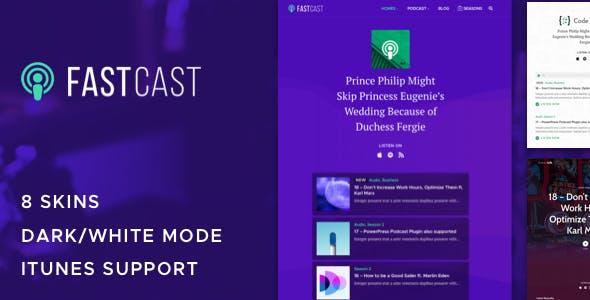 Coming from the home of 2035themes, Fastcast is a fantastic podcast WordPress theme that brings a promising approach to showcasing your professionalism. With Featuring 8 unique podcast theme, build a website to grab the attention of your target audience right away. The theme also supports Android, iTunes, Apple Podcast and lets users embed YouTube and Vimeo codes on the podcast page.
Sonus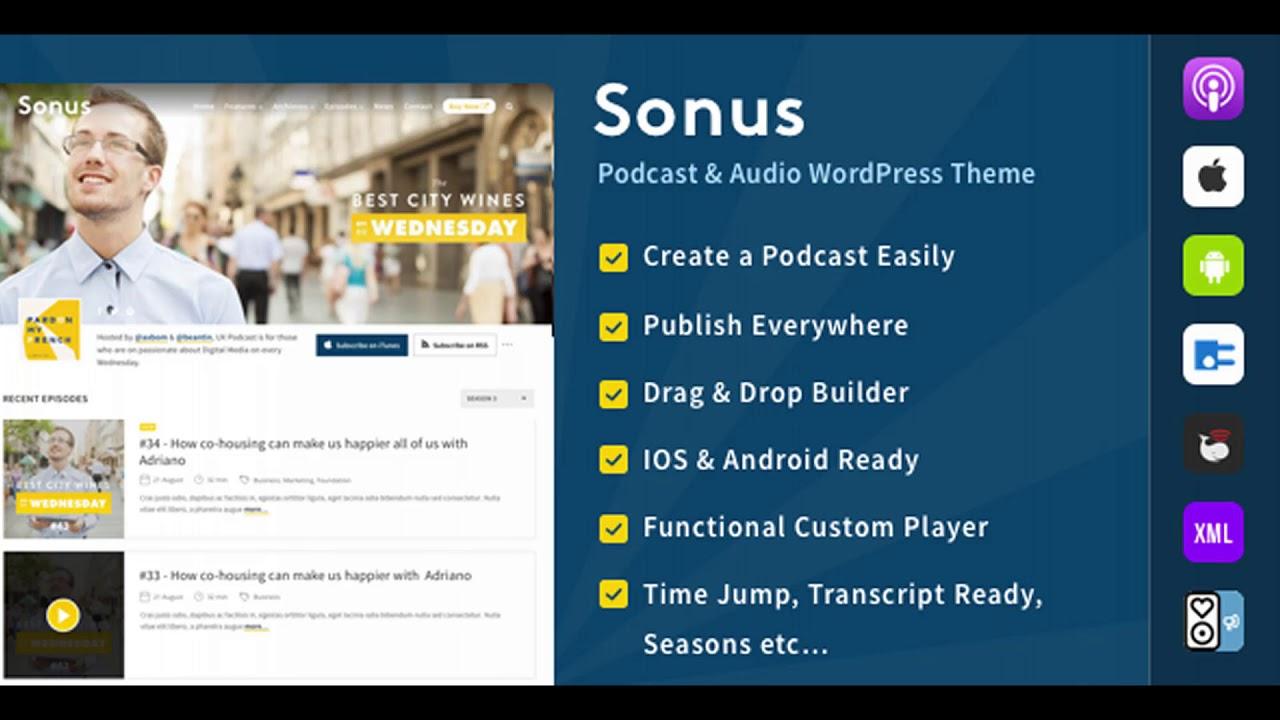 Sonus is a dedicated WordPress theme for any podcaster out there. Although a perfect fit for Custom Player Podcasts, the ones with YouTube, SoundCloud and other podcast providers also look visually pleasing with this theme's modern web design. Besides looks, Sonus sets as one of the productive WordPress themes for podcasts thanks to its compatibility with premium and efficient plugins.
Castpod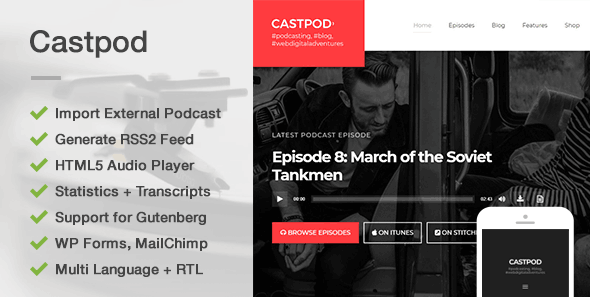 With Castpod, you're looking at a 100% responsive, professional WordPress theme for podcasts and similar niche. This theme by " liviu_cerchez" sets everything into an alluring design that looks great on retina devices. Moreover, the Castpod features high-end customization options to build a website for your podcast in the most unique manner.
Episody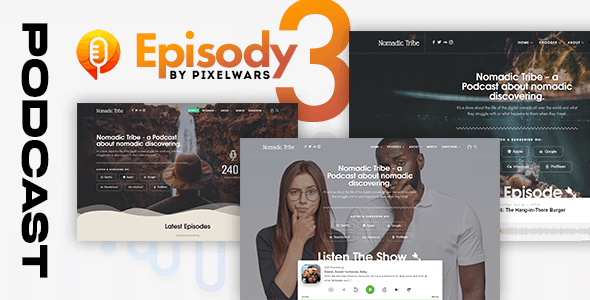 Episody is a WordPress theme designed for podcast websites. The theme is packed with almost every feature that a podcaster can ask for. Thanks to the built-in beautiful sticky player and 17 home pages, this theme allows you to start a self-hosted podcast right away. One of the best thing about Episody is that it works efficiently with your existing podcast as well.
Rekord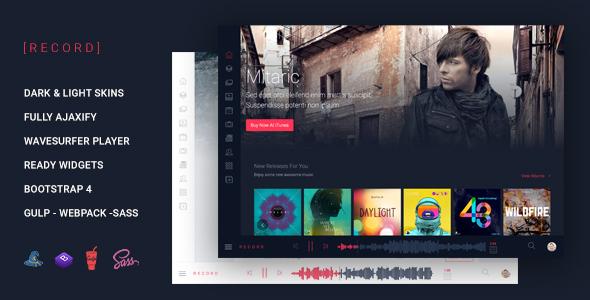 Rekord is a bootstrap based WordPress theme for podcasts and respective websites. It comes with a modern look featuring icons and skins that are effective enough to drive attention. The theme is entirely capable of playing tracks even while a user switches the respective podcast page. This adds a positive factor to your visitors' user experience.
Livecast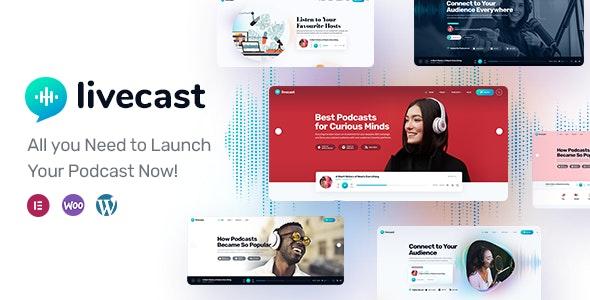 Livecast brings a flexible approach to creating a podcast/audio website. The theme bags in several podcast features and elements ideal for any podcasting scenario. Livecast also sees room for a powerful audio player and allows users to embed content from Apple Podcast and other platforms.
Roogan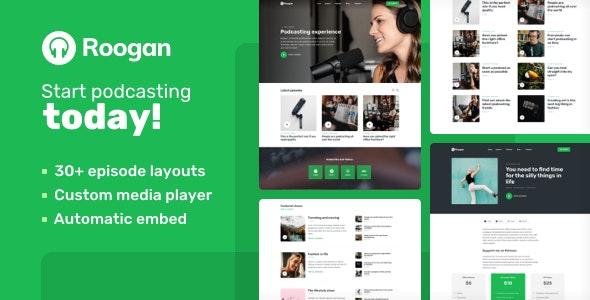 Roogan is a next-level WordPress theme made specifically for podcasters. This theme features a clean and modern homepage and beautiful layouts promising enough to put your podcasts in front of your audience in the most efficient manner. Roogan also brings in a collection of essential elements, including a powerful audio player.
Resonator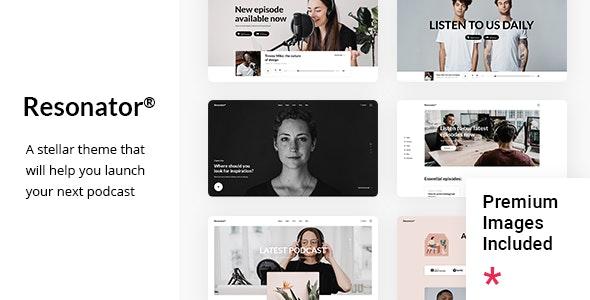 Launching your personal podcast is not a tricky thing anymore, thanks to Resonator. This is a promising WordPress theme for podcasts that includes many features and elements essential for any podcasting industry. Besides features, the theme is home to appealing multimedia content for delivering productive performance all around.
Voiceful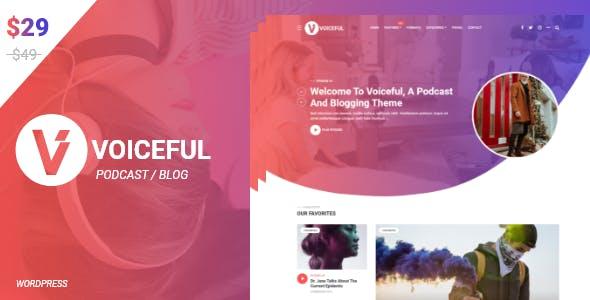 You're looking at a WordPress theme for podcasters and also bloggers to build around your profession. Voiceful brings the resources to blend in a simple, responsive theme to something productive. Talking about the prime features, the theme has a built-in media player, making it easy to embed audio files from popular platforms.
Vlog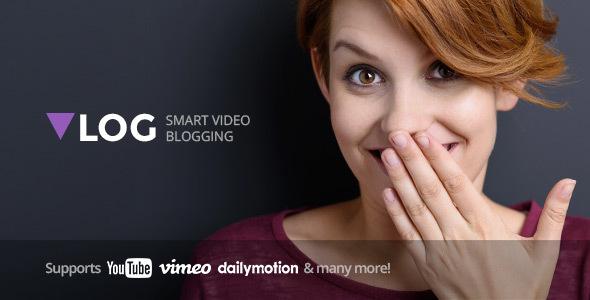 Concluding the list of best WordPress themes for podcasts, we've Vlog by "meks." Whether you're looking to set up a website for podcasts, video blogging, or anything similar, Vlog brings in a perfect solution. The theme comes with more than 200 post layout combinations that can effectively serve your podcasts worldwide.