Do you seek the best multipurpose WordPress theme? In this article, I've compiled some of the best that can fit any website efficiently.
When we talk about multipurpose themes, these are special mainly because of their flexible nature. These WordPress themes feature all the elements that help anyone create almost any kind of the desired website. Irrespective of your niche, team capacity and outreach expectation, choosing an optimized multipurpose theme will enable you to build a website that showers productivity from its initial stages.
However, getting hold of the perfect one might be a bit challenging. So, to ensure it doesn't exist to be an issue anymore, I'm here with the 26 best multipurpose WordPress themes.
Best Multipurpose WordPress Themes 2021
---
Bridge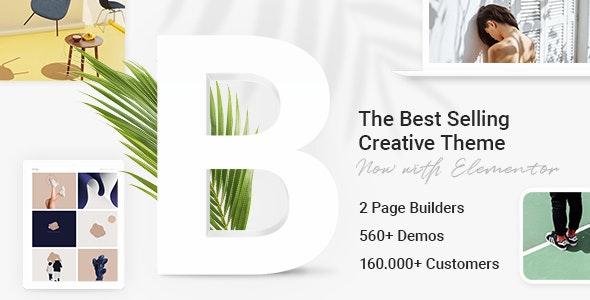 With Bridge, you're looking at a highly responsive multipurpose WordPress theme that is ideal for almost any niche. Bridge is one of the best options for personal and professional websites, whether you're an individual or a team. With this theme, you've unlimited creative options thanks to WPBakery and Elementor page builder. Bridge also features premium plugins, all of which correspond to endless possibilities.
Porto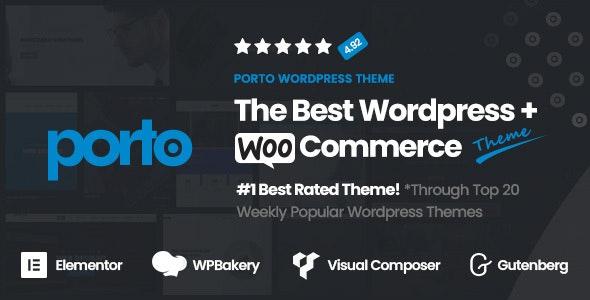 Porto is one of the best multipurpose WordPress themes with WooCommerce functionality. This theme is home to several handy elements and powerful features ready to be configured into a fully functional website. Porto as a WooCommerce compatible multipurpose WordPress theme is an ultimate solution for e-commerce businesses. However, thanks to exclusive layouts, demos and features, this theme fit any possible subject perfectly.
Betheme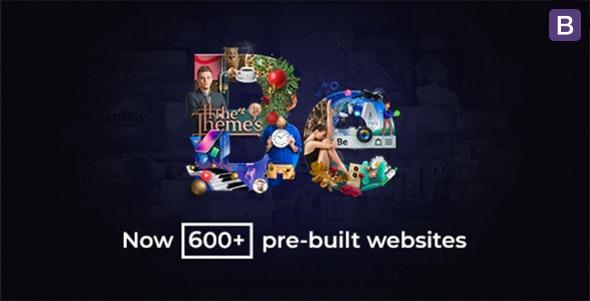 Coming from the home of "muffingroup," Betheme is an ideal multipurpose WordPress theme to build attention-grabbing websites. No matter which niche you operate, the theme's premium page builder, "Muffin Builder", bags in all the essential elements for broad creative customization. In addition, Betheme also features over 600 stunningly designed demos with which you can create your website in the snap of a finger. Now that's convenient creation.
Essentials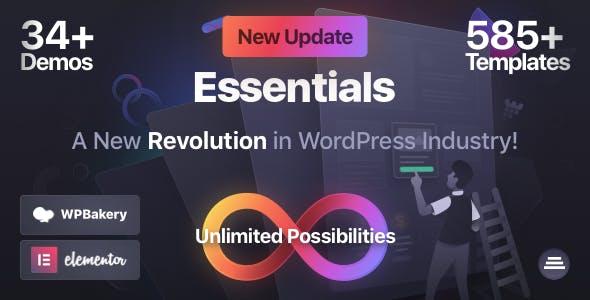 If you're looking for the best multipurpose WordPress theme, Essentials by PixFort deserves your attention. Home to 37+ demos, 665+ templates, more than 70 premium elements, Essentials features everything you need to craft a stunning and powerful website without even writing a single line of code. Besides convenient options, the theme also supports WP Bakery and Elementor page builder to open unlimited creative possibilities.
Borderland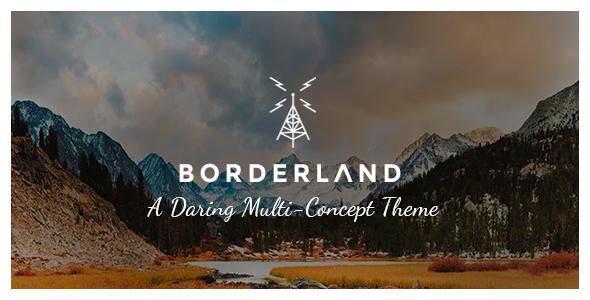 Borderland is a remarkably designed multipurpose WordPress theme, ideal for any website. The developers packed the theme with 12 modern demos and several elements powerful enough to enhance productivity. Borderland also includes a range of promising layouts from portfolio to testimonials and shortcodes suitable for business purposes.
Revolution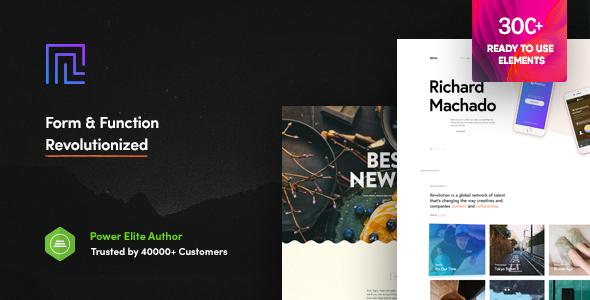 Revolution is a massive multipurpose WordPress theme that can help you build visually pleasing websites in minutes. With multiple demos, productive layouts, a long list of elements and plugin support, Revolution by "fueltheme" bags in everything that you can possibly ask for. Moreover, the theme is optimized correctly to ensure next-level functionality.
Moose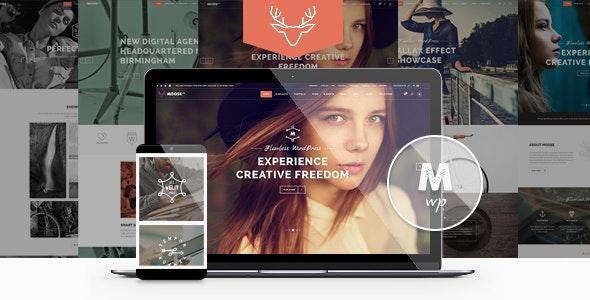 Moose is another excellent multipurpose WordPress theme that allows user to unleash creative abilities. The theme is beautifully designed to perfectly meet the need of any kind of website. Moose is home to an extensive collection of responsive and retina layouts ready to visually attract visitors. Also, the theme fully compatible with premium plugins and page builders.
Mixxcazt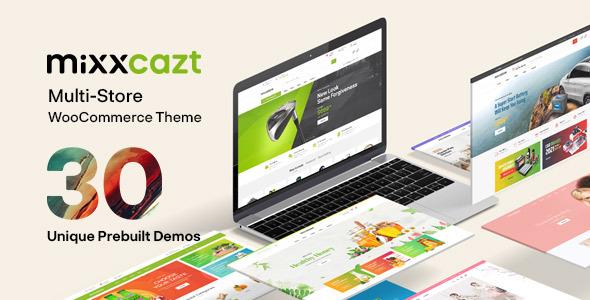 Talking about Mixxcazt by "prestabrain," it is another excellent multipurpose WordPress theme. Although designed for innovative e-commerce businesses, this theme is an ideal solution to build any desired website. The theme comes with 30 beautiful homepage demos that fit any niche. Further, the theme is home to WooCommerce and Elementor plugin to ensure you end up building a website that serves looks and functionality.
Vivaco
Featuring essential elements, Vivaco is a multipurpose WordPress theme that creatively fits tons of purposes. The theme brings in a clean and responsive design with relevant aspects for any individual or company looking to develop a promising online presence. Although Vivaco bags 21 demos to let you get started in no time, the drag-and-drop page builder Elementor acts as a customization paradise.
Kapee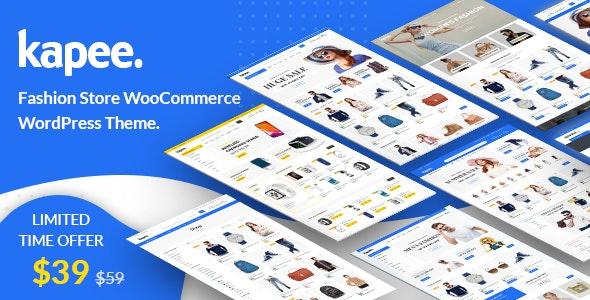 Kapee is a clean and responsive multipurpose WordPress theme with tons of customizable options. This theme is ideal for any kind of WordPress website you're probably looking to build. Kapee features the professional solution with elements such as page builders, responsive layouts, Mega Menu, Awesome Slider Revolution, Ajax Search, and more. Thanks to Kapee, you'll be able to craft a stunning website without coding knowledge.
VEDA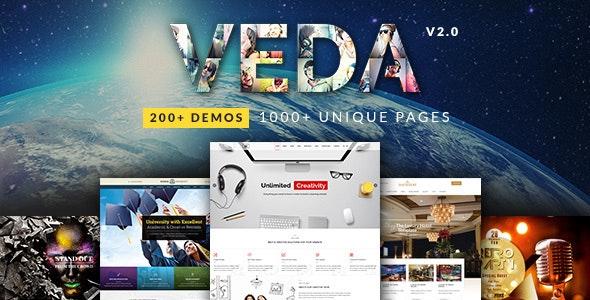 Suited for any niche, VEDA is like a one-stop destination multipurpose WordPress theme. It is a responsive WordPress theme that bags more than 200 demo sites and over page-specific elements for convenient creation. You can simply use this theme and create visually alluring websites for education, e-commerce, blog, medical, business or any other subject.
Norebro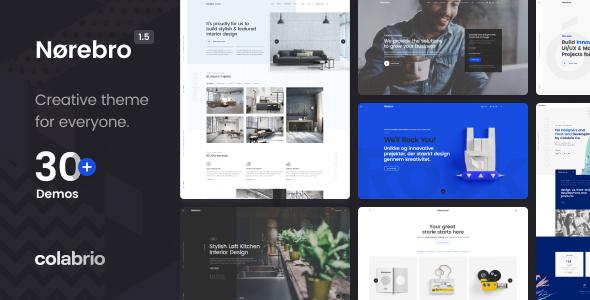 Home to over 30 beautifully designed demos that varies according to niches, Norebro is a unique multipurpose WordPress theme. The theme is a flexible solution for crafting an attention-grabbing website for corporate and personal use. Additionally, the WPBakery Page Builder will leave you with endless creative possibilities. Norebro further brings a bundle of premium plugins, ensuring complete justice to the functionality sector.
Nouveau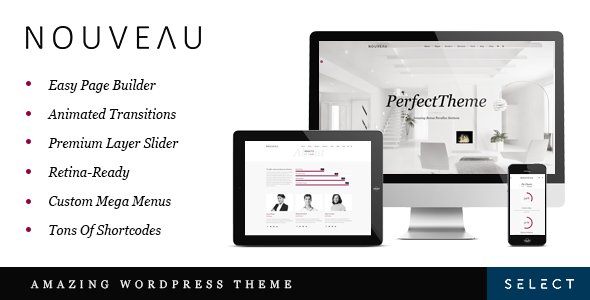 Nouveau from the home of "Select Themes" is a multipurpose WordPress theme with an elegant retina ready design. The theme is an ideal choice for creative use. This highly customizable theme comes with unlimited arrangements of layouts and menus. Nouveau is a powerful tool featuring flexible theme options letting users create their desired website without any hassle.
Unicorn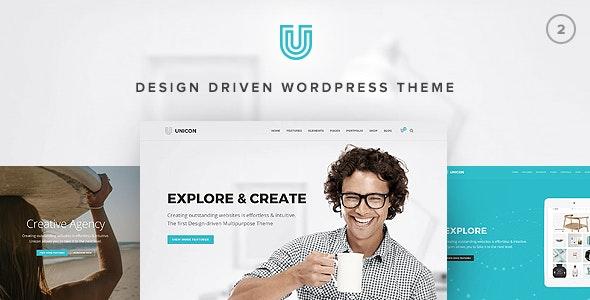 Unicorn by "minti" is a lightweight multipurpose WordPress theme loaded with rich features. The theme comes bags a premium page builder, WPBakery, with over 50 custom elements. Unicorn is also home to other premium plugins, including WooCommerce, Revolution Slider and more. Besides, the theme also offers countless creative options with professional layouts and eye-catching headers.
Infinite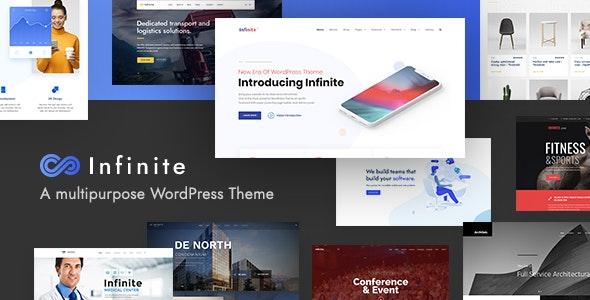 Infinite makes you look at a well-designed, super flexible multipurpose WordPress theme with features and elements you will never wish to miss out on. The theme provides 30 top-notch demos that will cover almost every page of your website in the most promising manner. Infinite also comes with one of the most powerful drag-drop page builders that takes creative possibilities to the very next level.
Conall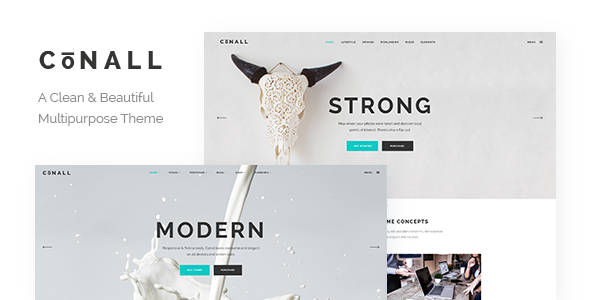 In case you seek an innovative WordPress theme, look no further. Conall is a multipurpose WordPress theme designed to serve the purpose of building productive websites effectively. The theme is packed with tactically crafted homepages and templates that fit perfect for any website. With Conall, have an online presence in the most professional manner.
Engage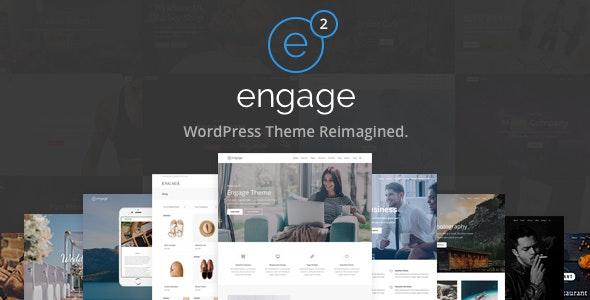 Engage by "Veented" is a powerful multipurpose WordPress theme designed to build professional looking websites. Loaded with features, elements and demos, this theme is the ultimate solution to get started with website crafting conveniently. Besides looks, Engage as a responsive theme also serves productivity, thanks to the extensive support of premium plugins.
Tactile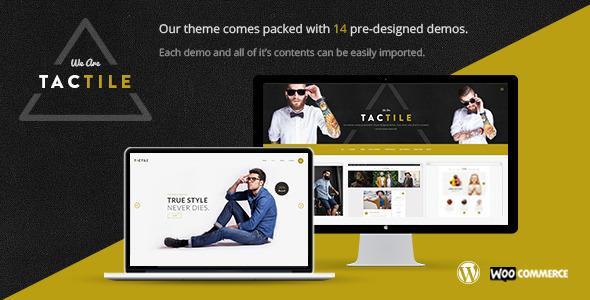 Tactile is a multipurpose WordPress theme ideal for building clean yet stunning websites. It features all the elements that fit any niche or industry perfectly. Tactile is home to every practical functionality, which will ensure you end up creating an online home worth visiting. Additionally, to make website creation a convenient process, this theme features 14 impressive demos allowing you to get started instantly.
Oshine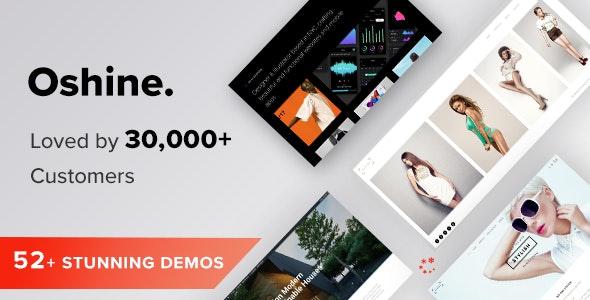 Oshine is a popular, awe-inspiring multipurpose WordPress theme. This theme by "brandexponents" brings in unlimited creative options with high-quality design and an entirely intuitive visual page builder. However, if you like to keep it simple, there are 52 Demos with over 100 pre-built sample pages that will allow you to create stunning websites in the snap of a finger.
Scape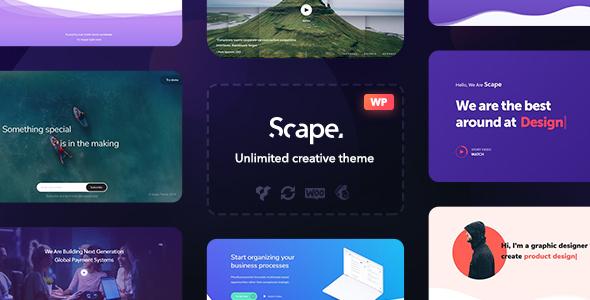 With the perfect modern design and attention-grabbing looks, combined with productive features, Scape is a multipurpose WordPress theme suitable for any type of website. The theme is home to multiple elements and plugins, including the powerful WPBakery page builder, WooCommerce, Revolution Slider and more. All these makes crafting a pleasing website for your personal or professional reason a seamless task.
Kalium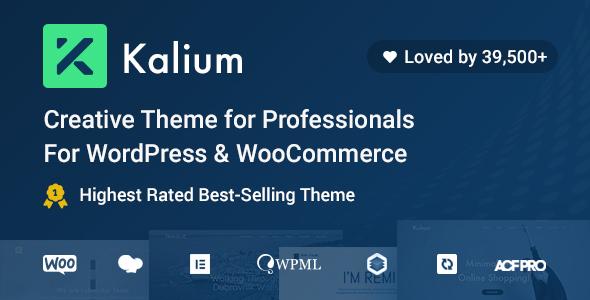 Kalium is a fantastic multipurpose WordPress theme with several stunningly designed demos. However, that is not it. With Kalium, you'll have more than 30 portfolio layouts to work with. Apart from that, the Elementor page builder is always there to serve creative customization purposes. In simple words, Kalium is a theme flooded with well-organized elements for crafting a visually stunning website.
Kicker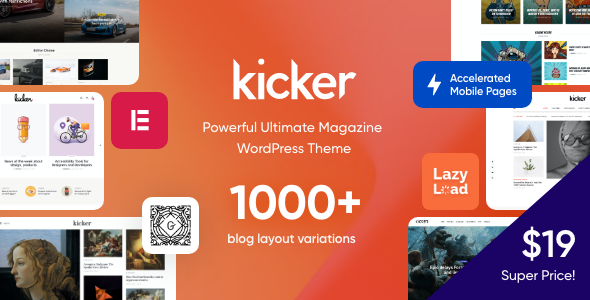 Kicker by "axiomthemes" brings an elegant and fresh design. It is a clean and highly responsive multipurpose WordPress Theme that is splendid for multiple purposes, especially setting up a magazine or blog. The theme features unique niche-oriented skins that look awesome on any device. "Kicker" comes with the Elementor Page Builder and is further compatible with Kadence and Gutenberg Blocks which will let you create amazing blogs, magazines or similar websites in no time.
MF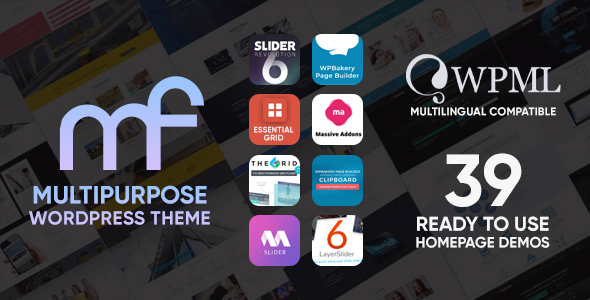 MF by "mfdsgn" is a super flexible, highly responsive multipurpose WordPress theme. Flooded with layouts and features, this theme is one of the promising options to have. MF features more than 20 unique demos that will help you create a website in just a few clicks. Furthermore, this theme is home to unlimited possibilities. With "MF", you'll have the WPBakery page builder with tons of editing option. Whether we consider 12 blog layouts or 36 portfolio layouts, everything about this theme is meant for splendid web building.
Wetland
Are you looking for a well-versed multipurpose WordPress theme dedicated to startups? Then, Wetland needs to have your attention. The theme comes with the Elementor Page Builder for WordPress to make sure you end up creating your desired website in the most convenient manner. Besides looks, the theme also ensures to bring productive results thanks to its SEO optimized and responsive nature.
Priority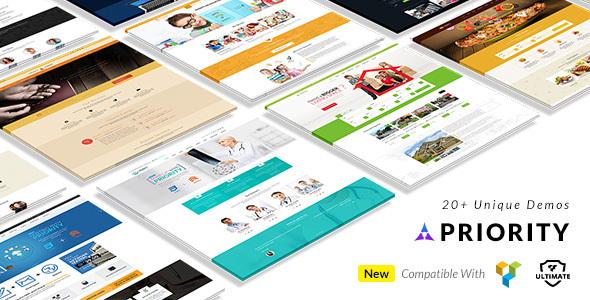 Priority is a well-designed, highly optimized multipurpose WordPress theme that serves as a perfect solution for building any kind of website. The theme is home to niche-specific demos that will allow you to create a stunning website within a quick span of time and showcase the best thing about your business in the most pleasant manner. Further, Priority features a number of plugin compatibility and even shortcodes to look after the functionality of the website you create.
Musca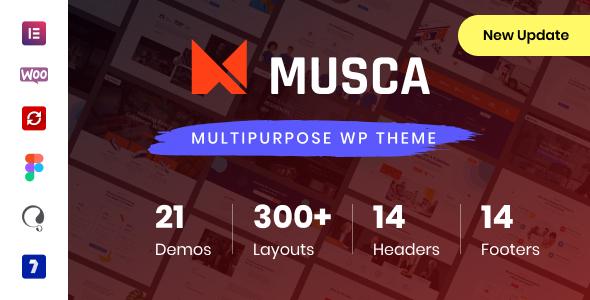 Musca is a next level responsive multipurpose WordPress theme that is truly perfect for almost any website. Musca brings in all the feature essential for building a fully functional website, from premium plugins to varied layouts. You'll get 23 amazingly designed demos, over 300 promising layouts, 14 headers and 14-footer options that fit multiple niches conveniently. Moreover, with Elementor page builder compatibility, you can never miss out on creative possibilities. Get this 100% Responsive theme and start crafting a visually engaging website with retina ready graphics real quick.