Are you a digital marketer, own a marketing agency or someone planning to start something similar? In that case, you need to have attention here. The importance of websites can never be ignored, and if you're someone from a marketing background, the significance of having a website probably well known.
Keeping this topic aside for some other day, let us walk through the best marketing WordPress themes for the time being. Here I've mentioned 21 themes that bags every feature and element you can ask for while building a professional website.
Best Marketing WordPress Themes 2021
---
Seofy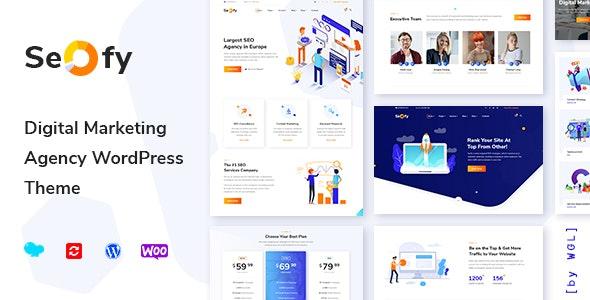 We begin our list of best marketing WordPress themes with Seofy by "WebGeniusLab." Designed to meet the needs of any marketing agency, Seofy is the ideal theme solution. The theme comes with beautifully crafted demos, over 15 blog layouts and more than ten portfolio layouts that help you build your first website in minutes. Seofy is also compatible with premium plugins, including WP Bakery, Revolution Slider and WooCommerce. Also, thanks to over 30 shortcodes, your website will never lack functionality.
Yamato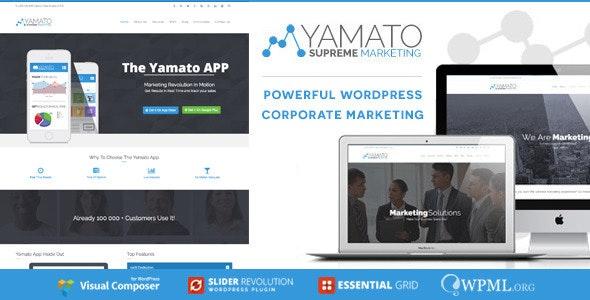 Yamato is a flexible marketing WordPress theme with stunning and professional elements. Loaded with promising features, this theme is ideal for corporate marketing businesses. To talk about creative options, the Visual Composer makes sure you don't miss any opportunity. Besides, the availability of premium plugins Essential Grid, and Revolution Slider, together with testimonial management functionality, lists Yamato as a responsive WordPress theme to serve productiveness.
Optimax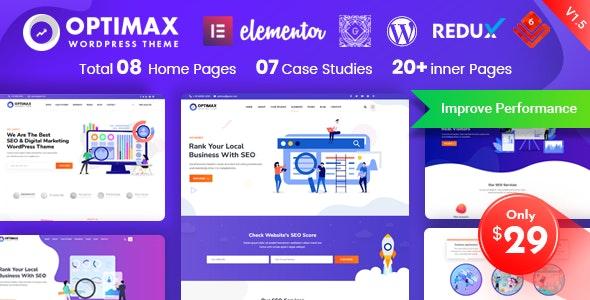 Optimax is hands down one of the best marketing WordPress themes built ideally for SEO and similar digital marketing agencies. From features to elements, this clean and responsive WordPress theme brings everything you can ask for. There are three pre-made homepages, five header styles, two portfolio pages, four case study pages, and even two team pages to set up your website. Moreover, with Optimax, you have premium support for page builders and plugins like Elementor, Slider Revolution and more which leaves you with unlimited creative possibilities.
Centosa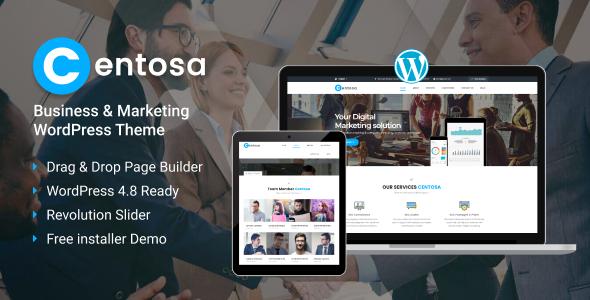 Centosa, the marketing WordPress theme, bags a creative and modern template for building engaging websites. The theme is home to easy and powerful options that let almost anyone build a unique website, irrespective of the level of experience one holds. Centosa comes with a number of demo websites that are beautifully designed for the marketing niche. However, you're also open to creating everything your own way, thanks to the availability of a live customizer. Besides design, the theme is also excellent for functionality, specifically thanks to the long list of shortcodes, professional plugin support and other elements.
Kudos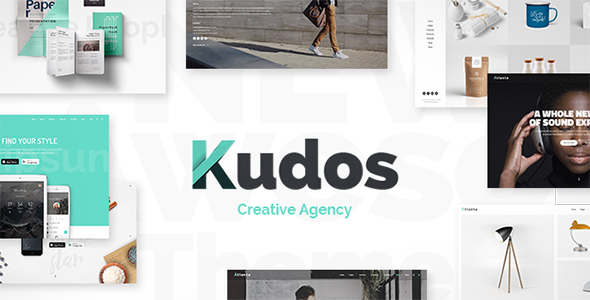 With over 27 homepages and layouts for blogs, portfolios, and other inner pages, Kudos as a marketing WordPress theme is a professional solution for agencies to create a promising website. However, the unique feature that the theme holds is the availability of Vcard templates that are perfect if you look to design virtual business cards. Moreover, with Kudos, you will be open to customization thanks to all the animations, front end shortcodes, varied form of headers, select slider with parallax functionality and more.
SEOWP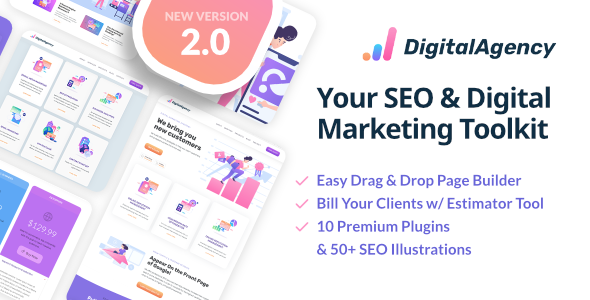 Whether you're an individual marketer or a member of marketing team of experts looking to make an online impression, SEOWP provides the most efficient way. It is basically a highly responsive, flexible marketing WordPress theme that loads up with a heap of productive features. The premium and unique designs (with over 32 demos), automatic Google tracking system, compatibility with Estimation and Payment Form plugin, and more make this WMPL ready theme one of the promising tools to build a website that speaks quality.
SEOcify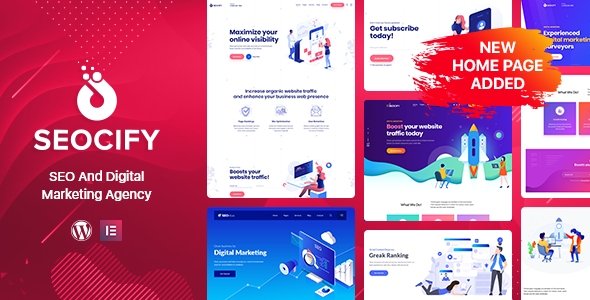 SEOcify is a well-designed, highly efficient marketing WordPress theme designed to serve the SEO and digital marketing agencies worldwide. The theme is built with the premium Elementor page builder and Revolution Slider, which opens up creative possibilities. Featuring one page and multipage demos, the theme is an excellent solution to create websites conveniently. Overall, SEOcify brings in an ingenious solution way to bring the best user experience possible.
Ewebot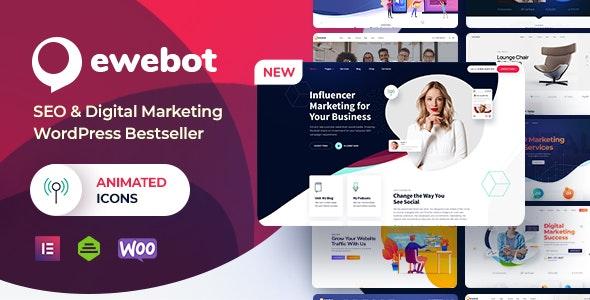 If you own a marketing agency, it is pretty apparent you're well aware of the benefits that an efficient website brings. This is when Ewebot comes into play. It is a marketing WordPress theme with a clean and responsive design. Ewebot is loaded with over 12 stunningly designed homepages. Also, thanks to Elementor and WP Daddy plugin, customizing a website to shape something unique becomes an easy process. Moreover, the compatibility of the theme with WooCommerce makes transforming your website into a full-fledged shop in no time.
SEOCrawler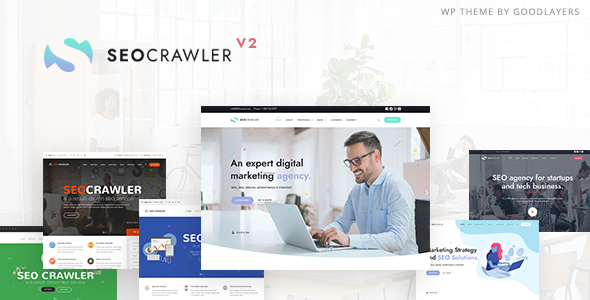 Although it sounds like a tool for SEO related agencies, this highly responsive WordPress theme is brilliant for any website under a marketing niche. This theme by GoodLayers features a super powerful page builder with resources that are enough for showcasing unlimited creativities. The demos, headers, an extensive admin panel, live customizer are among all the highlighting features. With SEOCrawler, you'll also have access to premium plugins and vectors to enhance the functionality of the website you build.
BoostUp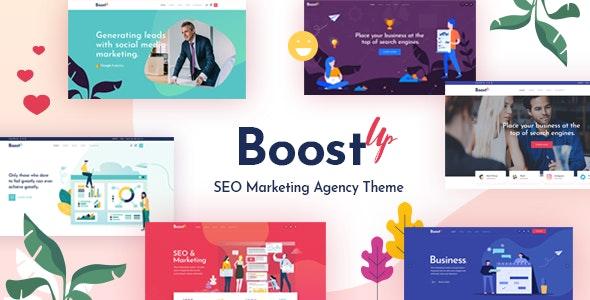 Coming from the home of "MikadoTheme," BoostUp is a highly reliable option for creating for marketing or SEO agencies. It is a highly responsive marketing WordPress theme that bags a long list of exciting features. Premium SEO plugins, stunning portfolio layouts, eight demo homepages are among the elements worth mentioning. Also, BoostUp brings free access to WP Bakery Page Builder and Slider Revolution, ensuring you don't miss out on a chance of creating the most engaging website.
SEOSight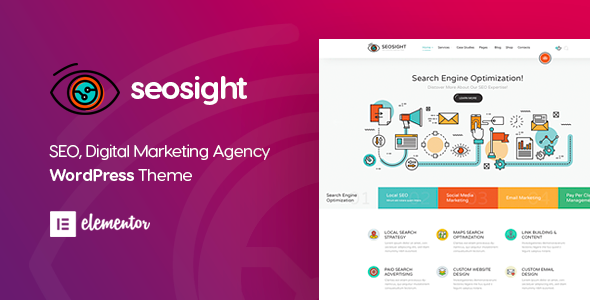 Thanks to SEOSight, you'll be introduced to fresh set ideas for marketing and similar niche websites. It is an impressive marketing WordPress theme that brings attention-grabbing design to the table. SEOSight is also home to Elementor front end builder, with which you're just steps away from building a fully customized website that looks great. The great thing, however, is that it is not just the look section that is served. With SEOSight's premium plugin compatibility, complete justice is done to the functionality as well.
Digilab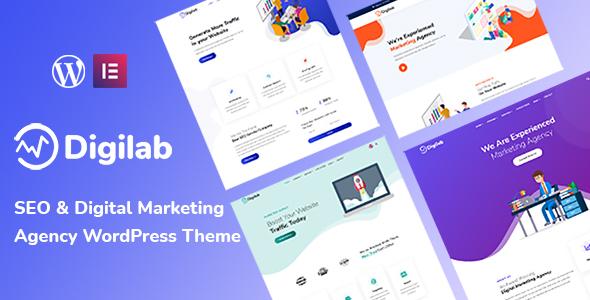 Digilab is an excellent marketing WordPress theme. The theme brings complete support for Elementor Page Builder, ensuring wide scope for customization. Digilab also bags various meta box plugins with which creating menus is a convenient task. Moreover, the theme is fully compatible with premium plugins like WP Bakery and Slider Revolution. In simple words, this WordPress theme is promising for blending clean and responsive design to your marketing website without even writing a single line of code information.
Onum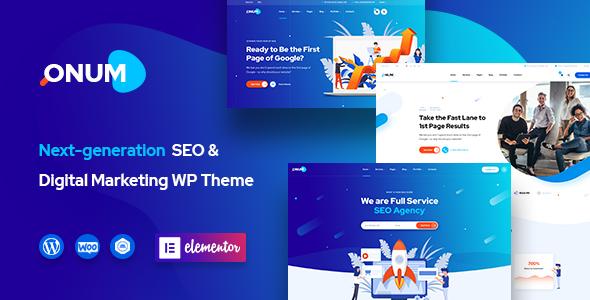 Onum is a business-oriented marketing WordPress theme designed specifically for companies that are provide marketing-based solutions. Featuring one of the most popular drag-and-drop page builders, the Elementor, designing websites like professionals in Onum is not a heavy task anymore. In case you like to keep things simple, there are demos and over 30 section layouts that will help you build your website in the snap of a finger. Additionally, the theme loads up with a number of premium plugins, including the likes of WooCommerce, Revolution Slider.
Betakit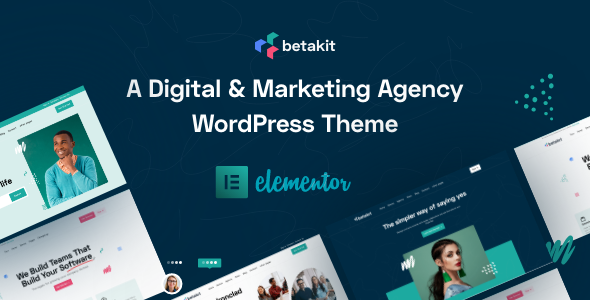 With Betakit, you're looking at a clean multipurpose, highly responsive WordPress theme that fits ideally for ones that are willing to create stunning websites for their marketing agencies. The theme features unlimited homepages, over 22 inner pages, and Elementor Page Builder with unlimited customization options. The page builder also bags over 60 widgets that are promising enough to add to the efficiency of the website. In addition to these, Betakit is also optimized for Redux theme options and the Revolution Slider plugin.
Reuss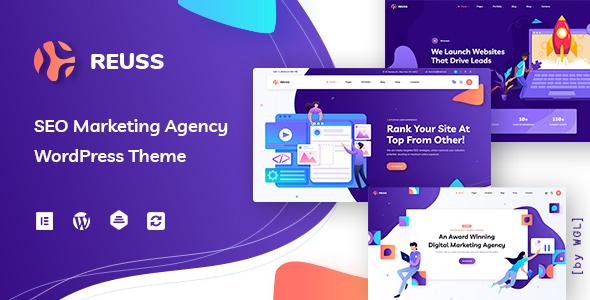 Reuss is an amazingly engineered, user-friendly marketing WordPress theme for building websites that speak quality. With Reuss, you'll be getting pre-made ready demos that are stunningly designed to engage viewers worldwide. The theme also features Elementor Page Builder with tons of elements. Also, thanks to the blog and portfolio layouts, you can showcase your works in the most professional manner. Overall, Reuss is the best way of promoting your marketing agency website.
Royal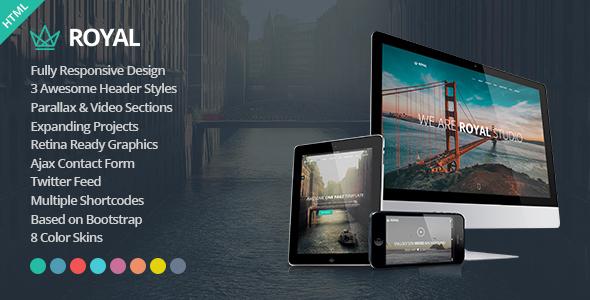 Royal is a premium marketing WordPress theme that bags almost every element a business owner or a marketer can ask for. Blending the premium plugins like Visual Composer, Slider Revolution and Advanced Custom Fields, don't miss the opportunity to craft a unique website ever. This highly responsive theme brings down the stunning demos and the live customizer together under the same roof which means, you can either choose to start everything from scratch or walk through the easy way out.
SeoEs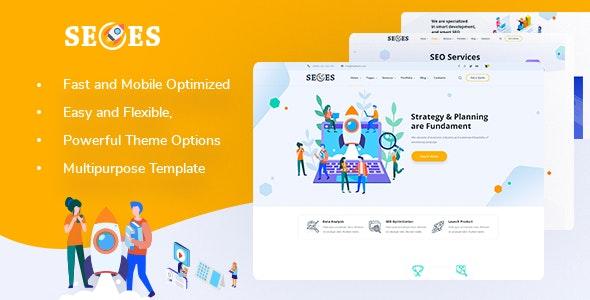 SeoEs by RB Themes is a fully functional marketing WordPress theme with which you can build websites with creative and modern design. This theme is a highly responsive solution with tons of customizer options thanks to the compatibility with Visual Composer. Also, with the help of elements like the Sidebar Generator, Revolution Slider and a vast collection of custom widgets, crafting a retina-ready, visually and functionally productive website with SeoEs is a pretty healthy task.
Marki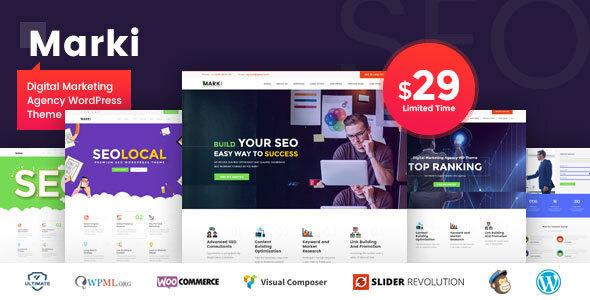 When we talk about efficient marketing WordPress themes, Marki deserves to have your attention. It is a highly powerful tool that is ideal for crafting a professional website for marketing agencies. With Marki, you'll get a clean, modern design loaded with a list of attractive features. The features include a highly customizable option, multiple plugin compatibility, SEO ready, speed optimized, and parallax sections. Further, the Visual Composer page builder lets you build a website that catches attention worldwide.
Marketplus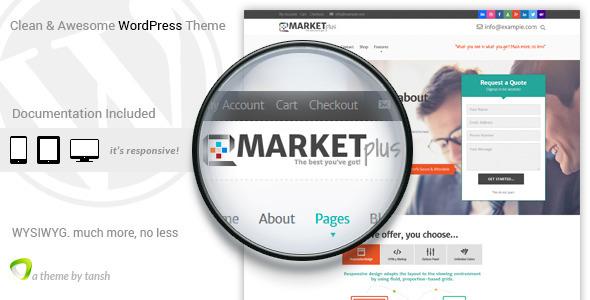 Easy to install and fully responsive, Marketplus is an impressive marketing tool for getting started with website creation. From customized widgets to blog and post formats, from templates to header variations, this theme by "tansh" ensures an all-around solution for crafting a quality online presence. Moreover, the theme is optimized for selling items thanks to its compatibility with WooCommerce.
Qwery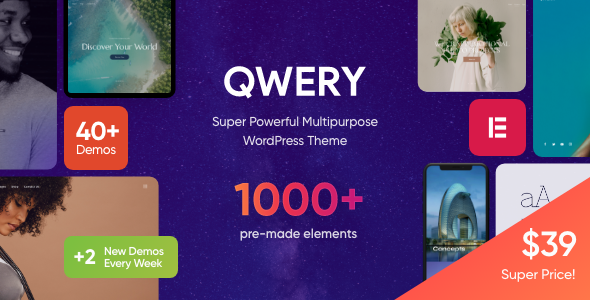 Qwery is nothing less than an innovative business and marketing WordPress theme with a unique and clean design. Loaded with over 60 pre-made websites, getting started with your website is a real flexible task. Qwery is also home to Elementor page builder and a collection of brilliantly added elements to serve creative possibilities. Besides, the theme also features two booking plugins for free, namely Latepoint and Booked. With those, you don't need to worry about managing bookings anymore.
Hi5Clive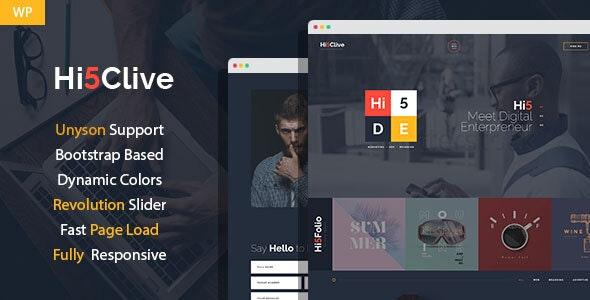 Hi5Clive is a marketing WordPress theme built for entrepreneurs. This bootstrap based is fully responsive and efficient for website creation. The theme features a dynamic ascent color scheme that helps you toggle with website colors in simple clicks. This dynamic WordPress theme is also home to Slider Revolution, a premium way of incorporating interactive solution. Besides the premium features, Hi5Clive is also brilliantly optimized to load quickly and look great on every device.