Are you looking for the best job board WordPress themes so you can create the next awesome job listing website? Here's our curated list of the best job board theme selection you can find.
The days of circling-up job postings in the morning newspaper are long gone, and the World Wide Web is your greatest friend when it comes to landing the right one. Whether it is the ease of use needed for employers to effortlessly put out job ads, or the features needed for job-seekers to apply for positions they are best fit for, you will need the combination of WordPress and a job board template that gets the point across.
19+ Best Job Board WordPress Themes in 2021
---
Minamaze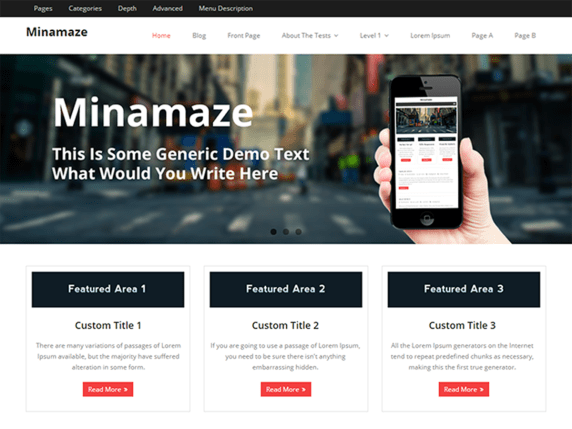 To begin with our list of best WordPress job board themes, we've got the free version of the highly flexible, multi-purpose professional theme Minamaze Pro. The feature that comes loaded with this theme is a story in itself. Quick access to Minamaze will give you a lot to work with, from the high-definition retina-ready graphics to the super-efficient page builder. Create and customize your job board portal in the desired manner. Other notable elements of Minamaze that deserve your attention include a full-width, easy-to-use slider, stunning homepage layouts, and more.
Experon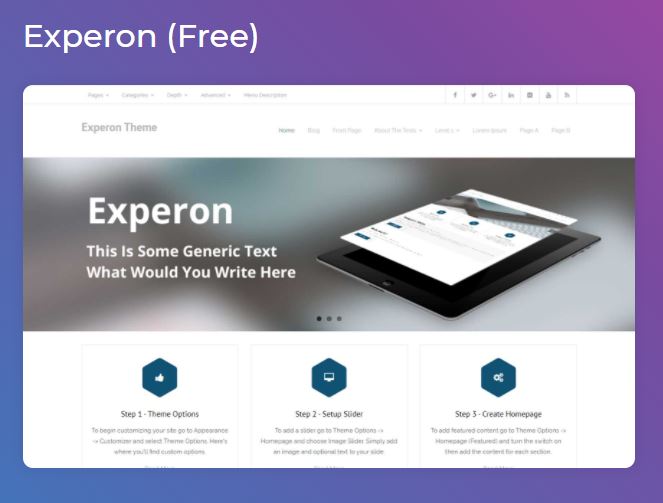 Have you been busy looking for a free WordPress theme that can let you stunning online job portals that stand out? Well, the search ends here. Introducing the free version of an impressive multipurpose theme named Experon. The theme shelters one of the most pleasing homepage layouts ever. Crafting one for your website will help impress your visitors as soon as they get a sight of it. Experon is ready to work with Gutenberg ready and bags in robust theme options. Home to over 600 fonts, page builder, and more, build the website of your dream in minutes.
Robojob Lite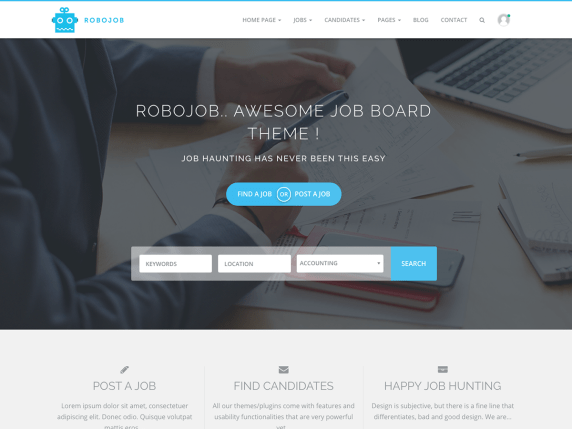 RoboJob Lite is one of the most flexible WordPress Job Board themes out there in 2021. The theme is created to provide all sorts of jobs functionality in the most promising manner. It is among the job themes WordPress, which sits perfectly for any job portal alongside a listing/directory website. Robojob is integrated with the most brilliant job board plugin named "WP Job Manager." The theme loads with additional board functionality to your website that lets you create any job types and feature themes right on the homepage. Offering endless numbers of extensions, get ready to experience limitless possibilities.
Ekta Directory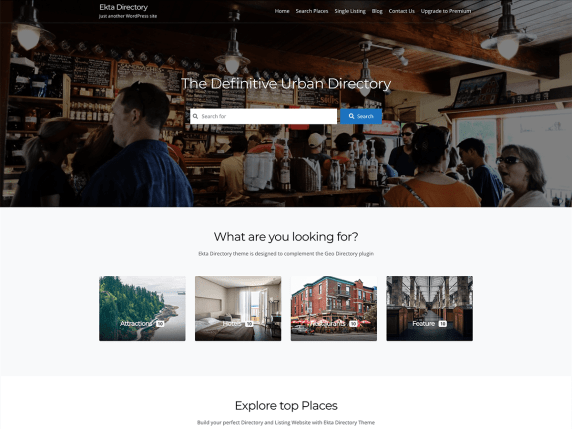 Ekta Directory is another brilliant free WordPress theme to look at. It is an eye-catching theme that loads up with every feature for directory and listing sites. All thanks to its versatile nature, creating job-based websites is super efficient with Ekta Directory. Ekta Directory features a super-advanced search element that lets you filter options and narrow them down to the dedicated search results as a WordPress job board theme. Further, it packs a long list of other functional elements. Ekta Directory brings a modern-day job board template with many customization options. There are several demo variations, which you can use to build a website in the snap of your finger.
ExS Shop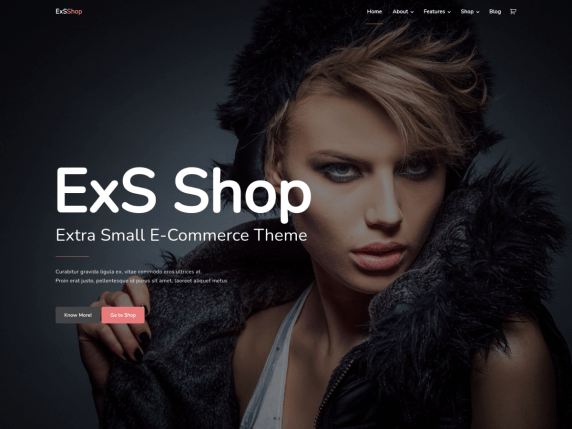 ExS Shop is a super-fast, highly responsive multipurpose WordPress theme that offers limitless customization freedom. Although a great choice for setting up e-commerce sites and blogs, Exs Shop in no way lags behind crafting the most promising job based website ever. Brilliantly designed to have 100% LightHouse and Google Page speed, alongside embedded SEO codes, the theme serves as one of the best WordPress job board themes ever. Talking about the features, especially ExS Shop bags unlimited color options, headers, and footers layouts. More than 15 blog layouts and other amazing elements can help you build a professional website.
ExS News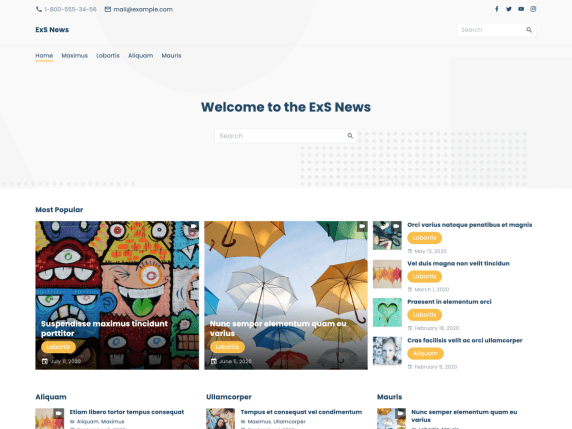 Pretty similar to ExS Shop, ExS News, all thanks to its versatile nature, presents itself as a brilliant WordPress job board theme. From static to customizable elements, everything about this theme is meant to serve the next-level business. The theme is highly responsive, which means it looks and performs great on any device. ExS News also brings in a vivid customizable option. You can transform any template into one that effectively serves the need of a job-based website. ExS News is a free WordPress theme that has a number of built-in page templates. These work perfectly with any of the popular page builders such as Elementor, Beaver Builder, WPBackery, and more.
ListingHive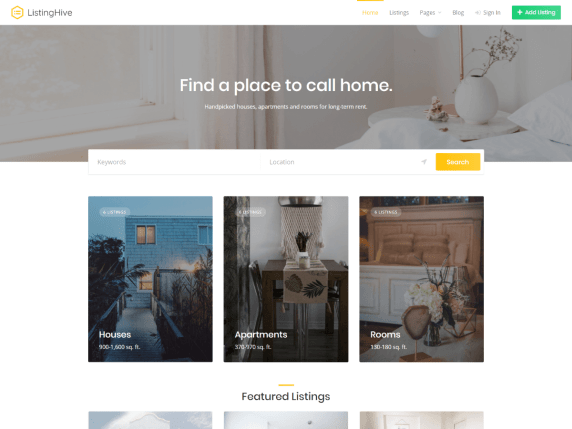 With ListingHive, you're looking at a super-efficient WordPress job board theme. Loaded with promising elements, you can effectively create an online home for publishing job listings in a manner that drives attention. Moreover, this free WordPress theme is pretty versatile in nature. All thanks to that, it can be used as a multipurpose WordPress theme. ListingHive allows you to build any kind of directory website. No matter if you're after a business directory, job board, classifieds, real estate, or basically any form of a listing website, ListingHive is a genuinely promising choice for it.
Di Blog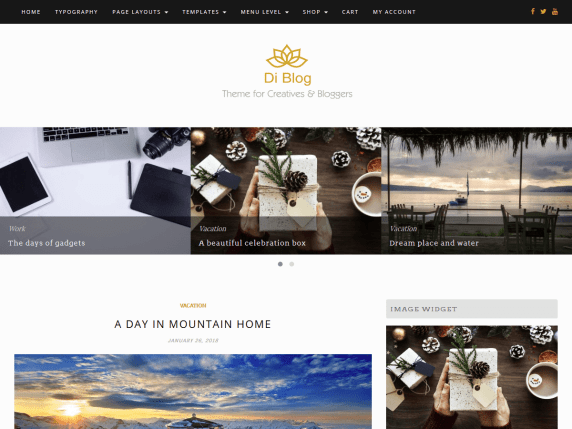 Di Blog is another modern and powerful free WordPress theme that is perfect for bloggers and writers. Besides being a perfect blog theme for crafting a blogger portfolio, you can move a step forward and create professional-looking job listing websites. Di Blog is one of the best WordPress job board themes to start with alluring images and amazing fonts. The theme is highly responsive and SEO-friendly. Having said that, you can beat your rivals online pretty conveniently. Di Blog is fully compatible with all popular page builder plugins, including Elementor Page builder, Visual Composer, Page Builder by SiteOrigin, and more.
Metrolo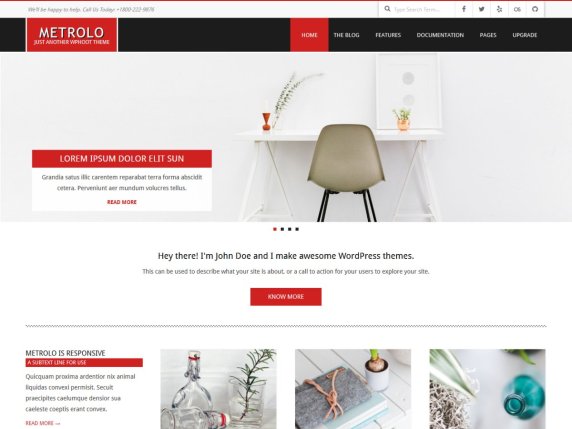 Loaded with flexible header options and a vivid contrast color scheme, Metrolo allows you to create a website that engages viewers right from the start. It is a brilliantly made WordPress job board theme that is flexible and highly responsive. The theme features clean, bold, and modern looks that offer professional visualization. Apart from serving the needs of job listing websites, the theme is a perfect fit for building any kind of business and creative website. It is really simple and straightforward to set up. Also, Metrolo brings in one of the powerful customization options. The theme is also SEO friendly, Cross browser compatible, and ready to get translated into multiple languages. Metrolo is compatible with WooCommerce, Contact Form 7, and Jetpack.
Job Scout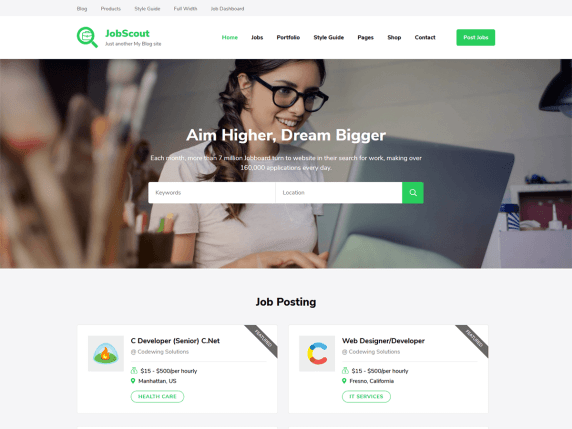 Moving forward with our list of best WordPress job board themes. We've Job Scout featured next. It is a brilliantly designed free WordPress theme that resides as a complete solution for crafting any website that revolves around the activity of posting jobs online. The theme comes with a highly responsive nature, with which you can create a job template that looks great on any device without even writing a single line of code. Job Scout features a super engaging layout that can drive attention really quickly.
Job Portal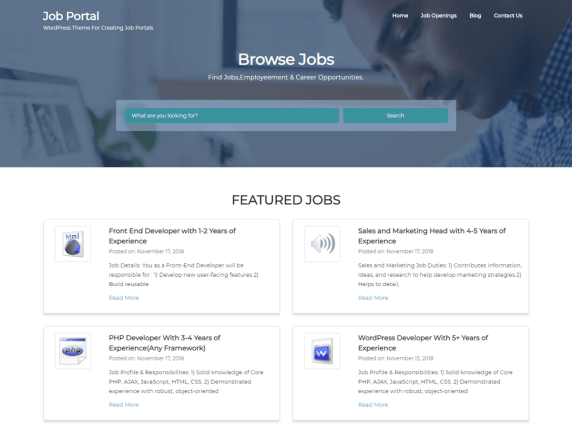 Job Portal is yet another free WordPress job board theme for creating impressive websites in a matter of minutes. Although free, the theme doesn't lack premium features. The Job Portal Theme is easy to set up and bags in vivid customizable options through WordPress customizer.
Jobile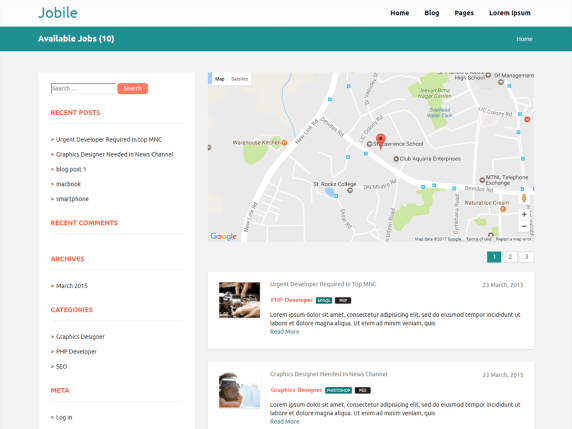 For anyone who is seeking a lightweight online job board template, have a look at Jobile. It comes with a fast, clean layout that is super flexible and highly responsive in nature. Listed among the best WordPress job board themes, Jobile can help you create a website that focuses on classified ads, blogs, and more. In addition to that, the theme features a vivid and powerful theme option that lets you manage general and advanced settings pretty conveniently.
Fondness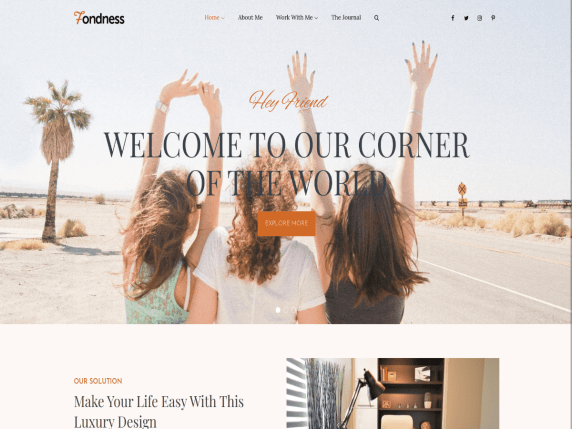 Listed among the most exceptional free WordPress themes of all time, Fondness brings a promising approach to crafting job board templates. Fondness is one of those multipurpose theses which are expertly coded to serve the needs of promising websites. The theme brings in a design that is simply stunning. Besides looks, Fondness is highly functional, responsive, and SEO-ready.
Magazine Express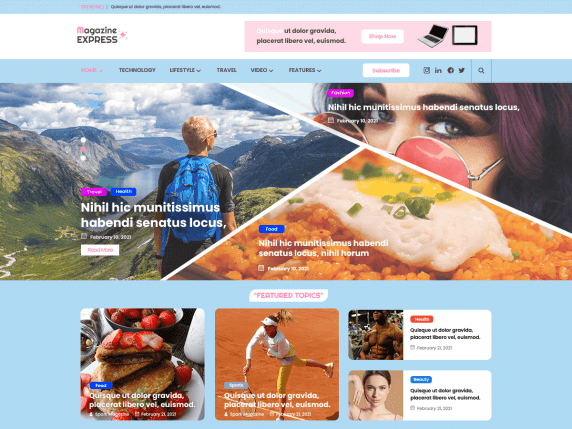 Magazine Express is an amazingly designed multipurpose WordPress theme for websites that revolve around different niches, and job portals are no exception. Magazine Express features a clean, modern look alongside elegant feature sliders as a WordPress job board theme. The theme is highly responsive, making sure the retina-ready design hooks all your visitors on any device. Further, the theme is SEO-friendly and helps a great way in beating your competitors in SERPs.
Classic Blog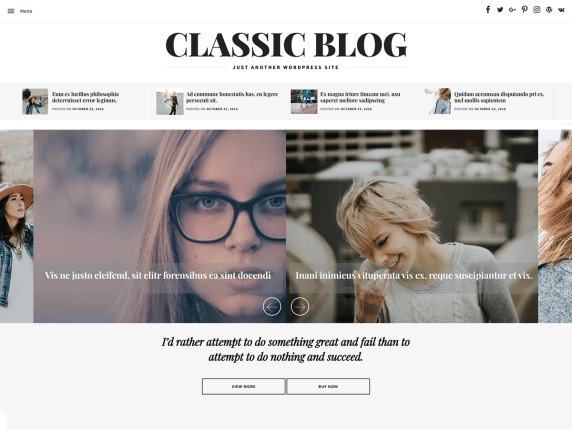 Classic Blog is a super clean, free WordPress theme with minimal and responsive layouts. Although created for professional bloggers, the theme is also ideal for those aiming to craft online job portals. Following the trendy design that features a touch of elegance, get ready to drive serious attention. To put it in simple words, Classic Blog is one of the feature-rich WordPress job board themes to try in 2021.
Multipurpose Magazine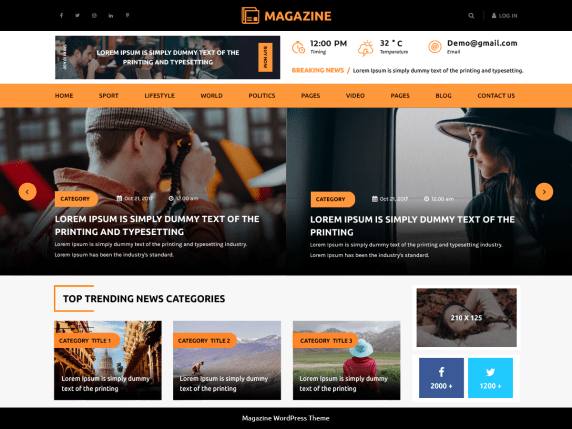 Multipurpose Magazine by "themesglance" is a vibrant, energetic, free WordPress theme that feature-full and highly organized layouts that suit any website perfectly. Having said that, crafting an attention-grabbing job board template is super efficient with this theme. This WordPress job board theme is 100% responsive, compatible with various browsers and plugins, multilingual SEO friendly. Additionally, it supports media files in various formats to get embedded in your website right away.
Robolist Lite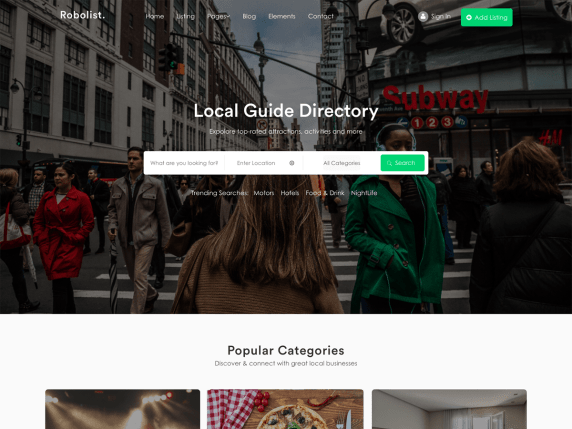 Number 17 on our list of best WordPress job board themes, we've got Robolist Lite. It is a modern, feature-rich and free WordPress theme that helps you build listable and directory sites in the snap of your finger. Robolist Lite is integrated with the most flexible job board plugin known as WP Job Manager. This enables users to add a range of lists that stretches any profession.
Appointment Booking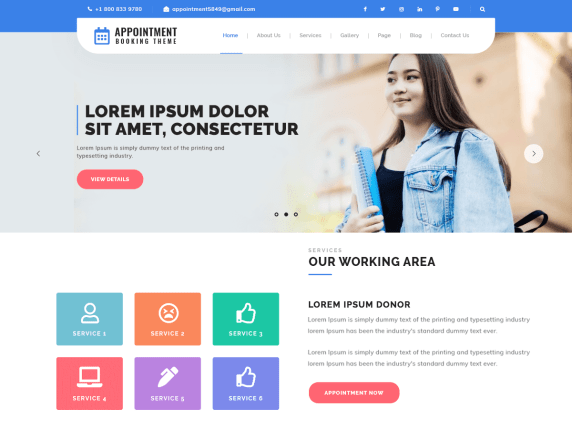 Appointment Booking is a highly flexible, super sophisticated free WordPress theme for creating booking-based websites. However, with the availability of all sorts of versatile elements that load up, including a clean and elegantly designed layout, extensive plugin support, and more, the theme can be used as job board templates. This theme is wisely crafted that to perform well in the eyes of visitors and the search engine bots equally.
ExS Video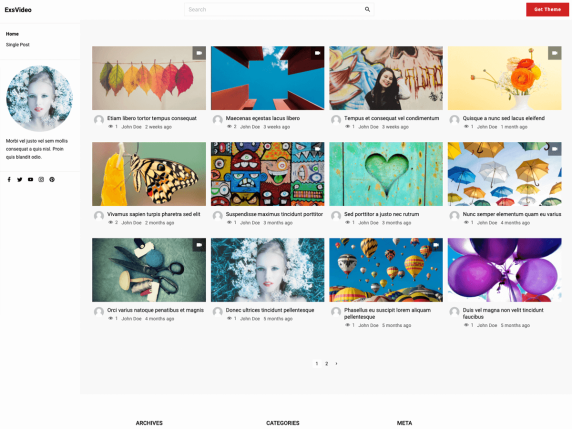 ExS Video is another promising WordPress job board theme from the team of "ExS." Although the build-up is pretty similar, the overall approach is a bit different. Crafting a website that features all the job listings has never been that easy. You can brilliantly stitch your desired elements into a homepage that attracts visitors' attention right away. This loads up with job board templates that are 100% mobile-friendly. Additionally, it has extensive support for WooCommerce, alongside the Easy Digital Downloads (EDD) plugin.
Listing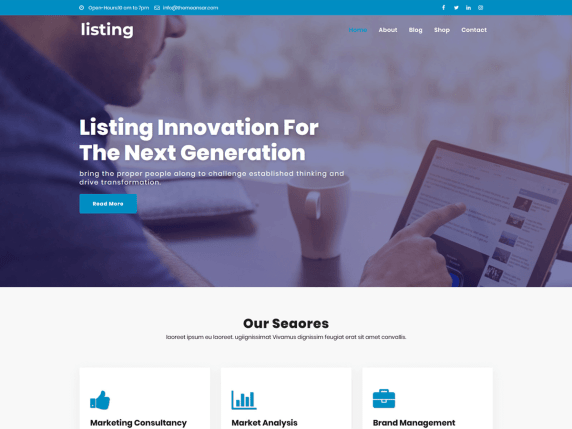 To wrap up our list of best WordPress job board themes, let's talk a bit about Listing. The theme is highly responsive to looks great on any device. Also, Listing has all sorts of SEO codes embedded to make sure your website attains a higher rank in search engine results. Flooded with features and templates blended in a minimal design, Listing brings everything to fall in love with.