Are you in need of a booking WordPress plugin but don't know which one to go for? Let me help you with that.
Plugins are of great use to enhance the productivity of any website. No matter in which direction you wish to orient your website, you'll find plugins that can help you do exactly that in the most appropriate manner. Scenes are similar to online bookings. Irrespective of what niche you operate, attending and managing appointments and bookings have become an integral part.
Although you can hire developers and pay them heavy money for embedding such functionality onto your website, why not choose the easiest alternative? After days of research and tryouts, I'm here with the list of the 19 best booking plugins that can help you start accepting and managing online reservations right away.
Best Booking WordPress Plugins in 2021
---
Booked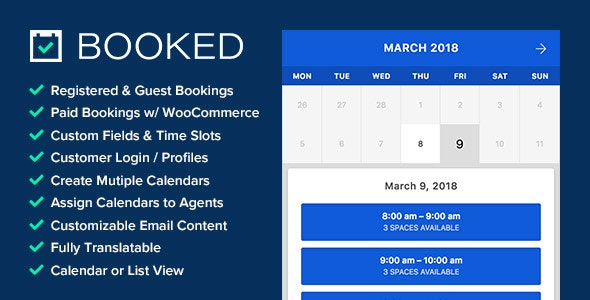 To begin with our list of the best WordPress booking plugins we've Booked. It is an impressive element that brings all kinds of functionality revolving around booking related activities. From guest bookings to paid bookings with the help of WooCommerce, from creating calendars to assigning the same to respective agents, you can do almost everything with Booked.
Team Booking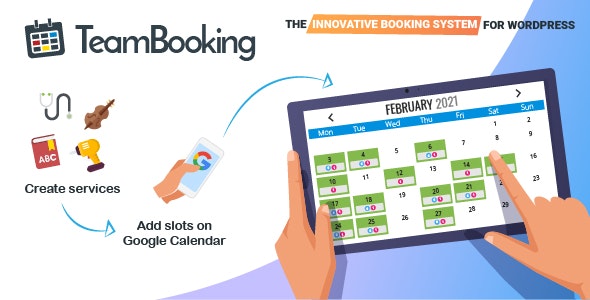 Team Booking by "VonStroheim" is an impressive booking WordPress plugin that is a must-have for efficient appointments. It is a flexible solution for both individuals and organizations. Team Booking comes with multiple language support, which makes it even more worthy of using. Moreover, with this WordPress appointment booking plugin, you can create events, update them regularly with ease, and further try your hands in creating an excellent set of forms to collect user data in a promising manner.
TravelLab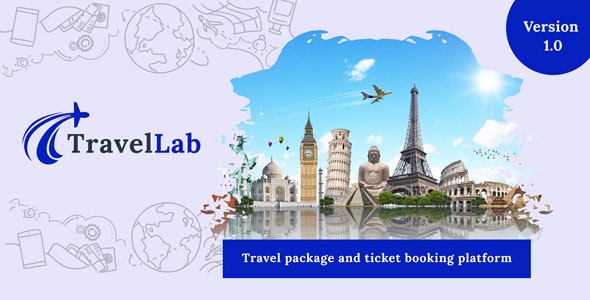 As you might have guessed by the name, TravelLab is a brilliantly made booking WordPress plugin for the travel business. The tool is a one-stop destination to enhance the functionality of your website and make it capable of handling an unlimited number of users, their respective orders, packages, categories, and even vivid payment modes that stretches from cards to cryptos via mobile money. TravelLab bags a clean user interface supporting over 250 currency setup modules.
Calendarista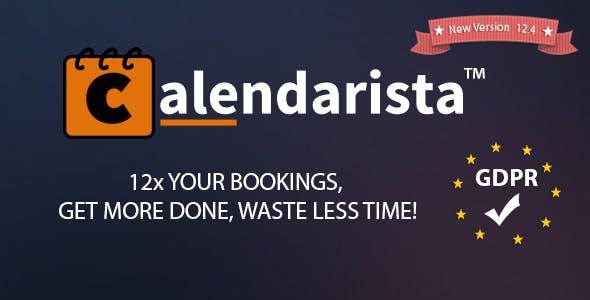 The convenience of online booking system shifts to a whole new level thanks to this amazing WordPress booking plugin. Calendarista comes with 12 booking modes up and running for users to embed in their websites. Also, with three payment gateways, it makes sure you've enough resources to set up bookings and appointments for your business. Besides, this WordPress appointment booking plugin offers extensive support for WooCommerce.
Bookingo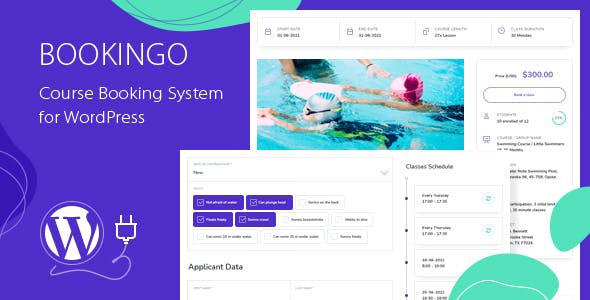 Bookingo is a powerful booking plugin for WordPress that fits any level of business across multiple niches, especially when you need to deal with repeating classes. Whether it be a school or training center, this plugin brings ideal booking functionality for all. With the help of Bookingo, you can create an endless number of courses and embed them in the desired format. Also, you can share location, contact info and add other necessary notifications on the go.
Easy Booked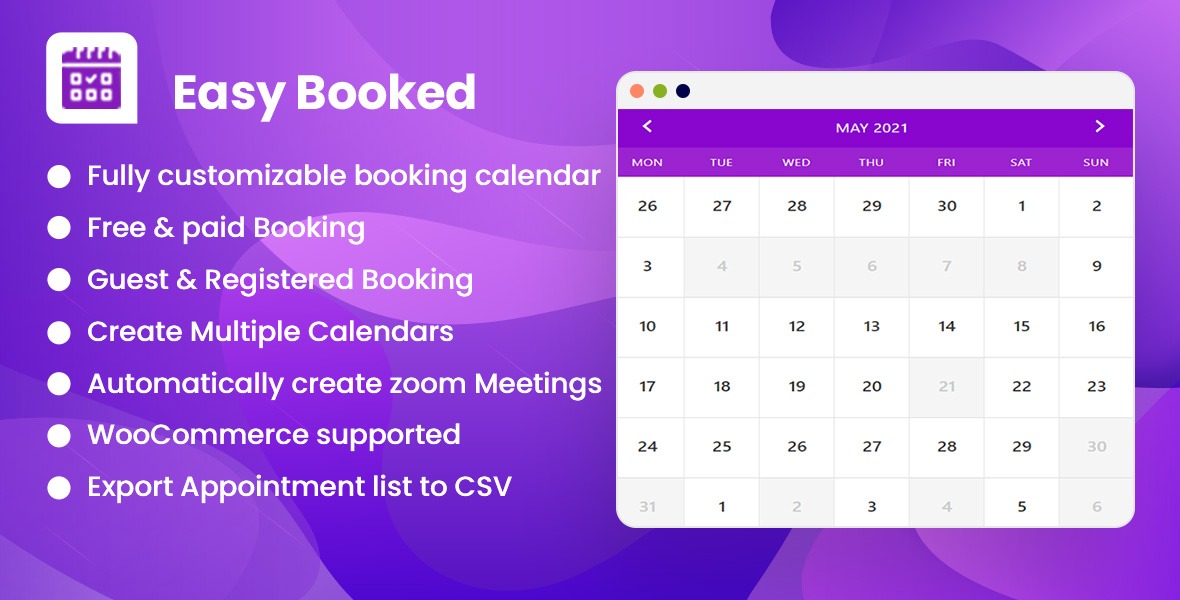 Featuring a fully customizable event organization system, Easy Booked is one of the flexible booking WordPress plugins to work with. It is a great tool for creating both paid and free bookings. Also, Easy Booked helps users create multiple calendars, accept guest and registered bookings, and come up with zoom meetings every now and then. Further, WooCommerce compatibility is a plus.
Bookly PRO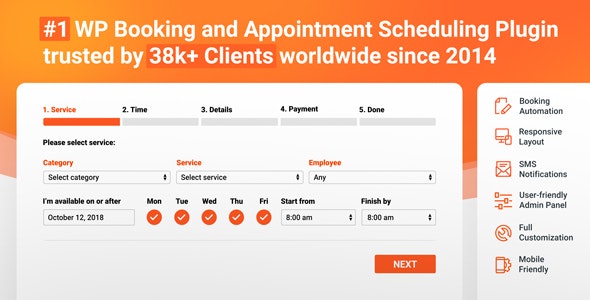 With Bookly PRO, you're looking at an innovative appointment scheduling software. This booking WordPress plugin bags in fully customizable features making sure you set it up the desired way. Alongside accepting bookings, the plugin is of great use for anyone who is looking to schedule appointments. Bookly Pro brings impressive two-way sync between Bookly Calendar and Google Calendar, which make things even f=more convenient. Together with WooCommerce compatibility, Bookly PRO is undoubtedly a treat to access.
WP Booking Calendar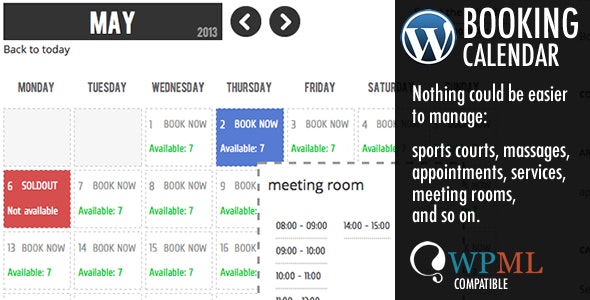 If you're someone who seeks the easiest way to manage bookings on your website, hands down, WP Booking Calendar is the best option to go for. It is a WMPL ready booking WordPress plugin that is home to advanced features but in the most straightforward manner. Create visible time slots and availability quickly using WP Booking Calendar. Also, with the plugin's ability to handle multiple reservations at a time, users will find them at the ease end.
Hotel Booking Plugin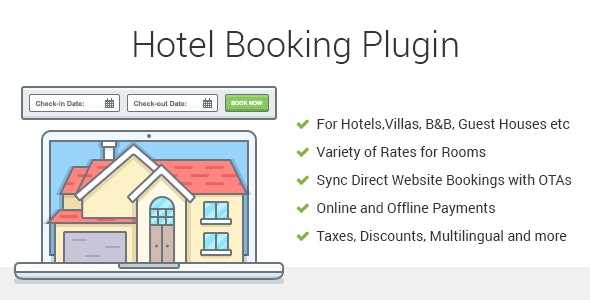 Having talked about travel and other businesses recently, let us now look at an impressive appointment WordPress plugin designed to serve hotels all around the world. From the ability to create room bookings with varied rates, to accept payments and look after taxes and discounts, this tool ensures the entire booking section is managed in the most promising manner. Hotel Booking Plugin is ready to operate in multiple languages and helps in creating a flexible payment system with both online and offline acceptance.
Booknetic SaaS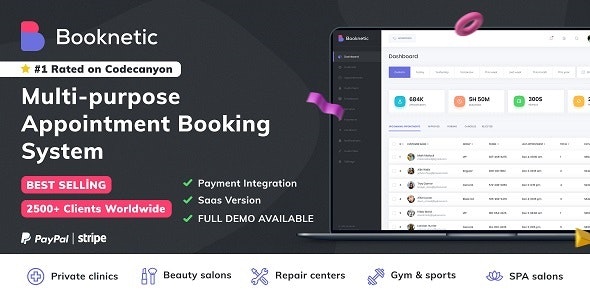 Coming from the home of "fs-code," Booknetic SaaS is a great WordPress appointment booking plugin. The tool comes ready to work with WooCommerce out of the box. Booknetic SaaS is further compatible with Paypal, Stripe (Payment Gateway) and even works fine with all sorts of SMS, Email, and WhatsApp notifications. Additionally, this booking WordPress plugin syncs with Google Calendar with ease and also allows users to event and schedule Zoom meetings with no hassle.
WooEvents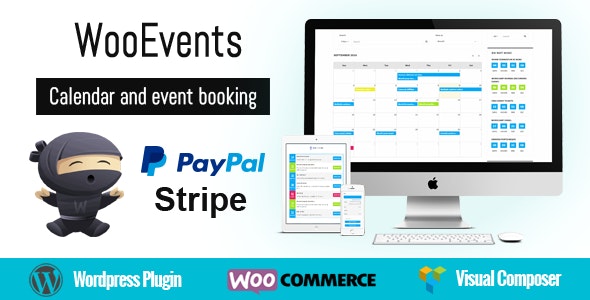 WooEvents is another WooCommerce compatible appointment WordPress plugin. It is a promising tool that features all the elements you can even wish for; from the booking perspective. With WooEvents, you create multiple event bookings, schedule events calendars, embed varied events classes, manage all sorts of future online events, and deal with all such activities with ease. The tool also brings a comprehensive way to let visitors create an account on your platform and submit booking events as desired.
RnB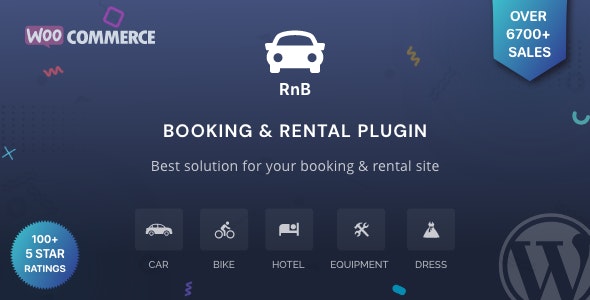 Moving forward with the list of best WordPress booking plugins, we've RnB lined up next. It is an easy to install tool that gets ready for work within a couple of minutes. RnB as a booking plugin is an ultimate treat for the rental business. It empowers users to create unlimited rentals and accept bookings on their behalf with no issues whatsoever. The tool further features a "request a quote" section, where your visitors can ask for discounts, price cuts or additional information regarding the rentals listed.
FAT Services Booking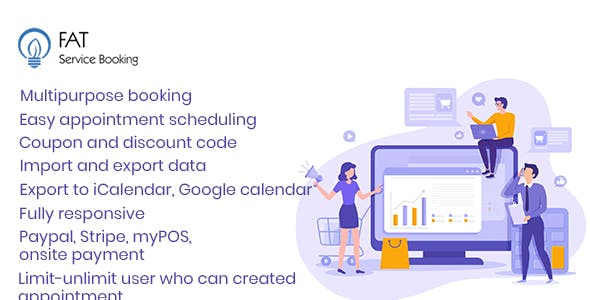 FAT is a multipurpose booking WordPress plugin that is ready to help users with easy appointment scheduling. Syncing and playing the data around iCalendar and Google Calendar are super easy. Further, this fully responsive booking plugin brings convenience to the payment acceptance sector. One of the best features of FAT Services Booking is that it brings a monthly, weekly, and even daily timeline view for your entire calendar and the schedules created. Additionally, creating and adding coupons, discount codes are also made easy with this amazing WordPress appointment booking plugin.
Salon Booking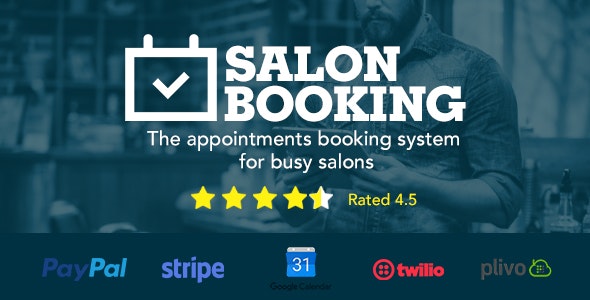 For all the Salon owners out there who're looking for an efficient booking solution, we have one marked up for you. Cooked from the kitchen of "wordpresschef", Salon booking is an advanced plugin to work with. Although designed keeping the Salon business in mind, this WordPress booking plugin is so versatile that it can be used in pretty much any niche. One of the striking features that sets this tool apart is how well it enables users to create a complex set of rules that corresponds exactly with the timetable and services of respective businesses in real-time.
Chauffeur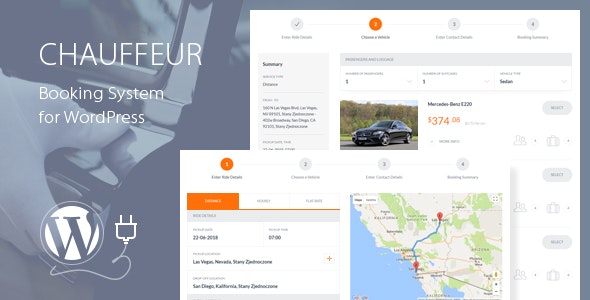 Chauffeur Booking System is a next-generation limo oriented WordPress booking plugin that fits companies with any number of employees. No matter if you're willing to use the limo or the shuttle operators, Chauffeur will have you covered. Thanks to the simple, step-by-step booking process, getting hold of this tool can't get any easier. Also, with features like flexible online payments, timely notifications, WooCommerce compatibility and the impressive integration with Google Calendar, everything about this tool is just amazing in one word.
Amelia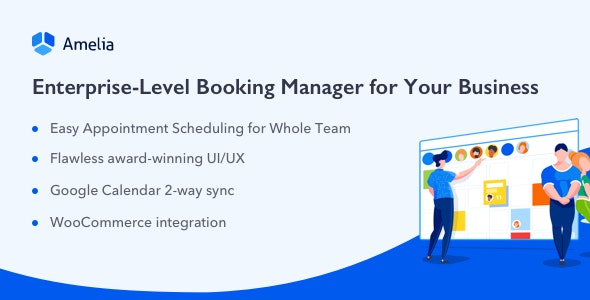 Home to the elements bearing the newest set of technology, Amelia is a promising booking WordPress plugin to invest your time in. It is a highly efficient enterprise-level booking manager with which you can create and schedule appointments with ease. Besides the complex functionality, the entire usability is super straightforward, all thanks to the clean and minimalist user interface. Among the other features, the two way Google sync capability and WooCommerce compatibility are worth mentioning.
Bookeme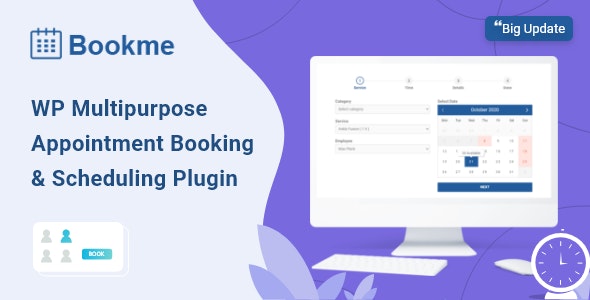 Bookme is a WordPress appointment booking plugin rich in features and functionality. It is an easy to use tool which provides full customization freedom to users. With all the translatable capability, this appointment booking plugin will never let you down in any serving user experience. Also supporting WooCommerce, Bookme will help you deal with payment scenarios facing no challenges. Just like other booking plugins, Bookme also embeds the basic elements that stretch from SMS/Email notifications to Google Calendar sync.
Car Rental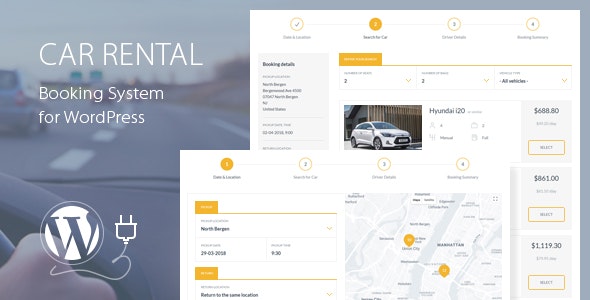 With Car Rental, get ready to access all kinds of booking functionalities that you can ever wish for. It is an innovative and robust online booking WordPress plugin that can shift the productiveness of your car rental business to a whole other level. Managing payments, dealing with notifications, easy and flexible syncing with Google calendars, and more are among the stand out features of this tool. Car Rental is amazingly designed to blend in extensive support for an unlimited number of vehicles and locations conveniently at the same time.
Eventer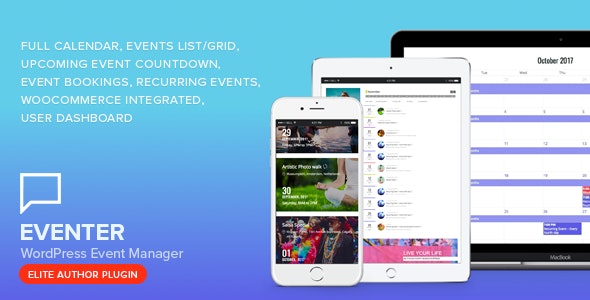 Concluding the list of best booking plugin WordPress, we've one by "imithemes," Eventer. It is a feature-rich booking plugin that can help you organize your business in the most innovative manner. No matter if you consider the event list manager or the upcoming even countdown, the WooCommerce integration or the regular and recurring event management system, everything about this tool is next level. Alongside brilliant features, Eventer bags premium support for the drag and drop builder WP Bakery with which you can create forms, bookings and appointment pages in a manner that catches the eye of visitors.