The web has been a terrific platform not just for communication and business, but also for the creative artform to prosper. Showcasing your talent as an artist can be difficult with a plain and simple website, since art is fluidic and no two creative minds are the same.
We have enlisted some of the most sought after WordPress themes for artists that help capture the imagination and get your work across to the target audience.
Best Free Artist WordPress Themes in 2022
---
Harest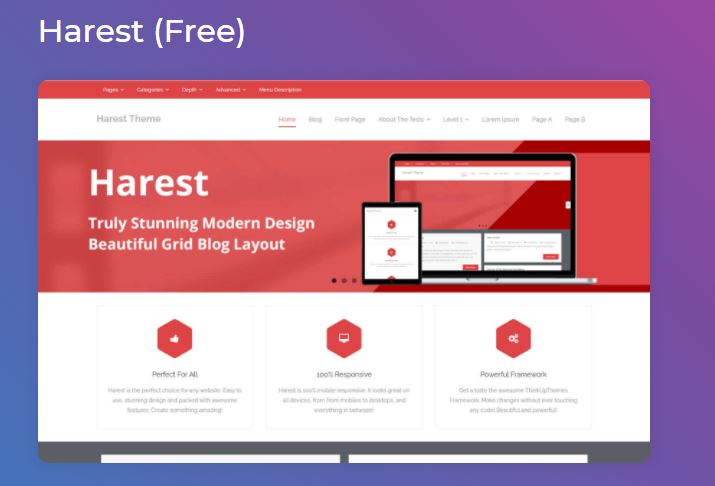 Kicking off our list of best free artist WordPress themes, we've got Harest. The incredible thing about this theme is its versatility. In simple words, you can use this theme for almost any type of website.
The theme has a responsive layout with HD retina-ready visuals that look amazing on any device. Further Harest comes with a robust theme options panel that offers limitless creative possibilities. Powered by amazing theme options, get ready to show your skills in style.
Smarter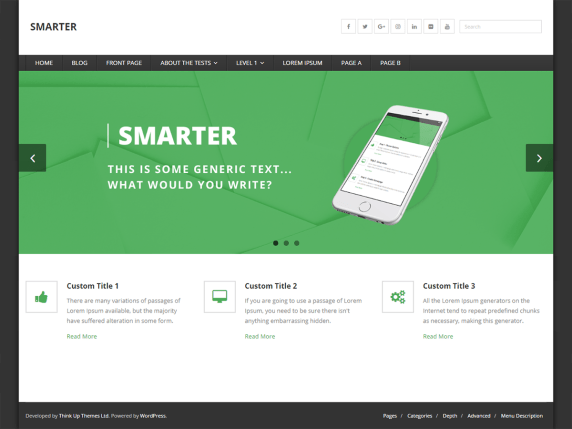 Smarter is your opportunity to create a unique online home for displaying your skills. As one of the best free WordPress themes for artists, Smarter helps you build a website that stands out from the rest.
Besides amazing looks, the theme powers itself with stunning features that are enough to transform your website into something that speaks the language of quality.
Chique Music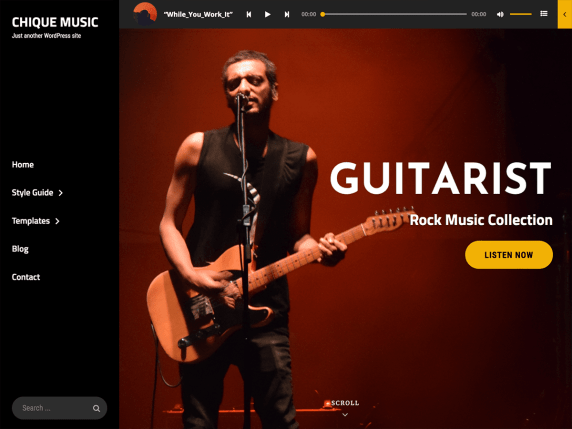 Chique Music is among the best free WordPress themes for artists. It is basically a free multipurpose music WordPress theme that is perfect for any music artist who's willing to craft any kind of Music related website and blogs.
However, thanks to its versatile nature, other creative minds can also take significant benefit out of it. Chique Music as a WordPress theme for artists inherits prime core features from its parent theme.
The theme is fully responsive and ensures your website performs great and looks visually aesthetic across all screen sizes. One of the best things about Chique Music is the dark design. This helps in making the online presence of any artist look bold, pleasing, beautiful, and professional.
Corpo Music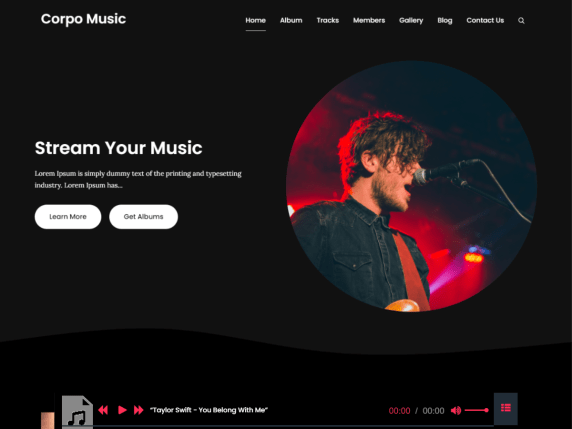 Corpo Music is another brilliant WordPress theme for artists, especially for the ones that deal with Music. Any individual who is highly influenced by Music and is looking for ways to get online definitely needs to take a look at this brilliant free WordPress theme.
The overall design makes the theme a perfect solution to display musical creativity to the entire world. As already mentioned, the theme is totally free, but the elements and features are efficient enough to share Music and eventually raise your creativity yourself.
Corpo Music is easy to customize and offers unlimited creative freedom. It is compatible with all devices.
ScapeShot Light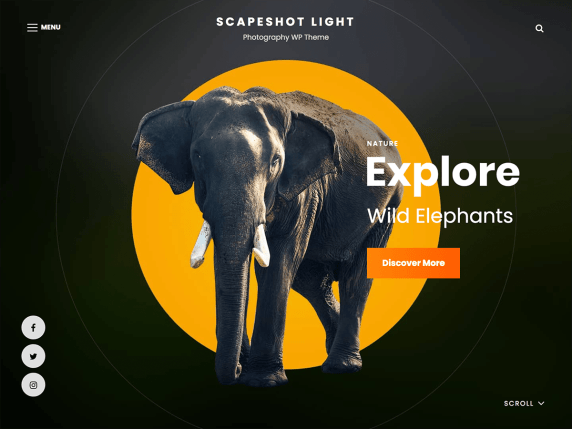 Are you a photographer who is seeking the best free WordPress themes or artists? Well then, look no further. ScapeShot Light is a robust yet minimal WordPress theme for building next-level websites. The theme is clean, lightweight, and helps the photography niche to get new dimensions online.
From blogs to other sorts of photo-centric websites, you can craft almost anything. The theme sits perfectly for any photographer or artist, whether a beginner or professionally advanced. ScapeShot Light loads up with tons of features and elements that are enough to fall in love with.
Moreover, you can use all these features, customize them mindfully and monetize your photographic skills.
Blakely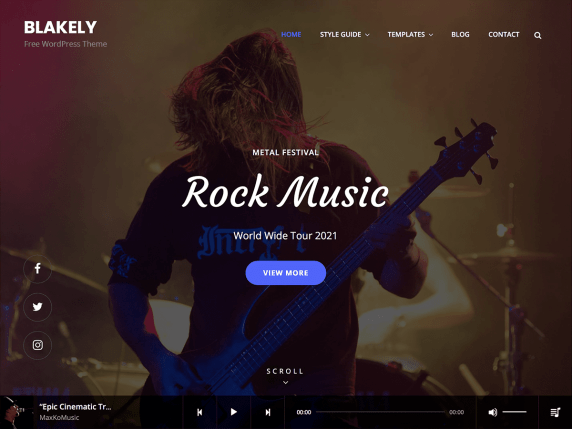 Blakely is another elegant designed and visually aesthetic dark free artist WordPress themes. The theme is blended in a manner that can equally serve artists from any industry. Blakely shelters a fully customizable dark color scheme, which is pretty trending and eye-catching, and the freedom to get the same customized in the desired manner adds more value.
No matter if you're a photographer, musician, designer, or anything else, the design will make your site look and feel bold, beautiful, professional, and classy. Blakely is easy to set up and use. Being 100% responsive, the theme works great on any device.
Blakely loads up with a number of crucial features and functionalities that stretch from Featured Content to Featured Slider, the Hero Content, and more.
ScapeShot Music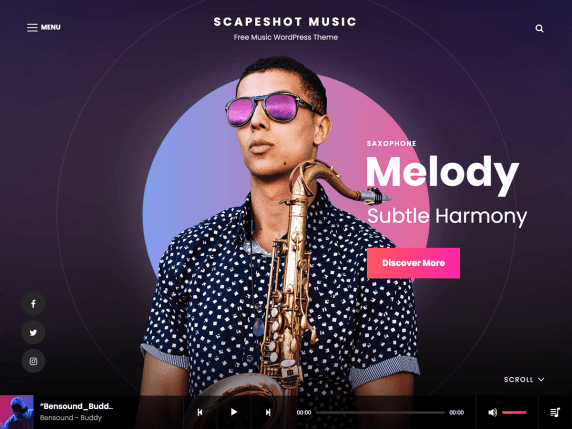 Are you a musician, DJ, music maker, or anyone from the music industry who is seeking the best free WordPress themes or artists? Well then, look no further. ScapeShot Light is a free, flexible, and robust WordPress theme for building promising websites.
The theme is clean, lightweight, and helps create an efficient online presence for the music artists. From content-based blogs to other sorts of music-centric websites, you can craft almost any type of website in minutes.
ScapeShot Music loads up with tons of features and elements, which are enough to enhance the functionality of any website. The best thing is that you can mindfully use all these features and monetize your skills.
ISTK Portfolio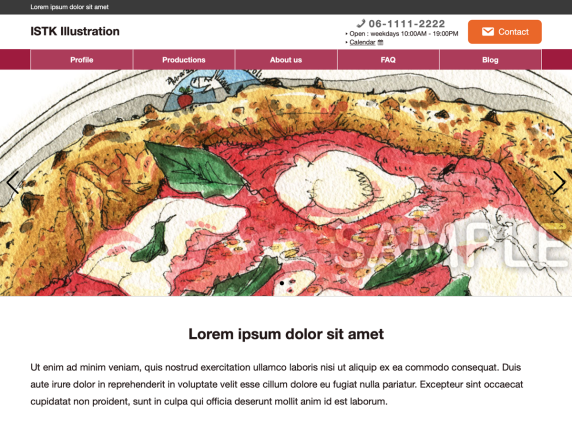 A portfolio is an essential part of any profession, and artists are in no way an exception, so those who're after the best free WordPress themes for artists that can also help in building attention-grabbing portfolios need to have a look at ISTK Portfolio.
The theme is solely dedicated to creating a portfolio site and getting noticed all around the world. For designers, illustrators, artists, and other creative minds. The theme bags a carousel on the very front page, which is excellent for displaying your skills.
PressBook Blog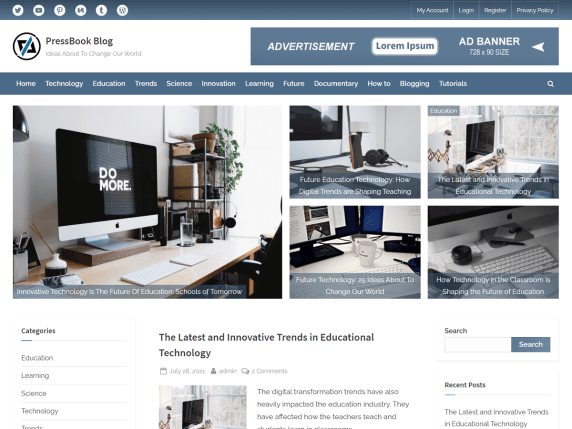 PressBook Blog is an innovative multipurpose, flexible, responsive, professional, free WordPress theme for crafting alluring websites. The theme brings out a design that looks classic with a professional touch.
Being fully responsive, clean, and modern, the theme helps you build websites that look pleasing on any device. PressBook Blog, as a free WordPress theme for artists, loads up with a series of highly efficient elements.
This majorly includes the blog grid layouts alongside advanced customizer options. The theme also features minimal dependency and high loading speeds at a high-performing outset. Additionally, the theme brings a pixel-perfect design with 100% SEO-friendliness.
Clove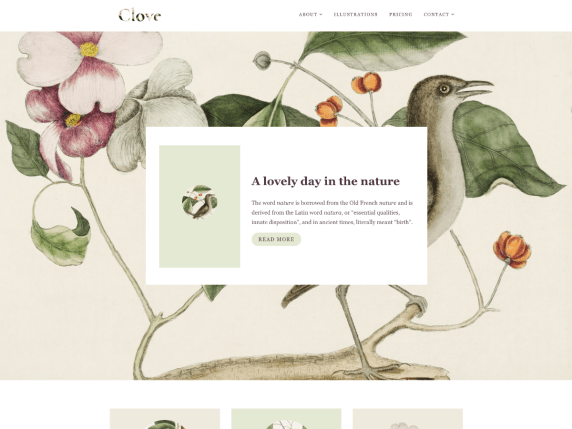 Moving forward with our list of best free WordPress themes for artists, we've got Clove next. Clove introduces you to a simple, minimal, flexible, and versatile WordPress theme that is entirely designed for all the artists out there. The theme is highly inspired by mother nature alongside the beautiful, retro illustrations.
Clove brings a full-site editing WordPress theme gifted with an alluring set of templates. The advanced design settings also form a great tool to manipulate the usual styles into something that stands out.
Zubin Photography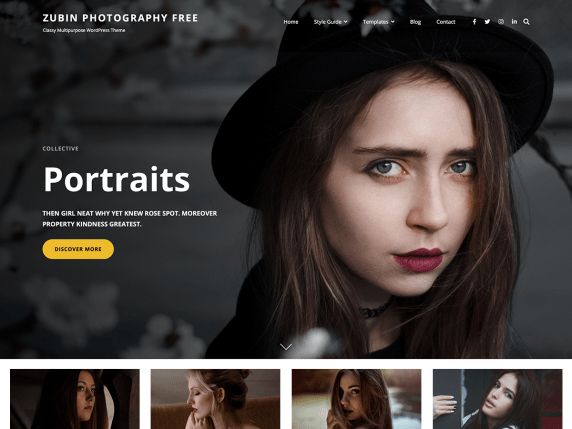 Although the name might make you feel like the theme is dedicated to photographers, Zubin Photography, in reality is a free WordPress theme built to serve artists of any form around the globe. The theme is a super clean, simple, flexible, and minimal tool to craft trendy and modern websites.
All the artists, whether Music centric or design-centric, can showcase their skills and work with the most minimal interference can intake maximum amount of benefit. Also, thanks to the fully responsive nature, the website you create with Zubin Photography looks perfect across all screen sizes.
Talking about the design, in particular, the theme bags, a well-organized layout, and content placement adds charm. It comes with brilliant features, elements, and functionalities to display the best in any creative skill website.
Florist Flower Shop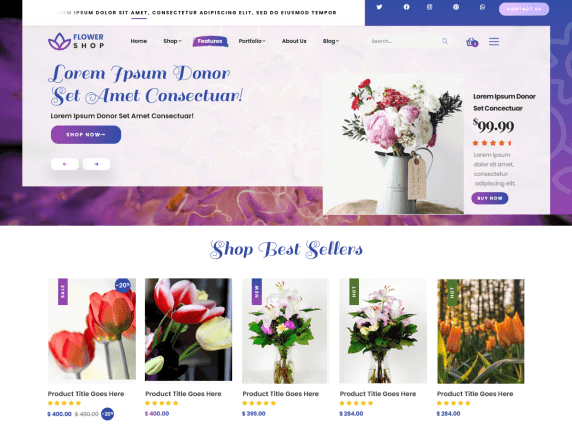 Florist Flower Shop is a free WordPress theme that is enough to make life easier for artists. Creating a super functional website for new age flower shops, gardens, and similar decorator's websites is easy with Florist Flower Shop.
The theme can be used for crafting multipurpose eCommerce storefronts that deal in decor items, boutiques, customized flower bouquets, and more. The theme is designed with special care, and details have been added to make websites appealing and professional.
Offering a wide range of options for flower artists, is indeed an opportunity to enhance the productivity of the business.
Signify Photography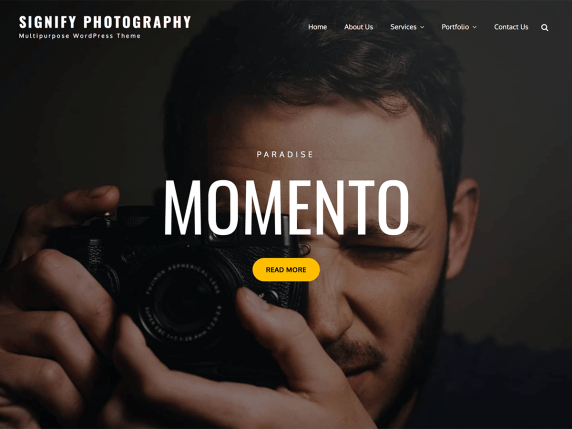 Signify Photography is yet another superb artist WordPress theme and other creative minds. The theme is simple, clean, flexible, and minimal. Offering multipurpose functionality, this WordPress theme is more than just a tool for creating photo-centric websites.
In other words, the theme is ideal for all creative minds like photographers, artists, designers, and more. Signify Photography, as already mentioned, brings a clean and minimal layout that promotes and comes out as the best visually aesthetic WP theme in 2022.
Any individual who aims to display their high-quality skills with minimalism and work on the forefront can benefit from the overall design and outlook of Signify Photography. This theme loads with top-notch features and functionalities and offers limitless possibilities to showcase the creativity in you.
Music Artist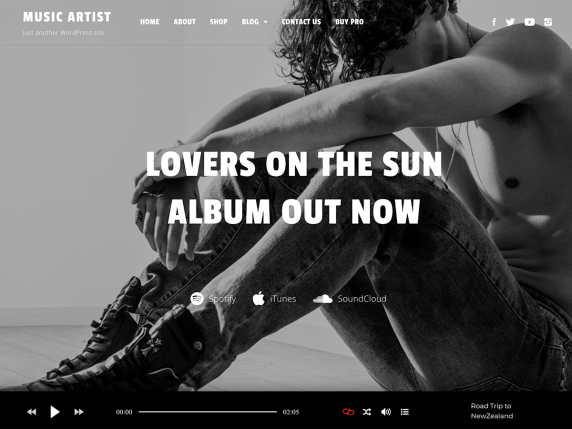 Music Artist is a stylish, super-efficient, free WordPress theme for artists, bands, studios, nightclubs, musicians, music artists. The theme is the ultimate solution to craft websites within the creative industry. As this free artists based WordPress theme, it features next level support for publishing varied content on the website you create.
Whether you're a beginner who is set to work on a new skill or creating a website for showcasing your professionalism as an artist, all you need is this theme that enables users to encapsulate the unique style in every possible way.
Change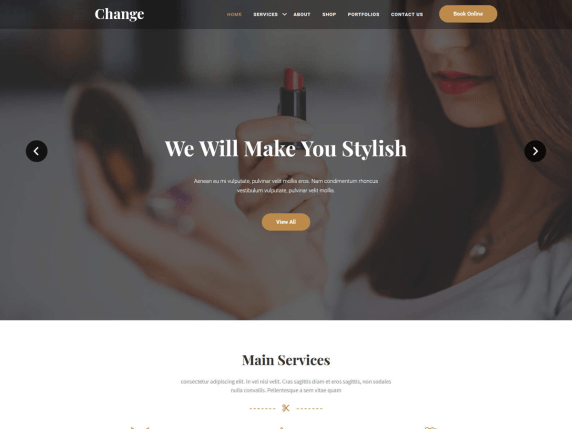 Change, as the name suggests, is one of the best free WordPress themes for artists that are set to change and enhance the performance of your website. The theme is super flexible, versatile and offers a 100% responsive retina-ready design that looks and performs great on any device.
Anyone who is willing to create a unique, attractive, pleasing website effortlessly, then Change is genuinely for you. This theme bags a very nice layout which is pretty easy to manage. The availability of a flexible customizer makes the entire process of your web creation hassle-free.
This theme comes with a full-width slider that can use up to three images that too with an animation effect. Change works flawlessly with popular plugins like WooCommerce and the Contact Form 7.
Web Artist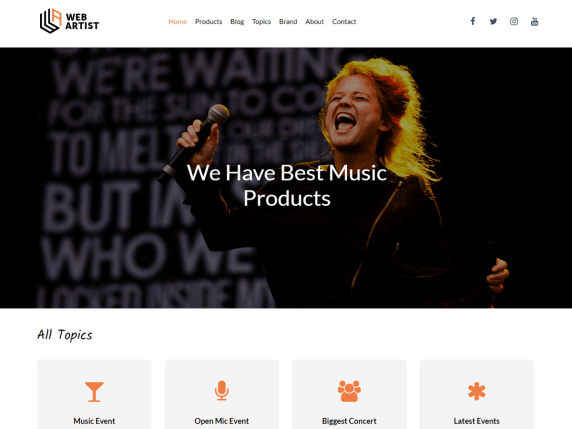 Web Artist is a modern WordPress theme for artists, musicians, or any other individuals and businesses for creating creative websites. You can use this theme for all sorts of different intentions as it easily adapts and adjusts to your needs and requirements.
It is entirely customizable, to the very last detail. Without having to write a single line of code, You can easily edit and personalize the site to match it with your niche. Web Artist is 100% cross-browser compatible, responsive, and mobile-ready.
Be it Safari, Chrome, or Edge, and Web Artist performs well in all browsers, regardless of their versions. Try it today!
Rockaholic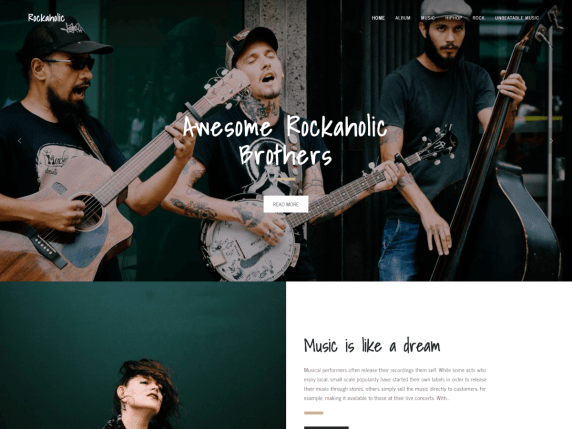 Rockholic is a feature-rich, free WordPress theme for artists which is extremely flexible. The theme thrives as an ideal free WordPress theme designed to meet the needs of musicians and music bands who're associated with the music industry in any way or the other.
Rockoholic, as the name suggests, is mainly suitable for the rock genre. It is a child theme of Musicaholic.
Makeup Lite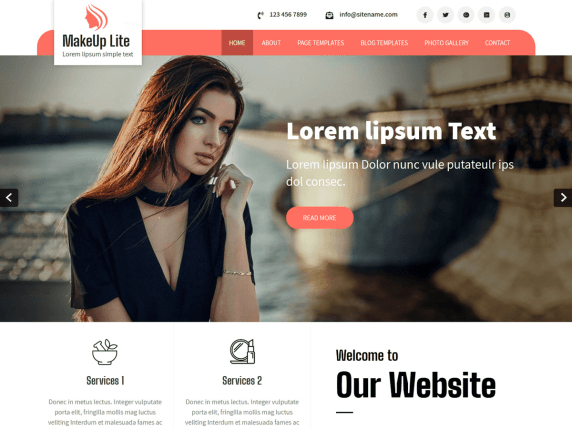 Makeup Lite is a professionally designed, elegant, modern, highly tough, gentle option for makeup artists. In other words, the theme is an unimaginably pliable, very stylish, and fully responsive cosmetics WordPress theme that is appropriate for any beauty salon, or makeup artist, and even the cosmetic shop.
This theme is specially designed to meet the requirements of hairdressers, and the hair salons. Even the skincare industry alongside spa and the wellness centers like the beauticians, can be well-benefitted. This beautiful template sits as the right platform for any creative head to create a quality loaded and fully professional website.
The good thing about this theme is that it can also work well for lifestyle bloggers or the cosmetic-based websites owners.